Some of the links in this post are affiliate links. This means if you click on the link and purchase the item, I will receive an affiliate commission at no extra cost to you. All opinions remain my own.
Almonds and almond butter are known to many as appetizing sources of fiber, minerals, and vitamins.
It's imperative to choose organic almonds to get the maximum benefits, as the chemicals used in non-organic varieties will create health problems.
Find out more about the health benefits of organic almond butter, what to consider when buying organic almond butter, and ways to use almond butter in your home.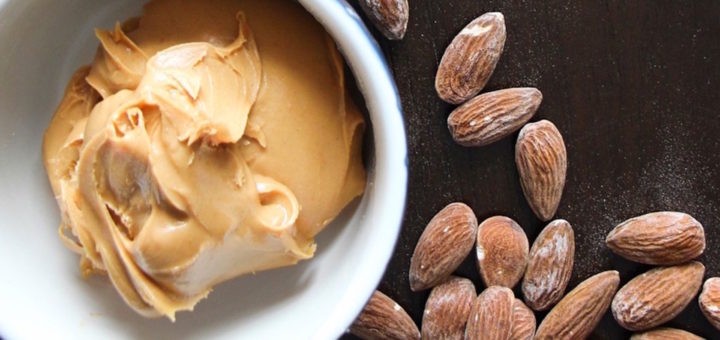 ---
Top Health Benefits of 100% Organic Almond Butter
Weight Loss & Heart Health – Almond butter is rich in good fats, leaving you feeling satisfied without excess weight gain or cholesterol build-up. These healthy fats are monounsaturated fats, which have been proven beneficial to cardiovascular health and greatly improve weight loss results when substituted into our diets.
Another reason almonds help for weight loss: Studies have shown almond butter and almonds to control blood sugar levels and aid digestion. Other research, which is steadily growing, points to almonds' prebiotic properties, suggesting almonds will improve your GI tract's health.
Nut Butter Vs Peanut Butter – Almond Butter works as a highly beneficial and delicious substitute for organic peanut butter (which is often GMO or riddled with fungi/mold toxins). Allergic and mold-toxin-aware individuals can enjoy something extra healthy to replace peanut butter. The best organic almond butter will benefit anyone, as it is rich in many essential vitamins and nutrients.
Almond Protein & Nutrients – Almonds are rich in calcium, riboflavin, niacin, as well as E and B vitamins. Once again, almond butter is also a fabulous source of fiber and is full of inflammation-reducing antioxidants.
This article gives one a full list of all nutritional information about almonds for those who would like to conduct further research into why almonds are healthy.
---
Raw vs Roasted & Other Organic Almond Butter Buying Considerations
Raw vs Roasted Almond Butter
Many people want to know if roasting the almonds makes a difference. If roasted above 104 F (40 C), the enzymes will denature (be cooked out the almonds). The healthiest almond nut butter would be raw organic nut butter, although when compared to roasted nut butter, roasted tastes better. When shopping for the best organic roasted almond butter, make sure to select a dry roasted (dehydrated) almond butter that has no added sugar or preservatives.
Glass or Plastic Jars?
The answer to this question has always been glass. When plastic is heated, it leaches small plastic particles into your food, creating hormonal or metabolic disturbances inside the body. If using plastic, make sure to store it in a cool place or use glass, which is safe.
Almond Butter Shelf Life & Storage
Raw almond butter usually keeps for longer than roasted nut butter. Store almond butter inside your fridge, even before opening the container. The average shelf life of almond butter is 6months, so make sure what you buy is as fresh as possible! If almond butter becomes rancid, it will smell like "industrial oil or oil paint" fumes or look moldy. Oil separation in nut butter is quite natural, especially with roasted almond butter.
---
10 Fresh Ideas For Using Organic Almond Butter
Here are 10 great ideas you can use for more best almond butter recipe options or to substitute almond butter into your diet:
Enhance Sautéed Meals or Spicy Foods (like curries) with Almond Butter.
Add Almond butter on top of fruit salad for a delicious flavour.
Put Almond Butter in smoothies for extra protein and nutrients.
Make Energy bars with almond butter to power you for the whole day!
Spread almond butter on organic crackers or bread to boost nutrition.
Add Almond Butter to Enhance your next natural sorbet experience.
Use almond butter as a face mask!
Ice your next vegan or paleo cake with almond butter as icing.
Eat as an on-the-go snack on its own, in teaspoon quantities. (WARNING: self discipline may be a requirement here!)
Decant Any Excess Liquid oil from almond butter for use in cooking or for pampering your skin.
---
Reviews: Best Organic Almond Butter
Below we have made a unique list of the best organic almond butter, including the best almond butter for weight loss. Nut butter will also add extra dietary nutrition for an energy-packed day!
We also have listed one or two skincare products for those seeking organic almond butter skincare lotion.

---
1
This Sweet Almond Oil Butter is good to use raw in cooking or as part of body lotion to add extra nourishment to your skin.
100% organic almonds were used to produce this product.
It is extracted using the expeller method, which heats up between 140-210 degrees F to produce a very smooth almond butter.
It does not need to be refrigerated. Store in a cool, dry place.
Almond oil is rich in the best fatty acids and beneficial nutrients for your body and skin.
Dr. Adorable Inc's Almond Oil Butter has a delicate, sweet, aromatic smell.
Certified Kosher and Vegan.
| Rating Category | Weight % | Score |
| --- | --- | --- |
| Plant-Based | 25% | 100 |
| Nutrients | 25% | 100 |
| Quality | 20% | 95 |
| Promote Skin Health | 20% | 95 |
| Non-GMO | 10% | 90 |
| Total Score | 100% | 97 |
---
2
Wilderness Poets® Spreadable Almond Butter Tub

1 Gallon of Delicious Organic Raw Almond Butter
Made in small batches for quality control from pure organic California almonds.
Creamy raw almond butter, ideal for crackers, salads, curries, sorbets, smoothies, or just eating supplementally by the spoonful!
This almond butter complies with the vegan diet, paleo diet, gluten-free diets, and extra nutritious diet.
Keep stored in a cool place as this is housed in a plastic container.
No added preservatives, chemicals, vitamins, additives, sugar, salt, or stabilizers.
| Rating Category | Weight % | Score |
| --- | --- | --- |
| Plant-Based | 25% | 100 |
| Nutrients | 25% | 100 |
| Quality | 20% | 90 |
| Promote Skin Health | 20% | 95 |
| Non-GMO | 10% | 90 |
| Total Score | 100% | 96 |
---
3
Artisana® Almond Nut Butter

Pure Unheated Organic Almond Butter
This organic almond nut butter is so pure, it exhibits macrobiotic properties and will aid digestion inside sensitive tummies.
100% Organic and does not contain anything except one of the creamiest pure raw almond nut kinds of butter.
This nut butter is rich in dietary manganese and vitamin E.
A fantastic dietary source of calcium for lactose or dairy intolerance.
Get your daily dose of fiber with this delicious organic almond nut butter, adding a bit of healthful richness to your day.
GMO-free and USDA Organic Certified.
| Rating Category | Weight % | Score |
| --- | --- | --- |
| Plant-Based | 25% | 100 |
| Nutrients | 25% | 95 |
| Quality | 20% | 90 |
| Promote Skin Health | 20% | 95 |
| Non-GMO | 10% | 90 |
| Total Score | 100% | 94.75 |
---
4
Once Again® Lightly Toasted Almond Butter

Decadent 'Golden' Toasted Organic Almond Nut Butter
The smooth taste of Once Again Almond Nut Butter is derived from the light toasting the organic almonds receive before being creamed.
Once Again, Almond Nut Butter is pure and organic, containing all the health benefits of almonds.
Almond Butter can help to alleviate indigestion caused by inflammation and is suggested to have prebiotic properties.
Once Again, it does not add anything to their Organic Almond Nut Butter, not even salt or sugar, making it ideal for diabetics and metabolic syndrome cases.
This Organic Almond Butter will enhance any meal when added, imparting a roasted nutty flavor to sauces, soups, curries, sautees, salads, and smoothies.
---
5
MaraNatha® Chocolate Almond Butter

Luxurious Dark Chocolate Almond Nut Butter
This all natural product is one of the most popular chocolate almond nut butters available.
Indulge in your chocolate craving while having health benefits from almonds to compensate.
These almonds are of superior quality and dry roasted.
The epitome of decadence, this spread would work great with dark red berries, in dessert smoothies, or on its own as a simple treat.
Not suitable for people with diabetes or people with severe chronic lifestyle conditions.
Maranatha Chocolate Nut Butter Spread has been compared to the popular Chocolate Hazelnut Butter Spread Nutella and enjoyed more for almonds' properties.
---
6
Jiva® Raw

Organic Almond Butter
Only natural 100% USDA certified Organic Raw Sprouted Almond Butter.
Non-Pasteurized Almins are used.
It is made on a small farm in rural Texas.
Creamy and completely unslated.
---
7
Dastony® Organic

Organic Almond Butter
Choices of Almond, Sprouted Almonds, hep seed, Sesame Seed. Sunflower Seed Pumpkin Seed or hazelnut butter that is all organic and natural.
USDA Certified organic.
Raw and stone-ground butter.
Completely BPA free containers are used.
---
8
Biona® Organic

Organic Almond Butter
A completely natural Almond Butter.
It is made from Organically grown almonds that are stone ground.
Comes in BPA Free Containers.
A 170G size container and Almond butter.
---
9
Jiva Organics® Raw Sprouted

Organic Almond Butter
An all-natural delicious Almond butter.
Only one ingredient, and it is natural and organic Raw sprouted Almonds that are USDA Certified.
The almonds are soaked for 24 hours and sourced from a small Texas organic farm.
Creamy and unsalted pure almond butter.
---
10
Living Tree Community Foods® Raw

Organic Almond Butter
A Certified Organic, Vegan and Kosher Almond Butter are Non-GMO, sugar-free, and salt-free.
Also, it is a Paleo diet approved and healthy.
It is made in small batches on an organic farm in Berkeley.
The almonds are sliced and not ground, creating a much better texture.
---
11
Broma® Dark Chocolate

Organic Almond and Chocolate Butter
This a a tasty Chocoalte and Almond Butter that is protein and fiber rich.
Made from all-natural and organic ingredients only, no refined sugars, gluten, or GMO's.
Keto friendly and also a healthy snack.
Made in America from Dark Chocolate and Almonds.
---
Comparison Table: Top-Rated Organic Almond Butter
---
---