Granola, beloved by health freaks, busy mums and kids, certainly is healthy. However, the regular store-bought ones are loaded with weird additives, soy, and artificial sweeteners. And, that's exactly why you should try organic granola.
When you stick to natural, sugar-free, organic granola, it can keep you healthy. Here are five healthiest organic granola brands to prove it.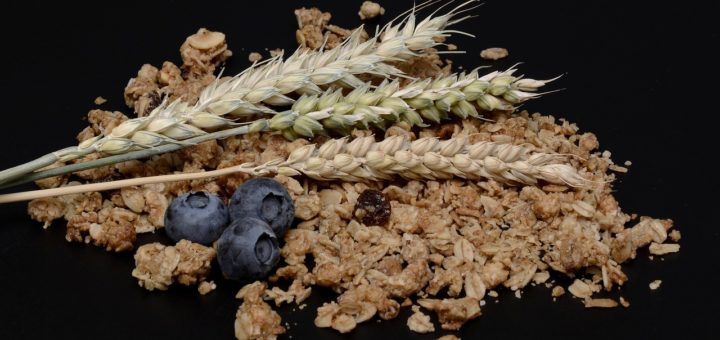 ---
Potential Benefits Of Granola
Granola cereal bowls and bars are not only convenient and budget-friendly but also pre-portioned, which means no more overeating. In fact, some scientific studies suggest that pre-portioned foods could help with weight management.
Most Granola bags contain healthy ingredients like whole grains, especially oats, nuts, seeds, and dried fruit that goes well with any diet. In particular, oats contain beta-glucan, a type of fiber that can help decrease total and LDL cholesterol levels, two risk factors for heart disease.
Meanwhile, nuts, seeds, and dried fruits have been shown to boost heart health and control blood sugar levels.
Another reason why you should include granola is that it is a concentrated form of energy. Thus, it will ensure your energy levels are up and metabolic functions are optimal.
Organic granola has a significant amount of iron, so it helps in counteracting symptoms of anemia.
---
How to Pick a Better Organic Granola Brand?
According to nutritionists, three key factors go into selecting an organic granola cereal to reap all goodness they offer: sugar, fiber, and organically grown whole grains. And, don't forget about portion sizes. Here are a few tips to choose the healthiest granola.
Sugar: Almost all granolas – whether organic or not – have some sugar. We agree sugar adds up to the deliciousness of granola but if you want to avoid a sugar crash later, look for organic unsweetened granola or the ones with no more than 6 grams per ¼ cup serving.

Calories: Most natural granolas pack around 100-150 calories per ¼ cup serving. That's about twice what you'll find in many kinds of cereal. So, keep serving size in mind and add a bit of granola on top of yogurt or ricotta with cut fruits.

Fiber: Want to feel fuller longer? Look for at least 2-3 grams of fiber per serving. A diet high in fiber will help digestion, reduce cholesterol levels, and keep your blood sugar levels steady.

Minimal ingredients: The key word here is 'organic whole grain'. Also, look for ingredients you can recognize and pronounce.

Protein: If you want to bulk up on protein every morning, look for brands with more than 5 grams of protein per serving.
---
Look Out For These Ingredients
Added sugars: They have many different names. For example, sugar, corn syrup, brown rice syrup, honey, invert sugar, molasses, tapioca syrup, barley malt extract, fructose, or dextrose.

Artificial preservatives: Several conventional brands use butylated hydroxytoluene (BHT)to keep the freshness of granola. If you aren't aware, know this: US Department of Health and Human Services has declared BHT as a potent carcinogen.

Genetically engineered soy: Genetically engineered soy contains a good amount of glyphosate residue, a herbicide.
---
Reviews: Best Organic Granola Brands To Buy
---
Michele's Granola has been a leader in the category for a while now, and it all started with this 'Original' organic granola made with whole grain oats.

Meeting every nutrition gold standard, this is a scrumptious blend of organic rolled oats, unsweetened coconut, sunflower seeds, expeller-pressed non-GMO canola oil, sliced almonds, and pure Madagascar vanilla.

This oatmeal granola is handmade in small batches without fillers, additives or GMO. So they're great for peeps who preach and practice 'organic' or 'all-natural' food.

Also, their packaging is 100% recyclable. Additionally, they come with Sustainable Forestry Initiative certified fiber sourcing certification as well.

A 1/4 cup serving will give you 140 calories, 10 g of total fat, 2g dietary fiber, and 4% iron – perfect to keep your energies up during the drowsy mornings.
---
2
One of the best selling organic granola brands, Nature's Path's Love Crunch Premium Organic Granola packs an awesome energy punch (140 calories per serving) and has no trans fat.

Made from whole grain rolled oats and flax seeds, it also has dark chocolate chunks, organic freeze-dried strawberries, and raspberries, and dried coconut to add a yummilicious twist to your breakfast bowls.

This granola also clocks in a higher amount of carbohydrates (with 20g), or 7% of your daily recommended amount. With 2g dietary fiber, it is good for your digestive system, too.

With USDA organic certification and Non-GMO verification, you can rest assured that you are getting crunchy, yummy, and healthy organic granola.
---
3
Not only is this granola zero-cholesterol, gluten-free, and non-GMO, Nature's Path says it is a delicious and healthy way to start anyone's day.

This delicious granola comes from a blend of flax and pumpkin seeds and is loaded with heart-friendly Omega-3s and 6's. Plus, it has minerals like calcium, potassium, and iron.

The granola cereal is also high in fiber, at 5g, which is hard to find in chemically processed cereal. Additionally, it has a good amount of protein, 10g, which when combined with the protein in a cup of milk, gives enough satiety till the lunch hours.

Certified USDA organic, this crunchy granola is a good addition to berry smoothies and greek yogurt bowls.
---
4
Another great option for anyone seeking certified Organic, non-GMO, gluten-free, nut-free, dairy-free, soy-free, vegan, and kosher granola.

This minimally processed mix of dates, sprouted buckwheat groats, raisins, and sprouted flaxseed is so delicious that you will have trouble staying away from it.

Talking about the nutrients, the 1 lb carton packs an impressive 3 grams of proteins and fiber, 1 mg iron, and 174 mg potassium.

Eat it as a crunchy snack or use it as a topper for fruit and smoothie bowl, yogurt or oatmeal.

A handy tip: keep the granola cereal in the fridge if you want it really crunchy. At room temperature, it may become a little tougher to chew.
---
5
Nature's Path's granola cereal is touted as a healthy and convenient favorite, especially for a quick organic breakfast on busy mornings.

Fans of Nature Path cereal love its real chocolate and peanut butter flavor. Not to mention, this granola not only tastes good, but it also maintains crunchiness in yogurt and smoothie bowls.

Made with USDA certified Fairtrade ingredients, each serving will provide 2 g of fiber and protein to maintain your energy through morning workout and beyond.

The 11.5-ounce bag of Nature's Path Organic Love Crunch Premium Granola Dark Chocolate Peanut Butter has low sodium and trans fats – making it a healthy breakfast.
---
6
A mix of granola, blueberries and flax seeds that add crunch and sweetness.

All natural and organically sourced ingredients are used.

USDA organic certified ingredients.

Comes in a pack of two.

---
7
All natural and Organic Granola with peanut butter added for flavor and vitamins.

Vitamin enriched and contains soy and peanuts for protein.

Organic certified ingredients are used.

Sweetened with oat syrup.

---
8
A lemon and Blueberry enriched Granola mix that comes in packs of 2, 3 or 4 to choose from.

All natural and organic ingredients.

This product is also Kosher.

Source of fiber, vitamins, and minerals.

---
Index Table: Top Rated Organic Granola
---
---