Some of the links in this post are affiliate links. This means if you click on the link and purchase the item, I will receive an affiliate commission at no extra cost to you. All opinions remain my own.
If you're anything like us, peanut butter is probably that one ingredient you can't live without. That's exactly why you should choose an organic peanut butter that is salt, chemical, sugar, and GMO-free to ensure your family's safety.
If you're eager to try natural peanut butter with more peanuts, then one of these organic peanut butter brands below will most definitely satisfy you.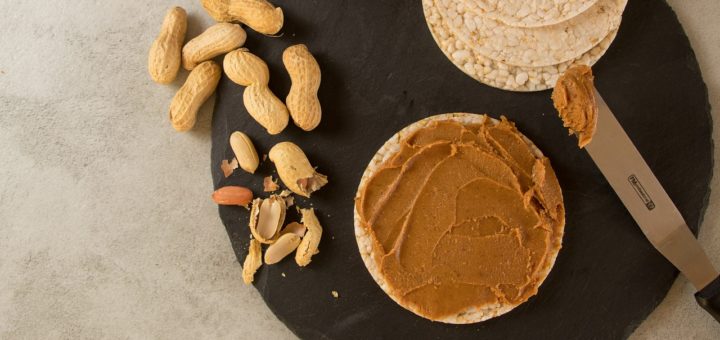 ---
What Should You Avoid In Peanut Butter?
Sodium/Salt: Excessive sodium is a strict 'no-no', especially if your heart health and blood pressure aren't that good. Sure, sodium-free organic peanut butter is bland, but it's better to embrace them. Else, go with the ones that offer less than 100 mg/serving.
Zero hydrogenated oils: If you can see a layer of peanut oil on top, that means you are good to go (let's keep aside the stirring dilemma!). Also, be cautious about palm oil as it may raise LDL cholesterol levels.
Labeled as Reduced fat: When fat is removed, fillers and starchy additives are added to enhance the flavor. You may be getting zero fat….but more fillers – watch out!
Watch added sugar content, too: Added sugars like molasses may translate into weight gain. Like, sodium, you'll want to limit them as well.
Artificial ingredients: Don't buy the tubs that have peanut butter and jelly mixed. You'll only get unnecessary synthetic ingredients in doing so.
Preservatives: They are harmful. Period.
---
Why Choose Natural Peanut Butter?
Just like the use of organic wheat berries, peanuts and peanut butter may help lower many illnesses, says an article published in Nutrients Journal. That's why the switch from conventional to organic is important. Let's check all possible reasons as to why you should choose organic peanut butter.
It is an easy way to limit your exposure to harsh chemicals in the food.
Organically grown peanuts reduce pesticide exposure. Not to forget, pesticides are detrimental for growing children (and adults too!).
Reduces the incidences of food-borne diseases.
Satisfies daily requirement of protein, BCAAs, and micronutrients.
Maintains energy throughout the day.
---
How To Spot Healthy Organic Peanut Butter?
Two ingredients or less is ideal: One-ingredient organic peanut butter is the best bet. If they contain too many ingredients, move onto the next tubs in the grocery store.
Organic or non-GMO certified: Go this route to avoid pesticides, GMO's, and synthetic chemicals that may harm you.
Unsalted organic peanut butter: Salt-free brand? Very Good. Go for it!
Unsweetened: No corn syrup, cane sugar, molasses, or even honey means you've picked the right tub.
No harmful oils: You need only the nut…not some vegetable oil or soybean oil. If possible, choose palm-oil free organic peanut butter.
Vegan: If you preach and practice a cruelty-free way of life, choose the ones with natural, vegan labels.
---
Reviews: Best Organic Peanut Butter
Some like it to be buttery and creamy; others prefer a crunchy one. No matter your preference, below, we've rounded up the top-rated organic/natural peanut butter on the market. Read on!
---
1
Add water or milk to this organic peanut powder and you have a tasty, healthy spread right at your fingertips.
Clocking 11 g protein and 3 g fat per serving, this is a great option for gym freaks, fitness freaks, vegans, organic peanut butter lovers, and everyone in-between.
It also provides 21% of your DV of Magnesium and 14% of DV of dietary fiber.
The peanuts are 100% mechanically processed without fillers, chemicals, or animal products.
To ensure purity, the peanut butter powder has undergone various laboratory tests for heavy metals and aflatoxins.
Speaking of the texture and consistency, it is quite like a fine, sifted flour that instantly blends well with almond milk or water.
---
2
NAKED nutrition® Vegan

Powdered Peanut Butter
Vegan, non-GMO certified, and preservative-, soy-, sugar-, and soy-free— this organic peanut butter checks all boxes.
This natural peanut butter is made with just one ingredient: roasted peanuts sourced from US farms.
Many kinds of organic peanut butter contain a good amount of salt, but Naked PB is totally salt-free, making it ideal for anyone who wishes to cut down sodium intake.
It packs in 6 g of protein, 4 g of carbs, 50 calories, and 0.9 g of BCAAs (branched-chain amino acids) per serving.
Best of all, it is independently tested for toxic heavy metals and abides by all the natural food product rules.
---
3
Crazy Richard's® All Natural

Creamy Peanut Butter
It may require a bit of stirring, but after that, you can treat yourself with the creamiest natural peanut butter.
Crazy Richard's All Natural Creamy Peanut Butter boasts an ingredient list you'll fell in love with. It is salt-, sugar-, palm oil-, and GMO-free. Plus, this has zero trans-fat.
The non-GMO peanuts are sourced from the United States.
Each serving (2 tbsp) provides about 190 calories, 16 g fat, 7 g carbs, and 8 g protein. The 16 oz BPA-free jar holds 14 servings.
It is perfect for stirring into the morning cup of oatmeal or sandwiches with a coarse texture and runny consistency.
---
4
Skippy® Natural

Non-stir Peanut Butter Powder
One thing that irritates everyone is the need to stir the peanut butter each time we open the lid. Solution: SKIPPY natural peanut butter!
Spreadable, snackable, and smooth (as SKIPPY says), it has only four ingredients. Also, it is gluten- and preservative-free.
Certified kosher, each serving gives 7 g of protein, 190 calories, 16 g fat, and 6 g carbs. It comes in a 40 oz jar, which gives 35 healthy servings.
Opened or not, you don't have to store it in the fridge. Remember, when refrigerated, it doesn't spread quite easily.
---
5
PB2® All Natural

Powdered Peanut Butter
This is something you'll want to put on anything. Why? Because it keeps the fat and calorie intake lesser than the regular peanut butter.
With zero additives, it is a certified gluten-free, organic peanut butter.
Sourced from roasted peanut butter, it is pressed to remove 85% of oil and fat.
Add one part water to two parts PB2 peanut powder to make a smooth spread for sandwiches, cakes, or fruit slices. You can also add a scoop to smoothies, shakes, and oatmeal.
The 16 oz jar offers 37 two-tablespoon servings. Each serving contains 45 calories, 1.5 g fat, 5 g carbs, and 5g protein.
---
6
Vivapura® Stone Ground

Wild Jungle Organic Peanut Butter
This organic peanut butter is not only tasty, but it also makes you healthy because it is raw stone-ground handcrafted wild jungle peanut butter.
Stone grinding preserves the vital nutrients and the natural flavor of peanut un the butter.
It can be spread to a slice of bread, added to smoothies, used in desserts, and used in nut milk.
Vivapura organic peanut butter is rich in protein and essential fatty acids.
---
7
PBfit® All Natural

Organic Peanut Butter Powder
Yes, this is powder, but that does not prevent in from being a part of the list of top peanut butter options.
This organic peanut butter powder is 100% organic.
It contains 87% lesser fat than other kinds of peanut butter.
It is rich in protein and is great for shakes and smoothies.
PBfit Organic Peanut Butter powder is proudly made in the USA.
---
8
Trader Joe's® No Salt

Creamy Organic Peanut Butter
If you are fed up of stirring your peanut butter every time you open it, this peanut butter is the solution for you.
It is very creamy and salty and without any sweeteners.
It is made with organic peanuts from Valencia.
Trader Joe's organic peanut butter is one of the most tasteful peanut butter options available.
---
9
Whole Earth® 100% Peanuts

Smooth Organic Peanut Butter
This organic peanut butter is best-suited for vegans and vegetarians.
It is 100% organic, and there is no sugar or salt added to it.
It comes in a package of 0.5 lbs.
Order today, and ger your jar of Whole Earth smooth organic peanut butter within 8-12 days.
---
10
Spread The Love® NAKED

Organic Peanut Butter
It is made with just one ingredient: Dry-roasted organic peanuts.
Spread The Love Organic Peanut Butter is all-Natural, vegan, gluten-free, dairy-free, preservative-free, sugar-free, salt-free, certified kosher, and non-GMO.
It is made without any added sugar, added salt, or palm fruit oil.
This product is made with love in California, USA, in small batches.
---
Index Table: Top Rated Organic Peanut Butter
---
---