Some of the links in this post are affiliate links. This means if you click on the link and purchase the item, I will receive an affiliate commission at no extra cost to you. All opinions remain my own.
Diaper rash is a common skin irritation triggered by a combination of moisture, air, friction from diapers, and other irritants. And that's where organic diaper rash creams come in.
Diaper rash cream can treat and prevent a rash by acting as a barrier between the baby's skin and the diaper. Here are our favorite organic diaper rash creams currently on the market.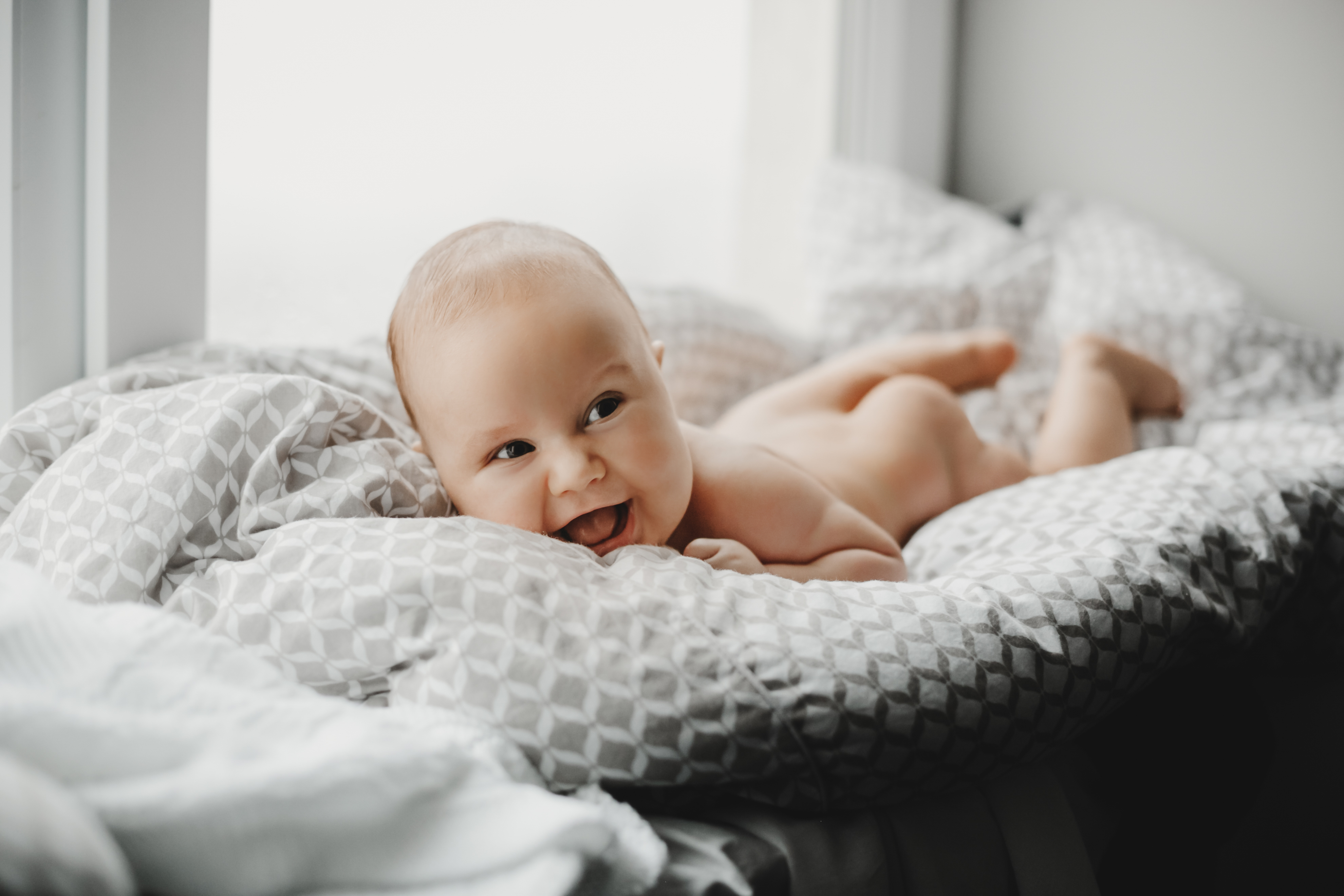 ---
What Causes Diaper Rash?
No matter how absorbent the diapers are or how frequently you change them, babies' little bums are susceptible to diaper rash. So, what triggers a rash? Let's check out.
Moisture: Even though the diapers wick moisture away from babies' skin, their bum is never completely dry. This means the chances of developing irritation or rashes are high.
Diarrhea: When acid in stool combines with extra moisture and ammonia from urine, it can result in diaper rash.
Foods: Introducing new foods into your baby's diet can irritate their tender skin. This is because the diet changes the chemical nature of their stool.
Chemicals: Disposable diapers have chemicals, synthetic dyes, and perfumes that can trigger diaper rash. If your kiddo is repeatedly getting rashes, switch to dye-free organic diapers or cloth.
Detergents: If you use cloth, kids' skin may react to the detergent you use to wash them. You may want to consider natural cleansers or more rinsing cycles.
Antibiotics: Antibiotics may kill healthy bacteria in your kid's gut. This can lead to diarrhea or a yeast infection, both of which cause diaper rash.
Yeast: Yeast growth in your child's diaper area is another reason for diaper rash. Topical ointments or anti-fungal dusting powders are the solutions here.
---
All About Identifying Diaper Rash
Visual examination is the primary means to identify diaper rashes in kids. Typical diaper rashes have the following characteristics:

Located on the buttocks, genitals, or thigh areas
Redness and dry patches
Warm to the touch
Raised, red bumps
Severe diaper rashes show:
Cracked skin
Bleeding and Pustules
Infected sores
Diaper rash due to yeast (Candida growth) requires anti-fungal treatment to kill the yeast. Symptoms of yeast diaper rashes include,

Bright redness
A clear border
Bright red, raised bumps
Failure to respond to regular diaper rash treatment
Applying organic diaper rash creams at every diaper change is a possible preventive measure every mum can take.
You should also consider choosing a diaper from our favorite organic diaper brands.
---
What's in Organic Diaper Rash Creams?
The diaper creams are water-based, making them easy for the skin to absorb and easy to spread. The secret weapon in most diaper rash creams is zinc oxide, which acts as a barrier to moisture. It can vary in concentration from 10 – 40% and does wonders in treating redness and irritation.
Shea Butter is another common ingredient in organic diaper rash creams. It soothes the irritated skin thanks to essential fatty acids and vitamins A & E.
Naturally, antibacterial and anti-fungal essential oils or coconut oil are also found in many natural diaper cream formulas.
Organic beeswax acts as a protective barrier for the skin and helps hold the other ingredients to the skin, so the cream gives immediate results.
Bentonite Clay helps fight bacteria that worsens the skin irritation.
Aside from creams, we also have this organic talc to soothes the irritated and cracked skin with gentle nourishing through the healthy ingredients inside it. This will keep your baby's skin soft and protect it from rashes.
---
Reviews: Best Organic Diaper Rash Creams
---
1
Created by a mom, this USDA-certified organic all-natural diaper cream contains organic oils, herbal extracts, and botanicals.
It also contains healing and soothing ingredients like olive oil, plantain leaf, chickweed, calendula, and lavender.
100% organic and cloth-diaper safe, this cream doesn't use zinc oxide. It's been clinically tested and dermatologist approved, too.
This all-natural formulation contains no artificial dyes or fragrances, petroleum products, mineral oil, phthalates, or parabens.
Although it comes in a small container, a little goes a long way in relieving diaper rash. It's also a great pick to treat everything from cuts to scrapes.
| Rating Category | Weight % | Score |
| --- | --- | --- |
| Reduce Irritation | 25% | 100 |
| Hypoallergenic | 25% | 100 |
| Moisturizing | 20% | 95 |
| Fragrance | 20% | 95 |
| Non-Toxic | 10% | 90 |
| Total Score | 100% | 97 |
---
2
NOLEO® Organic

Diaper Rash Preventive Cream Cleanser & Moisturizer
This greasy ointment is a breeze to apply and wipe off and provides a solid moisture barrier between your baby's skin and his/her diaper.
It heals with six ingredients – Limewater, Organic Sunflower Oil, Glyceryl Stearate, Organic Olive Oil, and Beeswax.
Organic oils deeply moisturize, leaving the baby's skin that's soft and soothing.
Since this diaper cream is formulated with so few ingredients, there's less chance it contains anything that will irritate the sensitive skin.
The formula balances the pH of your baby's skin, thus fighting off acidity of the urine, one of the major reasons for diaper rash.
It works great with cloth diapers and won't cause any clogging issues with the diapers.
| Rating Category | Weight % | Score |
| --- | --- | --- |
| Reduce Irritation | 25% | 100 |
| Hypoallergenic | 25% | 100 |
| Moisturizing | 20% | 90 |
| Fragrance | 20% | 95 |
| Non-Toxic | 10% | 90 |
| Total Score | 100% | 96 |
---
3
Matys® All Natural

Baby Ointment
Have Matys Baby Ointment on hand for when you need to call in reinforcement. This formula is made of pure, simple ingredients, so you know it's as natural as possible.
Made with coconut oil, jojoba oil, castor oil, olive oil, sunflower wax, and vitamin E, it gently shields from wetness and soothes the rashes in just a few uses.
It's kind to your baby's bum and is made without parabens, phthalates, hydrogenated oils, petroleum, sulfates, fragrances, mineral oils, and gluten.
The texture is creamy and clean, with no grit. It isn't runny but melts onto your baby's bum in no time.
Have one of these natural diaper rash cream tubs on hand so that you will be prepared.
| Rating Category | Weight % | Score |
| --- | --- | --- |
| Reduce Irritation | 25% | 100 |
| Hypoallergenic | 25% | 95 |
| Moisturizing | 20% | 90 |
| Fragrance | 20% | 95 |
| Non-Toxic | 10% | 90 |
| Total Score | 100% | 94.75 |
---
4
The Honest Company® Plant-based

Diaper Rash Cream
Honest diaper rash cream is a plant-based formula, so you know it's as natural and safe as possible. Organic shea butter, jojoba, tamandua, and coconut oil present soothes and moisturizes the irritated skin.
It has gentle non-nano zinc oxide. That means it not only forms a barrier to protect your baby's bottom but works to reduce skin inflammation.
The diaper cream is certified by the NSF — which means it meets strict health and safety standards.
The diaper rash cream doesn't contain the most common allergens, for example, Parabens, petroleum, synthetic fragrances, dyes, silicones, petrolatum, mineral oil, lanolin, or PEGs.
Hypoallergenic and physician tested, it can also prevent diaper rashes.
---
5
Seventh Generation® Coconut Care

Organic Diaper Rash Cream
Many moms vouch for the soothing powers of Seventh Generation Baby Diaper Cream with Soothing Coconut Care.
This USDA organic diaper rash cream relies on coconut oil and non-nano zinc oxide to soothe sore bums and create a protective barrier.
The extra-thick cream is phthalate-, paraben-, and formaldehyde-free. Being a hypoallergenic cream, you can use it for all diaper changes.
You can completely rely on this pediatrician-tested formula for rash-free bums. Slap some cream when you see the first signs of diaper rash.
---
6
Era Organics® Soothing

Baby Diaper Rash Balm
This extra nourishing and hydrating organic diaper balm works to prevent chafing, irritation, and excess moisture.
It soothes, repairs, and helps prevent diaper rash by employing organic ingredients scientifically proven to be natural diaper rash treatment.
It also helps soothe and protect seborrheic dermatitis, baby eczema, and more.
This USDA Certified Organic cream is made with Sunflower Oil, Beeswax, Cocoa Butter, Coconut Oil, Olive Oil, Chamomile, Calendula, and more.
This gentle, hypoallergenic diaper rash cream is made for sensitive, irritated skin on your baby's bottom.
This ointment is 100% natural and organic, free of toxins, parabens, SLS, alcohol, mineral oil, petrolatum, or other skin-damaging ingredients.
---
7
MADE OF® Protecting

Organic Diaper Rash Cream
This diaper rash cream is NSF Organic and EWG Verified.
The Organic Baby Rash Cream is 81% organic, 19% natural.
It is made from a soothing blend of organic oils like avocado and argan.
It provides a barrier of relief and protection against wetness to heal and prevent diaper rash.
MADE OF Diaper Rash Ointment is best for Sensitive Skin, Eczema, and Skin Irritation.
It is Non-GMO, soy-free, nut-free, phthalate-free, paraben-free, sulfate-free, and contains no synthetic fragrances or artificial ingredients.
---
8
Motherlove® Herbal

Organic Diaper Balm
This plant-based formula has been trusted and loved by generations of families and healthcare providers to help soothe irritation caused by diapers.
This balm is great for yeast imbalances as it contains anti-fungal and antibacterial herbs that are gentle enough for even a newborn.
Motherlove's Diaper Balm does not contain zinc oxide or petroleum, making it safe to use cloth, bamboo, and disposable diapers.
This product is USDA Certified Organic and Certified Cruelty Free by Leaping Bunny.
As a woman-owned, family-run, Certified B Corp, Motherlove cares about people and the planet over profit.
Motherlove produced this product in a solar-powered, zero-waste facility by employees who receive competitive pay and full benefits.
---
9
Dr. Bronner's® Unscented

Organic Magic Rash Balm
Dr. Bronner's Organic Magic Balms are formulated with organic beeswax to protect against cold, wind & clothes that rub you raw.
It also employs organic jojoba, avocado, and hemp oil for extra moisture, resulting in a soothed skin.
The Organic Magic Balm is gentle yet effective for soothing skin.
It helps prevent the baby's diaper rash and provides relief for chafed skin.
You can use this multifunctional balm to heal dry hands, face, body, cuticles, chins, and cheeks.
Dr. Bronner's products and ingredients are never tested on animals, so they qualify for the Leaping Bunny logo.
---
10
Nature's Baby Organics® Ointment

Organic Diaper Rash Cream
This diaper cream is made with organic calendula extract, which is known for its soothing properties.
This diaper ointment also helps to prevent additional diaper rash that can occur from moisture.
It is made with 95% organic ingredients.
This diaper rash cream is sulfate and paraben-free, as well as cruelty-free and vegan-friendly.
It contains USDA-certified organic calendula, tamanu oil, and chickweed extract to heal and moisturize the baby's sensitive skin.
---
Index Table: Top Rated Organic Diaper Rash Creams
---
---