Nowadays, there is a never-ending list of baby bath products out there. Unfortunately, many of them come with harmful chemicals you probably wouldn't want anywhere near your little ones.
That's exactly why we want you to Go Organic. The Organic Baby Shampoos are non-toxic. They are gentle, non-irritating, and safe bets.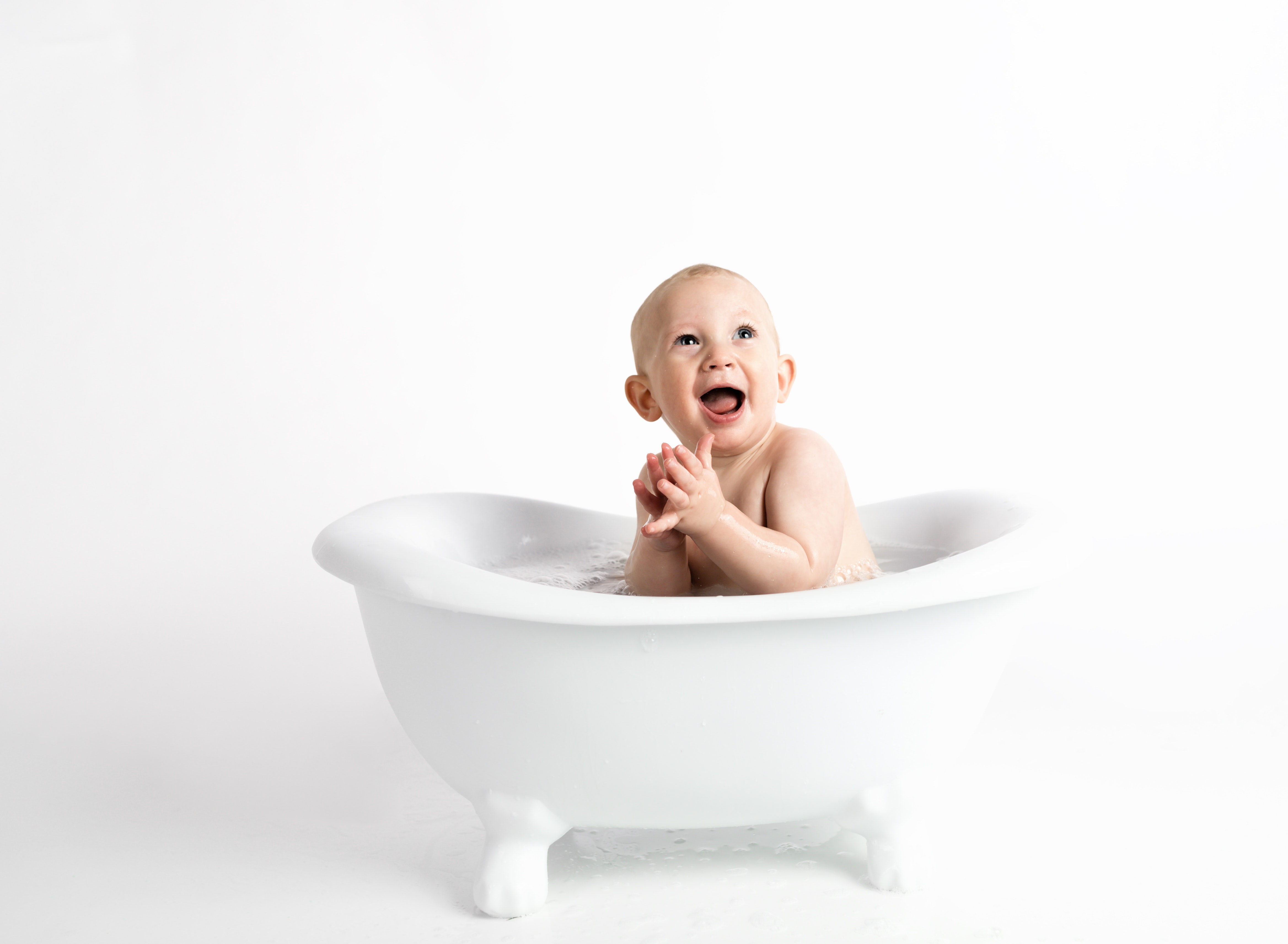 ---
Nasty Chemicals To Look For In Baby Shampoos
Your baby's skin (and yours too!) absorbs everything. Just imagine the situation of using chemical-filled baby products. The chemicals go straight into their growing internal system.
The occasional chemical invasion may not cause serious troubles. But, over time, continued exposure may result in chronic health conditions, including nervous disorders and cancer. Thus, it is necessary to keep your child away from,
Sodium Lauryl Sulfate (SLS): You can find this surfactant/emulsifier in many personal care products. But science confirmed it a carcinogen many years ago.
Chemical Fragrance: The fragrance industry uses 'n' several chemicals we never heard of. So, avoid buying baby shampoos with artificial fragrances – even if they smell divine.
Parabens: Watch out for these names: ethylparaben, methylparaben, butylparaben, propylparaben, and isobutylparaben. They are all paraben compounds disrupting hormonal functions.
Formaldehyde: It is a preservative used in medicines, cosmetics, and even food products. Studies showed that they could cause cancer and damage the nervous system.
Sodium hydroxymethylglycinate: A preservative + formaldehyde releaser. It is a potent skin irritant, too.
Polyethylene glycol (PEG): They are the petroleum-based softeners used in cosmetic products. PEG and its by-products are listed as human carcinogens.
Benzyl Alcohol: Another preservative associated with contact allergies, skin irritation, and inflammation.
---
Benefits of Using Organic Baby Shampoos
Let's go over all the important benefits an organic baby shampoo offers.
All-natural ingredients: Organic shampoo is safe for sensitive baby skin because it contains all-natural herbal infusions. Plus, they offer these extra benefits: tear-free, non-allergenic, or non-irritant.
You will avoid toxic chemicals: Among the many benefits, this one tops the list. Your kids will get chemical-free bathing with no paraben, no petroleum, no SLS, and no propylene glycol.
Keeps the scalp clean and healthy: The infused botanical extracts, essential oils, vitamins, and other nutrients ensure a healthy scalp. Also, they promote hair growth by stimulating the hair follicles.
Environmentally-friendly: Organic baby shampoo contains biodegradable materials rather than harsh toxins. Hence they are environmentally friendly.
Tailored fit: When it comes to organic baby shampoo, you can find many tailor-fit names. Some shampoos double as a body wash. Some are meant only for dry scalp. And, some others work well as shampoo + oil conditioner.
---
Key Ingredients In a Natural Organic Baby Shampoo
Look at the 'good' ingredients in natural/organic baby shampoo.
Carrier oils: All baby shampoo formulations with essential oils will contain one or two carrier oils, for example, Almond oil, Avocado oil, Argan oil, Coconut oil, and Jojoba oil. They are crucial for diluting concentrated essential oils.
Vegetable glycerin: It is a natural moisturizer used in body wash and shampoos. It gives the organic baby wash a thicker consistency and good lathering.
Organic Cocoa Butter and shea butter are moisture bombs! They also nourish and protect the skin – all without stripping the skin's natural barrier. The vitamins and fatty acids present in Shea butter are essential for healing dry skin.
Plant extracts: The list of herbal extracts used in baby shampoos is quite long. You may check the label for Organic Aloe, Chamomile, Calendula, Lavender, Tea tree, Sunflower, and Hibiscus. They are good for baby skin.
---
Reviews: Top 5 Organic Kids Shampoos
With all that said, let's focus on the top-rated organic kids' shampoos you can buy in 2019. And yes, they are the safest suds to keep your kid's scalp fresh and clean!
We hope you love the products we recommend!
So that you know, We may collect a share of sales or other compensation from the links on this page.
---
1
An affordable tear-free formula to gently clean your little one's hair and body.
This Hypoallergenic formula uses 100% organic Calendula. Its anti-inflammatory, antiseptic, and anti-bacterial properties help relieve diaper rashes.
The calendula baby shampoo is paraben, mineral oil, colorant, phthalate, and phenoxyethanol-free.
It blends into rich later to remove all impurities without stripping away natural oils.
Dermatologist-tested and extremely gentle on kids' skin. Plus, it doesn't break out sensitive skin.
Available in a squeeze bottle for easy handling.
---
2
Bella B® Bee Gone Cradle Cap

Organic Shampoo
Oatmeal is the secret behind this organic baby shampoo. Being a natural moisturizer, it treats dry and itchy scalp.
Tea tree oil is another key ingredient. It is loaded with antioxidants and essential nutrients to nourish the hair follicles.
The aloe vera and organic shea butter moisturize the scalp without stripping away the natural oils. They also provide essential vitamins and fats for healthy follicles.
It also contains vitamin E, organic flower extracts, and amino acids to improve blood circulation and promote hair growth.
Bonus points for making the baby shampoo phthalate- and tear-free
The pump bottle, with its ergonomic size, makes for easy handling.
---
3
Burt's Bees Baby® Plant-based

Natural Tear-free Shampoo
Phthalate-free. Check. Tear-free. Check. Petrolatum-free. Check. Paraben-free. Check. Soothing smell everyone loves. Check.
Burt's Bees Baby Shampoo is a mild baby wash formulated with 99.9% botanical ingredients and soy protein.
The soy protein moisturizes the skin and promotes collagen production—the result – is naturally soft, supple skin even during dry summers and winter months.
This natural baby shampoo is non-irritating and clinically proven, too. Hence, safe for daily use.
A little goes a long way with this baby shampoo. A capful is enough to produce a great batch of bubbles.
It comes in a user-friendly 12-oz bottle so that the product will last through many baths.
---
4
Nature's Baby Organics® Vanilla Tangerine

Natural Baby Shampoo
Made with botanical extracts and essential oils, you can rest assured that it is harmful chemical-paraben- and SLS-free.
Aloe leaf juice, cucumber fruit extract, and Calendula flower extract are the key to well-moisturized, clean skin.
It contains no animal ingredients. Hence, it's the best choice for any Vegan family.
Naturally fragranced with Coconut Pineapple. Don't worry; the fabulous scent is not overpowering for your kid.
You only need a dime-sized pump for a bubbly scrub that easily rinses off. Plus, it doesn't leave any residue.
Remember, this baby shampoo does not mention any tear-free claims.
---
5
Weleda® Natural

Tear-free Shampoo and Body Wash
Tear-free formula made with organic calendula extract, chamomile, almond, and sesame oils to moisturize the baby's skin and hair as it cleanses. Additionally, chamomile and calendula promote better sleep.
Almond oil contains a high amount of unsaturated fatty acids. They soothe and replenish dry, sensitive skin.
It also contains an amino acid cleanser obtained from coconut and fermented sugar.
The presence of naturally fragranced essential oils gives it a divine smell that soothes the senses.
The mild shampoo is also free of sulfates, parabens, phthalates, and mineral oil.
---
6
Mom & World® Tear Free

Organic Baby Shampoo
This baby shampoo is as gentle to the eyes as pure water.
The special no-tear formula cleanses gently and rinses easily, leaving the baby's hair soft, shiny, manageable, and fresh-smelling.
It is made with a natural blend of Argan oil, almond oil, Aloe vera, oat extract, wheat germ extract, and glycerin.
The baby shampoo becomes a rich lather that cleans without drying since it's soap-free and allergy-tested.
It is hypoallergenic, dermatologically tested, mild, and contains no sulfates (SLS, SLES, SCS), eye-numbing agents, parabens, phosphates, petroleum-based ingredients, animal by-products, perfumes, dyes, or caustics.
---
7
My Little North Star® Organic

Baby Shampoo & Body Wash
This baby shampoo and body wash gently cleanses the skin using natural and organic ingredients,
The tear-free hypoallergenic formula is free from eye-numbing agents and works wonders on sensitive skin, eczema, or allergy-prone skin.
It does not contain harsh skin-harming chemicals, sulfates (SLS, SLES, SCS), formaldehyde, parabens, phthalates, petroleum-based ingredients, animal by-products, or synthetic perfumes.
This product is natural, non-toxic, vegan, biodegradable, and cruelty-free.
---
8
The Honest Company® Truly calming

Organic Shampoo + Body Wash
The two-in-one formula is designed to make your and your baby's life easier.
It gently cleanses, soothes, and nourishes the hair and skin of your baby without over-drying.
This tear-free formula is made without using sulfates, parabens, or other harsh chemicals.
It is dermatologist tested and is made with natural and organic ingredients.
This shampoo and body wash creates a thick lather.
---
9
BareBaby Organics® Premium

Organic Baby Shampoo & Body Wash
This gentle formula cleans all hair and skin types, including eczema, cradle cap, and sensitive skin.
It contains no sulfates, parabens, phthalates, synthetic fragrances, or dyes.
The shampoo and body wash is enhanced with nourishing aloe vera, cucumber, ginger, kiwi, and other nutrient-rich ingredients.
It also contains orange and grapefruit essential oils to infuse it with a refreshing smell.
---
10
Babo Botanicals® 2-in-1

Moisturizing Baby Shampoo & Wash
This ultra-nourishing shampoo and body wash soothe and nourish hair, scalp, and skin.
It is perfect for newborns, babies, kids, and adults and is suitable for use on eczema-prone or sensitive skin.
This 2-in-1 shampoo and body wash are specifically developed with oat milk and calendula oil to leave hair soft, smooth, and shiny.
It comes enriched with Babo's organic Nutri-Soothe Complex and is lightly fragrant.
This plant-based product is formulated with naturally derived ingredients and does not contain gluten, soy, dairy, peanut, almond, or walnut.
It is hypoallergenic to reduce the risk of allergic reactions and is clinically tested under dermatological control.
This product is made in the USA and is B Corp Certified.
---
Index Table: Top Rated Organic Baby Shampoo
---
---