Some of the links in this post are affiliate links. This means if you click on the link and purchase the item, I will receive an affiliate commission at no extra cost to you. All opinions remain my own.
Babies spend much of their time sleeping. Quality sleep is essential for the proper growth and development of a child.
A proper blanket is one of the many things essential in improving the sleep quality of a baby. Organic Baby Blankets are the safest choice for the child and the environment.
Scroll down to read about Organic Baby Blankets and the best ones available in the market nowadays.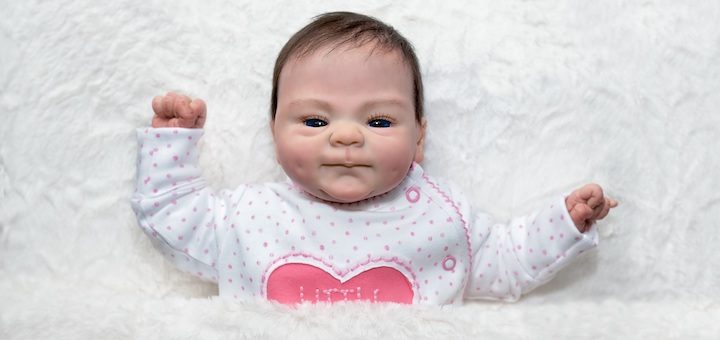 ---
Organic Vs. Non-Organic Baby Blankets
Effect on Skin – In non-organic blankets, the cotton crops are heavily processed with chemicals and bleaching agents. These synthetic fibers can harm the soft skin of an infant or child. Whereas Organic blankets come from organically grown crops and are gentle on the skin.
Danger to the Immune System – The processed material of non-organic blankets emit harmful gases, which can be a danger to the weak defense systems of a newborn. Organic blankets are safe in this regard.
Risk of Allergies – Organic blankets are hypoallergenic since they are free of chemicals. However, this is not true in non-organic blankets as they have chemicals and bleaching agents.
---
Developmental Benefits of Baby Blankets
Provide Comfort – Swaddling means tightly wrapping the baby in a blanket. Swaddling recreates the same sense of comfort and safety the baby feels in the womb. For more comfort, visit organic baby shampoos as they offer hypoallergenic ability which will work even on sensitive skin, eczema, or allergy-prone skin.
Better Sleep Quality – Wrapping your baby snugly in a blanket before bedtime provides comfort. Swaddling this way helps them sleep better and not startle awake. Sleep and especially REM sleep are essential for brain and physical development.
Teach Self-Comfort – Swaddling your babies in a way that their hands are close to their face increases the possibility that they will use their fingers as a pacifier to comfort themselves during the night.
Promote Independence – Having something as a source of comfort other than a parent promotes individuality and allows for a healthy separation between parent and child.
Aid in Sensory Development – The different materials, colors, and designs of the blankets can aid in the baby's sensory development. They will probably choose a favorite blanket based on these three things.
---
Types of Baby Blankets
Receiving Blankets – Receiving blankets are the first blanket a baby is wrapped in. After the nurses examine your baby, they are swaddled in a receiving blanket. Receiving blankets are thin and don't provide much warmth, but they are perfect for swaddling because they are made of lightweight and soft cotton material.
Thermal Blankets – Made of light, thermal material, Thermal blankets can be used year-round. They are ideal for use on summer afternoons when your baby needs something light but still keeps some warmth inside. They wash well and come in a variety of colors.
Fleece Blankets – Fleece blankets are perfect for chilly winter nights. They are warm and have a soft texture. Some fleece blankets come with trimmed silk edging, gentle enough for the baby to rub against his chubby cheeks. They are also commonly used as stroller blankets.
Crocheted Blankets – Handmade, crocheted baby blanket are the perfect gift for a child. Ensure the yarn used is soft and does not have any rough edges. Otherwise, it may irritate the baby's soft skin.
Quilts – Another option is a quilt. There are many amazing baby quilts available, and they can be specially designed to match the baby's nursery theme.
Sleep Sacks – If your baby is too young to be put, all wrapped up, in a crib, you can go for a sleep sack. Sleep sacks are blankets, sewn closed at the bottom and sides, with holes for your baby's arms and neck. It eliminates the risk of suffocation.
---
Reviews: Best Organic Baby Blankets Made in USA
The following products are the best Organic Baby Blankets made exclusively in the USA.
---
1
This Imported Cable Knit Blanket is made from 100% Organic Cotton.
The dimensions of this Burt's Bees Baby Blanket are 30″ x 40″ and big enough to be a stroller blanket.
It is GOTS certified.
The woven muslin cotton is breathable with a Jersey knit design and supplies the purest, perfect extra soft layer for the baby's thin and porous skin.
This product is machine washable and dryable for an easy clean.
Made for kids up to 3 years.
---
2
Amazing Baby® Ultimate Swaddle

Winter Blanket
The Amazing Baby line is made exclusively for Amazon by SwaddleDesigns' artist and mom, Lynette Damir.
It feels baby soft and made from premium USA Cotton with a 123 Swaddle label.
The blanket is ideally made for swaddling, tummy time, sun shield, and more.
Swaddle Blankets come in a generous size of 42″x 42″.
---
3
Simple Joys by Carter's® Flannel

Receiving Blankets
This Imported Flannel blanket is made from 100% breathable Cotton.
It is specially made for swaddling, cuddling, or burping.
This high-quality product comes with low prices and tagless packaging to ease the baby.
---
4
The Snug Bug® Swaddle Blanket

Organic USA Made
This 100% cotton blanket is stretchy, lightweight, and breathable for a comfortable snuggle.
This blanket's Danish design has a unique diamond weave, allowing air to flow through and creates pillows for softness.
It comes in a large size with 41 "x 41" dimensions.
This product fulfills all safety regulations and does not contain any bleaching agents, chemicals, or detergents.
This fabric is long-lasting and only gets softer with every wash. It will become your toddler's favorite blanket.
The Snug Bug blanket is created from Fair Trade Certified GOTS Organic Cotton. It is woven in India and sewn in the USA.
---
5
American Baby Company® Embroidered

Swaddle Blanket
It's an imported baby blanket made with 100% Organic Cotton.
It comes in a generous size of 30″ x 40″.
The embroidered organic cotton swaddle blanket is lightweight and perfect for warmer months. The silky-smooth material is breathable and ideal for swaddling infants and newborns.
The blanket is great for a baby shower gift and comes with a cute teddy bear embroidered patch on one corner.
---
6
Moon and Back® Baby Blanket

Organic Cotton Baby Blanket
The baby blanket is made from 100% Imported Organic Cotton.
Super soft cotton wraps the baby in comfort. These blankets are perfect for swaddling, snuggling, and burping.
Certified free of any harmful chemicals by Oeko-Tex Standard 100, the blanket is suitable for a machine wash.
Each pack includes two blankets.
Moon and Back by Hanna Andersson created this exclusive product in partnership with Amazon Fashion.
It offers lasting quality, comfort, and care.
---
7
Zenssia® Warm

Organic Cotton Baby Blanket
This is a 100% Cotton baby bottle.
The organic cotton double-layer baby blanket is padded with non-toxic microfiber filling for thermal purposes and is thicker than average while still being breathable.
It is made of premium quality 100% organic cotton, ensuring that the baby blanket is extremely soft, snuggly, and perfect for little ones and toddlers.
This product is hypoallergenic, stretchy, wrinkle-resistant, and suitable for all seasons and climates.
It measures 39 "x39" and is made for full coverage over your baby.
This quilted design high quality, soft baby crib blanket can work as the perfect gift for new mothers and their little ones.
---
8
Nightingale® Unisex

Baby Swaddle Blankets
This baby blanket is made using 70% Bamboo and 30% Cotton, making it organic and all-natural.
It allows you to recreate that safe, soothing comfort of the womb with Nightingale's bamboo muslin swaddle blanket.
The thin natural bamboo cotton and muslin keep infants from overheating while offering more durability and breathability than traditional babies receiving blankets.
These muslin baby blankets can also work as a nursing or stroller cover, burp cloth, and more.
It is easy to wash and becomes more comfortable and softer with use.
This gentle and versatile blanket is the perfect baby shower gift.
---
9
Touched by Nature® Unisex

Organic Cotton Swaddle
It is made using 100% Organic Cotton.
This unisex baby blanket is soft to the touch and gentle to a newborn's skin.
The versatile organic cotton swaddle blanket can be used as a stroller blanket or for other purposes.
It is designed in such a way as to be optimal for everyday use.
Touched by Nature offers affordable, high-quality, multi-purpose blankets.
---
10
Clover & Sage® Muslin

Organic Baby Toddler Blanket
This is a 100% Organic Muslin Cotton baby blanket.
These blankets are four times thicker than standard ones and provide four soothing layers of the highest quality muslin cotton for your baby to cuddle in.
The large size of this blanket makes swaddling easier.
Muslin fibers relax after every wash, so this blanket will only get softer overtime for a smooth and gentle feeling on your newborn's face and skin.
It is made using premium quality "Reactive Printing" for the softest feel and to avoid any chemicals from being transferred by a regular printing process.
---
Index Table: Top-Rated Organic Baby Blankets Made in USA
---
---