Are you exploring your options in eco-friendly, non-toxic diapers? Or are you someone who's still hesitant to hop onto the organic diapers' bandwagon?
Whether you're new to organic diapers or want to learn more about them, this article is a good place to start with. Keep reading and say 'yes' to chemical-free diapering!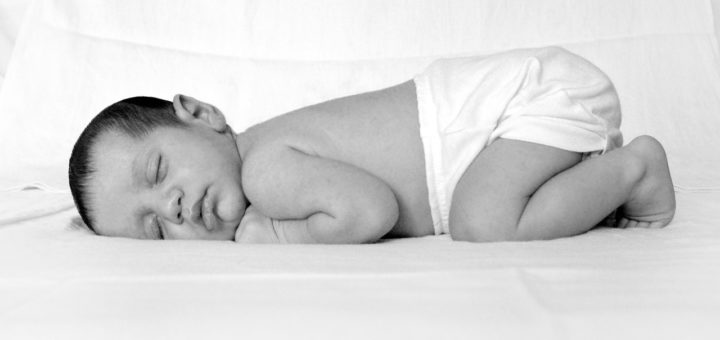 ---
What Chemicals Should You Avoid In Diapers
Disposables are such a blessing for the new mums. But did you know what's really there in them? If not, don't take the time and effort to check the labels. Because the manufacturers aren't required to list down all of their ingredients.
Don't you think that's a red flag especially, considering the amount of time the disposables stay in contact with your kid's sensitive areas? Let's go over some nasty names in the mainstream disposable diapers.
Chlorine and its derivatives: Wood pulp used for manufacturing diaper is usually bleached with chlorine gas. The byproduct of this bleaching process is dioxins, a highly carcinogenic compound.

Sodium polyacrylate: The chemical that makes diapers absorbent! Sadly, you can't find many diaper brands that don't contain SAP. Your best bet – organic cloth diapers!

Tributyltin: Tributyltin or TBT is extremely harmful to aquatic flora and fauna and may also cause skin irritations in humans.

Dyes: The designs on the outside of many diapers are made with harmful dyes. Examples are Disperse Blue 106, Disperse Blue 124, Disperse Yellow 3, and Disperse Orange 3. You thought the cartoons on the diaper are fun – you're so wrong!

Fragrances: They put your baby at risk of developing rashes, skin irritation or other side effects.

---
Choose Safer Non-Toxic Organic Diapers
To avoid above-mentioned unsafe chemicals, choose organic diapers. They are not only an excellent alternative to your regular diaper but earth-friendly. In addition, they are helpful in reducing,
Risk of skin irritation and diaper rash
Risk of respiratory allergies
Exposure to potentially harmful chemicals
You can also try switching to organic cloth diapers – they're free of dyes and tons of chemicals. If you don't want to use cloth diapers when you're out, use them at home. It's up to you. At the end of the day all that matters is keeping your kid safe, dry and comfortable.
---
All About Choosing Organic Diapers
Next up, we'd like to walk you through the nitty-gritty of choosing organic diapers.

Fabric type: Organic cotton, untreated Hemp cloth, organic wool, and bamboo – these are the most common types of fabric seen in organic diapers. Whatever material you choose, double, or even triple check that it comes with no bleach tag.

Diaper type: Prefold organic diapers, flats, pocket diapers, all-in-one (AIO), and fitted diapers – the choices are many, here.

Size: Don't forgo this – size is critical in terms of fit, leakage, and comfort of the baby.

Prices: Sure, organic diapers may seem a little pricier than the regular disposables, but they are worth every penny. If you are on a tight budget, go for organic cloth diapers – they're easy on the wallet.

Overnight usage: Another important factor to consider. Go for the organic diapers that let your baby stay dry at night.

---
Reviews: Best Organic Diapers
Whether you use eco-friendly diapers or organic cloth diapers every day or just occasionally, you can find a plethora of options out there. Here are our top picks for organic diapers.
Some are easy on the wallet. Some are pricey. All of them are safe for kids and the environment – yes, they have that in common!
---
We love Andy Pandy diapers for their clean and soft look and for the fact that they contain zero nasty chemicals. Examples are chlorine, phthalates, BPA, PVC, alcohol, TBT, or synthetic preservatives.

Manufactured from natural bamboo fibers, they ensure your little ones stay dry and comfortable. To make things easier, Andy Pandy diapers have a wetness indicator. When you see a green line, know that it's time to change the diaper.

For ensuring better comfort, the inner lining of the diaper has a natural aloe. Tiny perforations are also included for better aeration.

Because of the bamboo fibers, these diapers are eco-friendly, hypoallergenic, and anti-bacterial. And yes, it is GMO-free as well.

In short, it is a great non-toxic diaper for the newborns.

---
2
Certified by the Nordic Swan Eco Label, Bamboo Nature Diapers are safe and eco-friendly. They're free of elemental chlorine, formaldehyde, phthalates, PVC, heavy metals, carcinogens, or latex.

Additionally, these diapers are hypoallergenic, since they don't contain synthetic perfumes, oils, lotions or odor inhibitors.


They're dermatologically tested, FSC and Danish Asthma/Allergy certified, too.

Bamboo Nature diaper uses sustainably sourced wood. Plus, its absorbent core has wheat starch.

It offers great breathability. Plus, it keeps the little one's bottom dry and free of pesky rashes or redness. It is fantastic for sensitive skin.

If you can afford the hefty price tag, this eco-friendly diaper (75% biodegradable) is a real deal.

---
3
Absorbent and eco-friendly, Naty by Eco diapers are a great choice for your kids.

With no phthalates, organotins (MBT, DBT, TBT), carcinogens, heavy metals, chlorine, and latex, it is hypoallergenic, too. This mid-range baby diaper is GMO-free and comes completely unbleached.

Though it a little stiff but still provides ample breathability to avoid skin irritation or allergies. Even more amazingly, it is a great help during potty-training.

Another noteworthy factor is that it doesn't use cornstarch, which may elicit allergic reactions in kids with sensitive skin.

It breaks down pretty easily without any residues thanks to the 60% biodegradable that was used in its manufacturing.

---
4
Organic cloth diapers are the best route to take if you want to reduce your baby's exposure to harsh chemicals and plastics. Plus, it will help reduce your carbon footprint, too.

Made of lightweight fabric that is super soft, easy to clean, and dries quickly. The bonus? These are pre-folded panels.

They also double as a burp cloth, changing pads or even bibs. The 10-count white assortment is a great baby shower stocking stuffer as well.

They might shrink after the first wash, but moms say it isn't affecting the overall quality of the cloth diaper.

Each individual cloth diaper measures 20 x 14 inches.

---
5
Additionally, they have moisture barrier cuffs and stretchy panels to prevent leaks.

Made from corn and wheat starch and being chlorine-, latex-, dye- and fragrance-free, these diapers are safe for babies up to 22-37 lbs.

They are gentle on the skin and breathable thanks to the breathing pores that ensure zero diaper rashes.

These diapers also feature soft side panels, stretchy tabs for a secure and comfortable fit. It offers excellent leak protection, which makes it perfect for overnight usage.

Most importantly, Earth's Best's organic diapers are soft and less stiff than its competitor brands.

These pocket-friendly diapers are available in seven sizes including newborn through age 6.

---
Index Table: Top Rated Organic Diapers
---
---