Some of the links in this post are affiliate links. This means if you click on the link and purchase the item, I will receive an affiliate commission at no extra cost to you. All opinions remain my own.
As a parent in our industrial society, one can never be too careful when selecting products for one's children.
Many chemical-based products are too harsh for young children and can cause a lot of unnecessary damage!
Read this guide to find out more about what's good, what's bad, and what can happen when your child is exposed to either side of the baby wash story.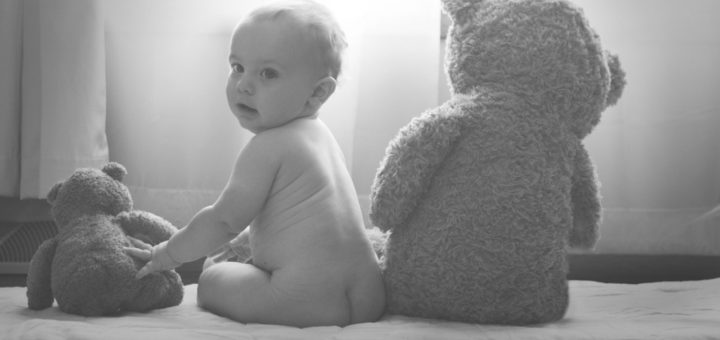 ---
Why Organic Baby Wash is A Good Idea
The organic baby wash may be a few dollars more expensive, but the price is worth it when you realize what you are doing to them with a non-organic baby wash!
Many people still do not understand that products based on these harsh chemicals often cause skin, respiratory and scalp problems in adults, let alone kids.
Children are a lot more sensitive to these effects than adults are because their bodies are a lot smaller, which allows their bodies to be suffused with chemicals faster.
If your infant suffers from any of the following conditions, you should start to reconsider all products you are applying to their skin, including baby wash.
Hives
Skin Rashes
Skin Irritations
Blistering
Eczema
Asthma
Burning
Severe emotional reactions at bath time
Dry Skin
Dermatitis
Swelling
If your child suffers from rashes that have a yellow tinge to them, consult your podiatrist immediately as this is a sign of infection. Using Organic Baby Lotions is also a good idea to protect your baby from such infections.
---
5 Sneaky Baby Wash Ingredients That Will Cause Allergic Reactions
Here is a list of chemical, cosmetic ingredients that are added to non-organic baby washes.
Artificial Fragrances – these are known to clog up our skin and pores with heavy metals such as aluminum and more. Artificial fragrances also tend to include alcohol variants that cause skin rashes, burning and irritations.
Sodium Laureth/Laurel Sulphate – this is one of the harshest chemicals that is put inside shampoo, body wash, and skincare products. Many people think it's "natural" and "healthy" because it comes from an extraction of coconut. This is not true. SLS is toxic for us and is known to cause skin irritations, hair loss, dried scalps and also acts as a carcinogen in the long run.
Limonene – this is another skin irritant that has highly carcinogenic properties.
Sodium Benzoate – this is a highly carcinogenic compound that will wreak havoc on your child's immune function, as well as cause skin allergies to occur.
Pthalates – any substance that has this in its name needs to be avoided at all costs. Phthalates are plastic compounds that act as fake estrogens in the body. They tend to destroy the fine balance of hormones in your child's system, as well as being highly carcinogenic.
---
The Best Therapeutic Organic Baby Wash Ingredients
Organic ingredients work so efficiently because instead of harshly acting on the skin to eradicate the problems aggressively (as chemicals do), they nourish the skin, enhancing and promoting it to function properly.
Organic ingredients can achieve much better results than synthetic ingredients and will also confer protection against any active synthetic ingredients in a combination of baby wash.
Here are some of the best organic ingredients that should be included in your natural baby wash:
Lavender – lavender extract or essential oil does wonders on your baby's skin, soothing any irritations, removing excess greasiness, and protecting the skin from infections.
Coconut – coconut oil has a famous reputation for being one of the world's most potent anti-inflammatory substances. Coconut also confers protection against radiation, infections, and burning.
Olive – olive oil is fantastic for skin pores and hair follicles, strengthening them and helping skin to shine! The soothing compounds inside olives will help to soften your child's skin, too, preventing dry patches from popping up.
Calendula – Calendula has been known to calm down more than just skin irritants! It has a very positive effect on your child's mood and protects against cradle cap.
Tea Tree – tea tree is an effective anti-dandruff treatment that also encourages the skin and scalp to function healthily.
Honey – Honey in minuscule doses is a potent anti-inflammatory that can also soothe upset stomachs, skin ulcers and destroy unwanted bacteria. Honey has been used for centuries as a preservative and can also help preserve the integrity of natural products, extending their shelf life.
---
Reviews: Best Organic Baby Wash
Below is our carefully selected list of organic baby washes, selected for optimal child-safe results.
---
1
This is a great all organic product that uses a select combination of potent natural ingredients to keep your baby's skin soft and rash-free.
Coconut and olive oil are combined in this baby skin wash formula for the best conditioning and skin protection results.
The Lavender present in this combination works wonders to soothe the skin.
Honey is the main active preserving ingredient, helping to preserve your baby's skin integrity.
Rosemary and Aloe vera help prevent cradle cap and keep dry skin at bay.
Certified by Leaping Bunny as 100% free of animal testing and animal cruelty.
---
2
Little Twig® Lavender Baby Wash

All Natural Lemon Lavender Baby Wash
This 17 inch easy-to-use bottle contains a soothing lavender based baby wash.
Treat your baby to a soothing combination of lavender, lemon, and tea tree with this divine smelling baby wash.
This organic baby wash strips excessive grease from the baby's skin, allowing for healthy skin and glandular function.
Leaves your child's skin soft and rehydrated – say goodbye to scratchy irritating patches on their skin.
This baby wash may just put your baby to sleep right away afterward, as it had chamomile in the mix (Chamomile is a potent soothing agent, renowned for helping people sleep).
Free from nuts, wheat, soy, phthalates, parabens, and sulfates.
Pediatricians have tested and proved this product's effectiveness.
100% hypoallergenic.
---
3
Babo Botanicals® Oatmilk Calendula Baby Wash

Skin Soothing Organic Baby Wash
This baby wash is made from a unique blend of calendula and oat milk, leaving baby skin softer and more moisturized than before.
Calendula is a highly medicinal plant, being used in tummy bug medicine and keeping skin and scalp looking gorgeous.
Oatmilk is very useful in removing dandruff and dry, irritated skin patches, exfoliating the skin excellently.
Watercress is a rare ingredient added to this organic baby wash, and it is loaded with many natural phytochemicals that will boost your child's immune system!
This product is free from artificial color, fragrance, allergens, phthalates, parabens, sulfates, animal testing/cruelty, and much more!
---
4
Earth's Best® Lavender Baby Wash

Hyper Soothing Baby Wash
This organic baby wash does a good job of protecting your child's skin from harsh chemicals, thanks to the many floral extracts used to manufacture it.
Lavender act as potent botanical extracts that soothe the skin and aiding your baby to fall asleep.
Rosewood and camellia extracts are perfect for calming down your child's nerves as well as removing skin inflammation or swellings.
Many of the other ingredients in this product are full of antioxidants that will protect your child's skin and promote healthy skin function.
Free from parabens and other synthetic additives.
---
5
Baby Mantra® Moisturising Organic Baby Wash

Coconut Olive Based Natural Baby Wash
This organic baby wash doubles as a shampoo and conditioner for your infant.
The brilliant combination of olive and coconut oils cover the full spectrum of bacteria that can cause skin infections in your baby.
Coconut oil helps to soften skin as well as to disentangle hair.
Olive oil is one of the best anti-dandruff remedies, protecting your child's scalp from cradle cap and more.
It is enhanced with antioxidant-rich aloe vera for skin protective and soothing actions.
Certified organic and made from the best non-toxic, natural ingredients to give your baby a healthy start in life.
Made in the USA.
---
6
Babyganics® Non-allergic

Baby Shampoo and Body Wash
This baby shampoo and body wash is formulated without Parabens, sulfates, phthalates, mineral oil, petrolatum, artificial fragrances or dyes, making it safe for babies.
Keeping in mind the sensitive nature of the baby's skin, this body wash is made using Plant-derived ingredients.
This body washes and shampoo duo produces foam, making it a fun experience for the kids.
This product is Non-allergenic, Pediatrician, and Dermatologist tested, as well as Cruelty-free.
---
7
Burt's Bees® Gift Set

Baby Getting Started Kit
This Shampoo, Wash and Buttermilk Soap gently cleanses and softens baby's delicate, sensitive skin.
These natural baby care products are formulated without phthalates parabens or petrolatum to ensure the gentlest of ingredients get to the baby's skin.
These baby essentials are clinically proven to be safe, effective, and non-irritating, as well as nurturing for newborn skin.
This baby gift set contains travel-sized cleansing and moisturizing baby skincare products, making it the perfect gift for newborns.
---
8
Cetaphil Baby® Tear-Free

Organic Wash & Shampoo
This tear-free formula blends into a rich, lathering wash that gently cleans your baby's delicate skin and hair without drying.
It is formulated with organic calendula and gently rinses the skin clean, leaving behind a soft, fresh scent.
This product is dermatologist tested and formulated to be gentle enough for the infant's skin.
It is paraben-free, colorant-free, mineral oil-free as well as hypoallergenic.
---
9
EverJoyn® Plant-Based

Organic Shampoo & Body Wash
The 2-in-1 Baby Shampoo and Body Wash is made with only 9 simple, plant-based ingredients.
It is free of harsh chemicals, toxic ingredients, and parabens, sulfates, SLS, and synthetics.
This product is natural and organic and made with 76% USDA certified organic ingredients, whereas the rest is extremely mild, tear-free, and sulfate-free natural surfactant blend derived from coconuts.
This All-Natural and Organic Baby Shampoo and Body Wash are 100% waterless, making our product more premium quality and allowing us to avoid adding any toxic preservatives.
---
10
Nature's Baby Organics® Moisturizing

Baby Shampoo And Body Wash
This is a product for the whole family, as it is soft enough for babies and rich enough for adults.
It is a moisturizing body wash and doesn't dehydrate your skin or hair.
It contains no animal products, which makes it the best choice for vegans and those who prefer organic products and excellent for the baby's sensitive skin.
It comes with a fabulous, natural scent of refreshing coconut and pineapple that doesn't irritate sensitive noses.
It makes the skin glow and leaves hair soft and luxurious.
---
Comparison Table: Top Organic Baby Wash
---
---