You eat good food, drink purified water, and detox your body and mind.
So why not bring that 'all-good, all-pure practice into bath and body care products? We're talking about natural body wash!
Up for a switch? Be sure to check out our picks if you want an organic body wash in every sense of the word.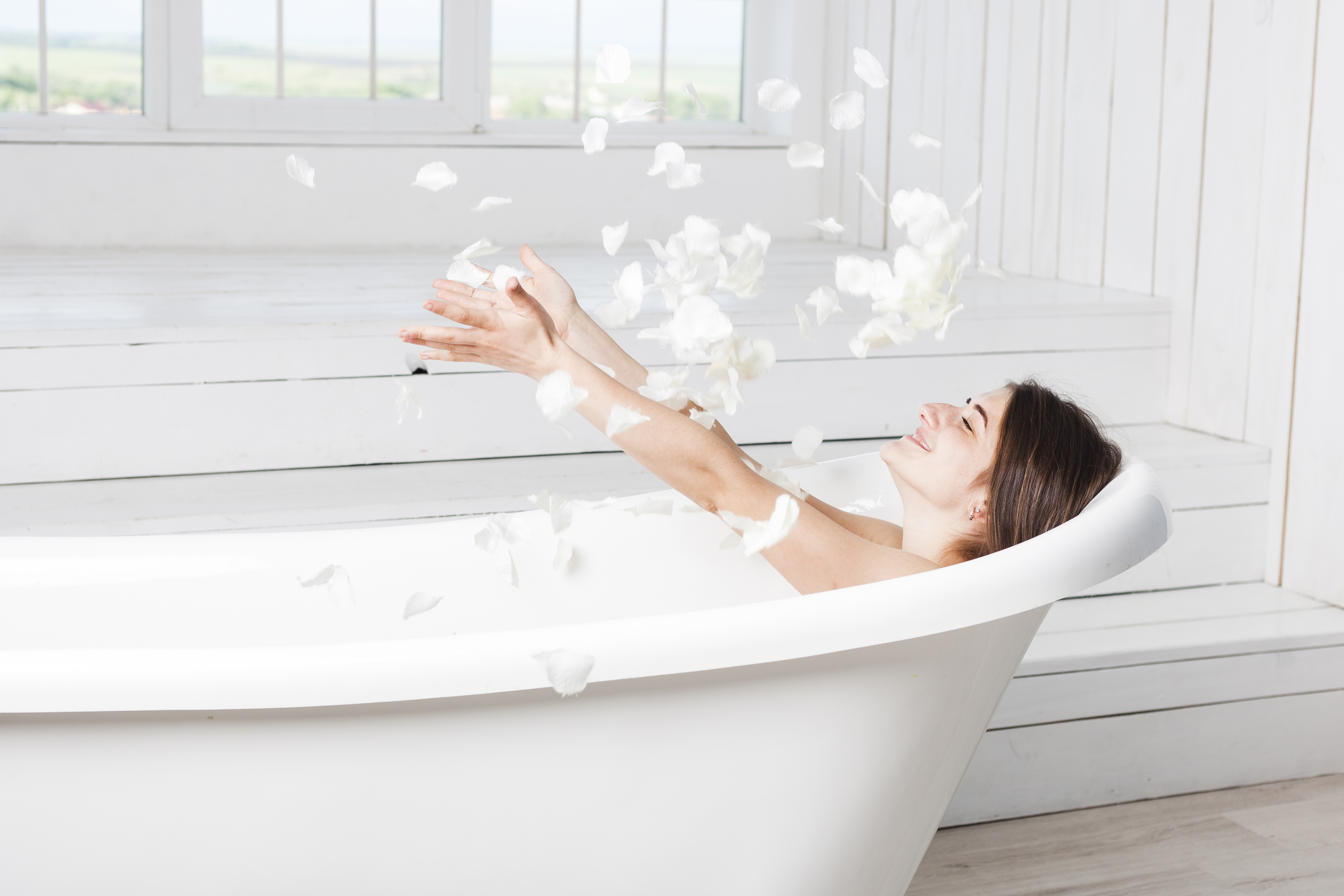 ---
Why Choose All-Natural Body Wash?
It is no secret that over time chemicals build up a toxic overload, which is unhealthy for us and the environment. And that's where chemical-free, organic products come into play. Take a look at the benefits of using an organic body wash.

Contains only natural ingredients: Just like using organic intimate wash, organic body washes contain only plant-based extracts, essential oils, and sustainably sourced raw materials. No fillers. No toxins.
Protects the natural skin barrier: Since no harsh chemicals are involved, natural body wash is good for all skin types. They do not strip off moisture or the oil barrier of the skin. Instead, they act as a protective layer in retaining moisture.
Can be effective for certain skin conditions: Harsh chemicals in regular body wash may worsen skin conditions like eczema, dermatitis, acne, etc. The all-natural body wash is a great alternative for such individuals.
Nourishes skin: With plenty of antioxidants and nutrients, organic bath products will help to nourish the body.
---
What's Hiding In Your Body Wash?
Toxic chemicals in a body wash are no joke. They wreak havoc on your body. That's why we want you to inspect these chemicals' labels thoroughly.
Parabens: They may extend the product's shelf life. Remember, they can also become the reason for developing breast cancer because they have the potential to mimic estrogen.
Methylisothiazolinone (MIT): This chemical is antibacterial but can cause severe damage to the central nervous system.
Fragrance: Remember that synthetic fragrances are a cocktail of harsh chemicals. They can irritate the eyes and trigger inflammation and respiratory issues.
Persulfates: Sulfates of sodium, potassium, and ammonia are toxic to your lungs, eyes, skin, and other vital organs.
Triclosan: FDA has confirmed it as a pesticide. Yet many body wash and soaps have it as one of the many ingredients. Upon chemical reaction, it forms dioxin, a potent carcinogen.
Cocamidopropyl Betaine: It is a lathering agent. Unfortunately, this causes skin allergies and dermatitis.
So, now that we've told you what to avoid, how do you find a safe organic body wash? Well, we got that covered, too. Just keep reading!
---
Choosing The Right Organic Body Wash
Here are some tips for choosing the right body lotion.
Nature of the ingredient: Ensure the ingredients used are 'natural,' 'certified organic,' '100% organic', or '100% pure'.
Plant-based ingredients: Fruit extracts, essential oils, botanical extracts, natural seed oils, and natural fragrances are good for the skin.
No animal testing: Leaping Bunny Logo and the Certified Vegan Logo assure that no animals are harmed while making body wash.
---
Reviews: Top 5 Organic Body Wash
Here are five organic body wash brands that met our standards for ingredients, cleansing power, skin nourishment, and safety. From certified chemical-free body wash to all-herbal body wash and vegan liquid bath soap, we have something for everyone.
We hope you love the products we recommend!
So that you know, We may collect a share of sales or other compensation from the links on this page.
---
1
A cult favorite to deep clean, soften, renew, and deodorize the skin. Bonus: the 12 Fl oz body wash also has antiseptic and antifungal properties.
ArtNaturals organic body wash has an intoxicatingly fresh scent of tea tree, peppermint, eucalyptus, and other essential oils.
It goes on creamy smooth, creates a rich foamy lather, and leaves skin feeling hydrated and soft.
The natural body wash is made from argan oil, aloe vera, coconut oil, keratin, botanical extracts, and vitamins.
Gentle enough for individuals with athlete's foot, jock itch, psoriasis, or sensitive skin.
This product is paraben-, cruelty-, phthalate-, petrolatum- and SLS-free.
Non-drying and great for men and women alike.
---
2
The Honest Co® Plant Based

Sweet Orange Vanilla Body Wash
Made with a blend of coconut oil, jojoba protein & quinoa extract, this plant-based body wash is perfect for the whole family. The best part – is it doubles as a shampoo as well.
The 2-in-1 cleanser also has orange and vanilla extracts to keep the skin soft and squeaky clean.
Aloe, chamomile, and calendula blend in. It deeply nourishes and soothes the dry, irritated skin.
The Honest Co body wash is free from SLS, parabens, synthetic fragrances, formaldehyde, MEA, DEA, and TEA.
It is a hypoallergenic, tear-free, and physician-tested formula. So, it's even suitable for sensitive skin and children.
This sulfate-free body washes, lathers gently, and doesn't dry the skin.
---
3
The Seaweed Bath Co® Organic

Hydrating Body Wash
The Seaweed Bath Co nailed it with this unique blend of bladderwrack seaweed extract and blue-green algae.
The organic body wash also has 65+ vitamins and minerals to detox the skin. It also hydrates and softens the skin with organic Hawaiian kukui oil, coconut oil, and aloe vera.
Suitable for all skin types, antimicrobial neem oil is included to protect and moisturize dry, cracked skin.
Just one pump creates a rich nourishing lather that will leave your skin super clean (but not dry).
Vegan, cruelty-free, and Leaping Bunny certified, it has no dyes, parabens, SLS, and gluten.
Doubles as a body wash and shaving gel.
---
4
The Crown Choice® Vegan

Liquid Lavender Bath Soap
An all-around amazing organic body wash that's 5.5 pH balanced! Best suited for all skin types, including sensitive, dry, normal, and everything in-between.
The Crown Choice body wash is packed with Aloe leaf juice and essential oils from spearmint, lavender, peppermint, and New Zealand Manuka.
It does not contain triclosan, formaldehyde, salicylates, parabens, phosphates, PEGs, petroleum, sulfates, dyes, or perfumes.
It has no animal by-products. It is pet safe, biodegradable, and eco-friendly, too.
Lathering well with creamy foam, it cleanses and moisturizes the skin without stripping natural barriers.
Highly effective for body acne, eczema, and other skin irritations. It is great for both men and women.
---
5
Alaffia® Natural

African Black Soap
African black soap is an effective bathing formula used by West African women for many years.
Traditionally, it contains the ashes of plantain, cocoa pods, shea bark, and many other native ingredients, which gives the soap its deep color and medicinal properties.
This wonderful body cleanser by Alaffia contains African black soap, mint extract, palm kernel oil, and peppermint essential oil.
Ideal for all skin types, you could even use it as a facial cleanser, shampoo, or shaving lotion.
This vegan body wash contains no nasty chemicals – gluten, parabens, sulfates, or dyes. Hence it is safe for children and individuals with skin irritation.
The best part: in addition to embracing nature, you also become a part of the poverty eradication fundraiser.
---
6
Beauty by Earth® Cleansing

Organic Citrus Body Wash
This nourishing body wash does not contain any toxic ingredients.
It contains lavender and citrus and works to combine the cleansing powders of saponified organic oils with the enticing aroma of lavender and citrus.
This body wash is thoroughly scented with lavender, ylang-ylang, and citrus essential oils that leave your mind soothed.
It is gentle enough for all skin types, including sensitive skin.
This product is free of parabens, phthalates, sulfates, and artificial fragrances.
---
7
Avalon Organics® Nourishing

Organic Lavender Body Wash
It gently cleanses and restores skin, even extra dry skin types.
This plant-based bath and shower gel unites the powers of botanical cleansers, vitamins, and essential oils to purify and nourish the skin.
It is Non-GMO, Vegan, biodegradable, cruelty-free, and does not contain parabens, harsh sulfates, preservatives, phthalates, or synthetic colors and fragrances.
This shower gel is made with aloe, plant proteins, and non-drying botanical cleansers, enhanced with the soothing aroma of lavender.
---
8
basd® Moisturizing

Organic Invigorating Mint Body Wash
This cleansing, lightweight body wash makes the skin soft, hydrated, and refreshed without clogging the pores.
It comes infused with peppermint oil, green tea, and organic aloe vera juice to reduce redness and nourish the skin.
This product is vegan, nutrient-packed, plant-based, paraben-free, non-GMO, and cruelty-free.
It also includes caffeine to firm and support the skin's elasticity and target imperfection.
---
9
Be-One Organics® Softening

Organic Lemongrass Body Wash
This product is USDA Certified organic and gentle on the skin.
The body wash is made with a combination of organic lemongrass oil and lemon oil to rejuvenate and refresh the skin.
It also includes nourishing botanical ingredients such as organic aloe juice, coconut oil, shea butter, olive oil, sunflower oil, and jojoba oil.
This gel wash does not contain any stabilizers and thickeners nor is antifungal, making it ideal for fighting acne, eczema, unwanted odor, and psoriasis.
---
10
My Little North Star® Shower Gel

Organic Body Wash
This gentle plant-based body wash shower gel is made in the USA from natural and organic ingredients.
It is infused with orange and lavender essential oils to calm your mind, lift your mood, and leave you relaxed and luxuriously fragrant.
The gel formula is enhanced with cool and refreshing pure tea tree and peppermint oil to gently cleanse and purify the skin, soothe redness and irritation, and tone.
The vitamin E, organic natural oils, and Aloe extracts in this body wash work together to seal the skin's natural moisture, and nourish, calm, and balance the skin.
This shower gel is made using the Finest Quality plant-based ingredients, perfect for all skin types, including sensitive skin, Cruelty-free, and not tested on animals.
It is Hypoallergenic and free of alcohol, dyes, synthetic fragrances, Silicones, Parabens, Phthalates, SLS, and other harsh ingredients, as well as Vegan and Tear-free.
This all-natural product is made in the USA.
---
Index Table: Top Rated Organic Body Wash
Would you like to dive into the world of organic soaps? You can do so here.
---
---