When it comes to skin and hair care or your health, there's very little that aloe vera can't cure. Because of this, it's better to choose an organic aloe vera gel.
This guide is a helpful review of the best aloe vera gels targeted, especially for the men and women who are in need of non-toxic skincare.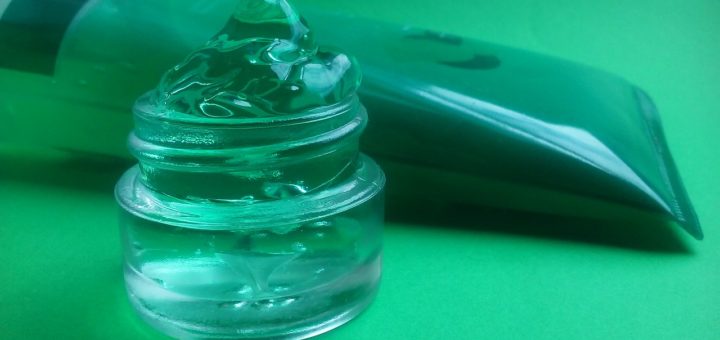 ---
Choose Aloe Vera Gel Carefully
Not all Aloe Vera Gel products are created equal. This means that the gel you're buying might not be as organic or pure as advertised. Therefore, you need to choose the aloe vera gel with caution.
Find out if it has a cold-pressed label on it. Cold-pressed aloe undergoes a procedure that retains the nutrients and antioxidants.
You should only buy an aloe vera gel that's organic, cold-pressed, and is certified by dermatologists. This will help you to protect the skin and fasten the healing.
---
Benefits of Organic Aloe Vera Gel
There are plenty of reasons why you need to buy organic aloe vera gel.

It helps with sunburn through its powerful healing activity at the cellular and epithelial levels of the skin. Aloe vera gel acts as a protective layer and helps replenish its moisture and fastens healing.

Aloe moisturizes the skin without making it sticky or greasy, so it's perfect for dry, oily, or combination skin type.

Auxin and Gibberellins (the proteins) in aloe offer wound healing and anti-inflammatory properties to reduce skin inflammation.

Aloe has antioxidants like beta carotene and vitamins C and E to improve skin's natural firmness and keep it young and radiant.

A mixture of organic aloe vera gel and sugar granules is an excellent exfoliating agent.

In winters, you can add aloe vera gel to foot cream or petroleum jelly to soothe dry and cracked feet.

Aloe vera is a great moisturizing agent not only for your skin but also for your scalp and hair. It is gentle and also easy to wash off. Frizzy, dry hair – goodbye!

---
Things to Consider Before Purchasing Aloe Gel
Keep these things in mind to decipher packaging and ingredient lists and, most importantly, to find the best organic aloe vera gel for you.

Purity: Don't fall prey for misleading 'purity' claims. To make sure you're paying for 100% pure aloe vera, look at the ingredient list. Make sure it has no water, fillers, unnecessary preservatives, thickeners, and synthetic colors.

Ingredients: Non-organic products are loaded with chemicals and pesticides – we can't stress this enough! So, look for organic, natural ingredients.

Cruelty-free: In general, aloe vera gel is vegan compatible because it is sourced directly from the plan. The disagreement arises only if it is tested on animals. To make an organic + compassionate purchase, buy the brands with leaping bunny logo.

---
Reviews: Best Organic Aloe Vera Gel
---
This is by far one of the best aloe vera gels for sunburn.

It consists of 99.5% organic, cold-pressed aloe vera gel. The remaining .5% is natural preservatives like citric acid, vitamin C, potassium sorbate, and xanthan gum that are necessary to keep it stable.

The gel has a smooth, thin consistency, which means it seeps into the skin effortlessly. It won't mess up your skin with stickiness or greasiness.

You can easily add this unscented, fragrance-free, and alcohol-free gel to daily moisturizer or body lotion. It also soothes dry, itchy skin.

Besides skincare benefits, it is great for treating dandruff and itchy scalp.

---
2
Looking for an all-purpose aloe to add to your skincare routine? Reach for Seven Minerals. Their USDA certified aloe vera gel is 100% natural with zero fillers and chemicals.

The aloe gel is also the purest; cold-pressed, no GMO product that you can use regularly – your skin will show the difference!

It has nutrients and antioxidants as close as you get it to break off aloe-vera right from your home garden – thanks to the hand fillet method used.

One thing to note – because it doesn't contain any preservatives, you MUST keep this gel in the refrigerator.

It is a good remedy for sunburns, bites rashes and itches.

---
3
Another great organic aloe vera gel that contains 99.75% pure, cold-pressed, and organic inner leaf aloe vera gel.

Being 100% natural, it has no added fragrance, color, or alcohol. It has a consistency that is more like a liquid than a gel. It goes on smooth, seeps in no time, and isn't sticky or greasy.

This organic and natural gel will soothe sunburn, razor burn, or irritated skin around.

Whether you're using for acne, dandruff, or just after a weekend trip, you'll feel cool right after applying this aloe vera gel.

It works wonders as a leave-in conditioner as well.

---
4
Alright, this isn't a gel. This one is a wonderful aloe spray.

Green Leaf Naturals' Aloe Vera Spray comes in a travel-friendly package. You can stash it into your vanity and whenever you go out in the sun.

One of the best organic aloe vera gel for sunburn, it consists of 99.8% organic aloe vera.

Also used to treat razor burn, spots, scars, and signs of aging, the application is a breeze – just spray on to the desired area.

It is also a savior for damaged hair, dandruff, frizz, and hair loss.

---
5
Aubrey Organics' aloe vera gel won't just be in dressing table —it'll be with you wherever you are, thanks to the travel-friendly packaging.

This 98% pure organic aloe vera will work as burn-sunburn treatment and soothes the skin without the sticky mess.

Instead of potassium sorbate or other chemical preservatives, this pure organic aloe vera gel contains radish root ferment as the natural preservative. It also has a negligible amount of guar gum and citric acid.

It literally has no artificial thickeners; therefore, this aloe vera gel is more water-like and less gel-like.

---
6
This organic Aloe Vera gel lets you enjoy your sunny days without fearing sunburns as it provides a quick cool soothe and relief.

It gives you that glowing skin you always wanted, by deeply hydrating

It is made with organic pure Aloe Vera, which is a natural solution to all your skin problems, including razor burns and diaper rash.

Beauty by Earth's organic Aloe Vera gel is the best first-aid kit in a bottle because it is a disinfectant, antibacterial, antimicrobial, antifungal, antiseptic, and antiviral.

The company offers free returns and refunds to dissatisfied customers.

---
7
This organic Aloe Vera gel is made with all pure and natural cold-pressed ingredients.

It is without any artificial colors, alcohol, or fragrance.

It helps recover skin cuts and burns, and repairs damaged skin cells.

It deeply moisturizes and hydrates skin, hair, and cuticles.

Artnaturals organic Aloe Vera gel promises 100% satisfaction or money-back guarantee without any questions.

---
8
This organic Aloe Vera gel is one of the best organic Aloe Vera gels available for sunburn and other skin problems, as it consists of 99.9% organic natural Aloe Vera.

It also helps to treat razor burns, skin spots, scars, and other signs of aging.

It is very easy to apply all over your body.

Morgan Cosmetics Organic Aloe Vera gel is clinically certified to soothe dry and irritated skin, hair, and nails.

---
9
This juice made from organic Aloe Vera gel is not only to apply on your skin, but it can also be taken orally.

It supports healthy food digestion.

It improves your immune system.

Lily of the Desert Organic Aloe Vera gel helps balance stomach acidity and gives you a fresh-looking skin from the inside.

---
Index Table: Top Rated Organic Aloe Vera Gel
---
---