Undoubtedly, feminine washes do a great job when it comes to freshening up your vagina. But it contains various unwanted harmful chemicals. So, why not switch to other alternatives available like an organic intimate wash to keep your sensitive area healthy, free of bad odor and chemicals?
Gynecologists say the prolonged usage of harsh intimate washes dries out the outer skin of your vulva. So make the right choice now and use vagina friendly cleansing products only.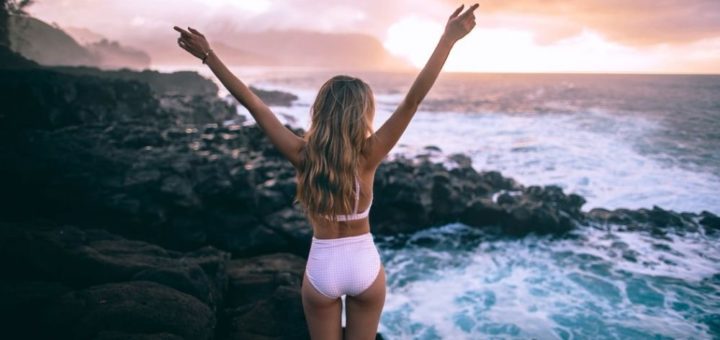 ---
Tips for Choosing the Best Organic Intimate Wash
Keeping the intimate area clean is a crucial part of the daily regime. To do so, you need to pick the best organic intimate wash available. While looking for it, you need to focus on a few aspects to pick the best one. Know what to avoid and what to look for. It is necessary because choosing the harsh ones leads to skin infections and disturbs the pH levels too.

pH Balanced – Choose whose pH varies between 3.8 to 4.5, which in general matches your vaginal pH and keep it overall healthy.
Plant-Based ingredients – To select the best feminine wash ensure it comprises plant-based and natural ingredients. Don't fall for the word natural; instead, read the ingredients thoroughly.
No Artificial Chemicals – You don't want a bottle packed with synthetic ingredients or other additives. If you are certainly unable to pronounce the ingredients, then drop the idea of using it.
No Fragrance/glycerin – Don't fall for the fragrances, in actual these lead to irritation. Also, no glycerin that's added for moisturization, but promotes yeast growth in reality.
---
Benefits of Organic Intimate Wash
When the word organic is added to the intimate wash, it certainly means no compromise with your overall health and safety. Here are the benefits you can reap if you choose to purchase an organic intimate wash.

Freshness – If you want to feel fresher than before and boost your hygiene, then make intimate wash a crucial part of your daily routine.
Natural Cleansing – These cleansers contain 100% natural ingredients and herbal extracts, so best to use even on sensitive skin. After usage, it leaves your skin moisturized. Moreover, we offer you this organic shaving cream as it works as a moisturizer and has been associated as well with skin irritation, allergies, and cancer.
Safe for All – It leads to no itching or any allergic reaction as they are ICEA certified and have gynecologists nod. It suits everyone's needs and is best for prolonged use.
No Infections – As it's made up of only organic compounds and no bothersome fragrances, it keeps UTIs, rashes, infections, and bacteria growth at the bay.
---
Ingredients to Avoid
Feminine products are meant to use the most delicate and absorbent body parts, which are permeable in nature. Increased usage of harsh chemical products on it hinders the growth of natural bacteria and pushes chemicals directly inside the bloodstream. So while choosing the best feminine wash, you need to avoid the ingredients mentioned below.

SLS -The main compound of detergents and other foaming products, Sodium Lauryl Sulfate, leads to irritation, so buy the ones that contain natural surfactants.
Soap – Never use soap for cleaning the vagina as it disrupts the pH balance, highly alkaline in nature, and makes the outer lining turn dry.
Parabens – The high concentration of parabens and long term usage of products containing them leads to skin diseases like dermatitis and allergic reactions.
Phthalates – Found in several cosmetic products and rarely in feminine washes. If you find it on the ingredient list, then choose another wash.
---
Reviews: Best Organic Intimate Wash
Along with keeping the body and mind healthy, you need to pay attention to vaginal health. Refrain from using harsh chemicals or soaps on the vagina to keep it healthy. Here is the list of popular organic intimate wash available online. It is also to inform you that if you choose to purchase products from our affiliate links, we may earn a little commission on every sale.
---
1
The gentle intimate foam wash by Rael contains natural ingredients like basil, coconut oil, eucalyptus oil, lavender, etc to keep the pH levels balanced.
Pour a few drops and rub it lightly on your intimate area to cleanse it and feel the freshness. Its ideal for daily use and goes with all skin types.
Contains no parabens, artificial aroma, dyes, animal-based ingredients, BPA, aluminum, and phthalates. Also, it's gynecologist tested, so you can use it without any hassle.
This light, pure, and natural feminine intimate wash is made to view all women's requirements and never mess with the body's natural pH balance.
It comes with a foaming pump in a simple bottle. Once you become habitual of using it, it may soon become part of your washroom cabinet.
---
2
Once you start using this intimate foam wash regularly it curbs down the body odor in a few days and promotes optimum vaginal health.
It contains prebiotics that is meant for healthy bacteria growth, suppressing the other bad infection-causing bacteria.
You can use it on other parts of your body like underarms, groins, etc., instead of regular soap as it is gentle in nature.
Wash intimate wash contains no added fragrances, essential oils, parabens, or other extracts that are allergic to sensitive skin.
---
3
Best for gently cleansing and simultaneously moisturizing your sensitive intimate area. You will feel fresh down there as it completely removes any pungent odor.
It is mild and comes with a pH-balanced formula, which resonates well with your overall body ecosystem and best for all women.
It comes packed with a blend of various herbal extracts to boost your intimate hygiene health without using any unwanted toxic chemicals.
Along with creating products for women's bodies, the Healthy Hoohoo products are eco-friendly and completely authentic.
---
4
These dermatologically tested feminine cleansers are free of parabens, harsh chemicals, and dyes.
Available in different variants like lavender chamomile, cucumber lily, etc., to cater to your requirements.
It comes infused with extracts of different herbs and formulated to match the ph balance of the vagina.
You can use it daily as it feels gentle on delicate part skin and never leads to dryness or itching.
---
5
This all-day fresh intimate wash is designed by the teens and vagisil experts to meet everyday womens needs.
You can use it all over the body like a body wash and feel the vanilla-clementine-like aroma.
Vagisil understands what you expect in a feminine wash, and it contains what you want.
Its pH-balanced formula makes it gentle and safe to use over the outer skin of the vagina.
---
6
Yoni feminine wash uses natural ingredients like coconut, sunflower oil, aloe vera, etc to ensure your intimate area stays safe.
It cleanses while keeping your vagina moisturized, away from infections, and soft without causing any irritation.
It's ideal for every woman type and perfect for use at home, gym, etc., or you can carry it with you anywhere.
After use, it leaves you with a delicate, refreshing aroma purely natural that keeps lingering in your mind.
---
Index Table: Top-Rated Intimate Wash
---
---