Some of the links in this post are affiliate links. This means if you click on the link and purchase the item, I will receive an affiliate commission at no extra cost to you. All opinions remain my own.
Organic pain relief cream can be a huge help in alleviating the joint, neck, knee, & back pains. They are also helpful in treating inflammation & burns. The prime reason for their popularity is their great effectivity in less amount of time.
Therefore, we have made a list of the six best organic pain relief creams that will provide you quick pain relief. Also, this article will educate you about their benefits and buying considerations.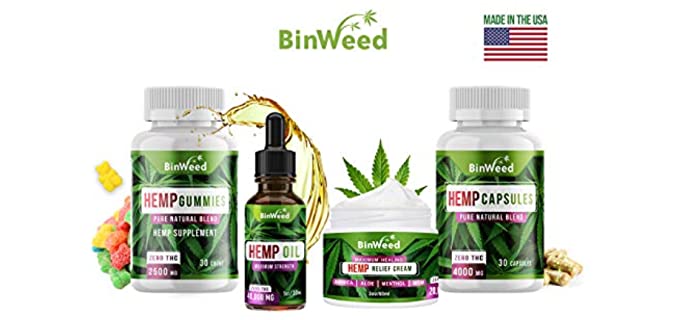 ---
Why Use Organic Pain Relief Cream?
The market for organic products is expanding with each passing day, following their huge benefits. Therefore, there are a plethora of reasons for you to use the organically made pain relief creams. Check out some of the reasons below:

Quick Treatment – Organic pain relief creams provide a much quicker treatment and relief from pain as opposed to other chemical-based creams.
Low Side Effects – One of the biggest reasons for the development of organic pain relief creams and substances is the high rate of side effects of other synthetic creams. Unlike them, these won't have any side effects on your skin.
Direct Application on the point – The organically made creams can be directly applied over your joints and other body parts. As they directly affect the point of pain, they relieve the pain more effectively.
Eco Friendly – The organic pain relief creams are made of natural substances and do not contain any harmful chemical that harms your body or the environment.
---
Side Effects of Standard Creams and Pain Pills
The standard pain pills work magically in relieving body pains. However, they just do a chemical change in the body for a brief amount of time, and the pain again comes back. Also, their usage brings in multiple side effects in the body, such as:

Organ Damage – The chemical pills are powerful sedatives, and they act very strongly on the system to implement its job. Hence, in many instances, it has led to organ damage.
Depression – The pain relief pills are known to work on the nervous system of the human being. Hence, it provides a little break from the pain. However, it is one of the reasons for inducing depression.
Stomach Upsetting – The pain relief pills have strong functioning, and it can affect the body's digestion with the strong chemicals and acids present in them.
Skin Rashes – The unnatural creams consist of several harsh chemicals that can affect the skin by causing rashes and other skin diseases.
---
Factors to Consider While Buying Organic Pain Relief Creams
Following is the list of parameters that must be considered while selecting the pain relief creams for yourself.

Effectiveness – When a person is in pain, the only thing one wants is to get relieved from the pain as quickly as possible. Hence, it is better to pick a cream that has better effectivity.
Purity – The purity of the cream determines how effectively the organic pain relief cream will work. Most of the creams aren't natural and, when applied, can cause an adverse effect. Hence always consider buying the cream that is in its purest form.
Side Effects – Many pain relief creams are known to have side effects because of their powerful nature. However, organic creams have very few or almost no side effects and, therefore, must be preferred.
Potency – The potency of the herbs that are put inside the cream makes it working strong and effective. The higher the potency, the more quickly the cream will affect you.
---
Reviews: Best Organic Pain Relief Cream
Below given is the list of six best organic pain relief creams that will help you to alleviate your pain naturally. We also like to inform you that for every product you purchase from the given links, we might get some credit for it.
---
1
Say goodbye to you back, neck, knee, and shoulder pain by using this wonderful Zenrenu made pain relief cream.
It is made by the premium grade hemp oil and works exceptionally well in alleviating pain.
It consists of many natural substances such as hemp, turmeric, MSM, aloe, and arnica.
The cream is menthol free and produces a pleasant smell.
It is ideal for treating skin related problems.
---
2
HempTotally® 100% Natural

Cream for Pain Relief
Treat your pain with the best pain relief cream to get a quick relief from your pain.
It consists of various natural ingredients like turmeric, aloe, and menthol.
The cream is ideal for giving relief from problems like joint, neck & back pains, knee, inflammation & burns.
The cream is FDA approved and is verified safe for use.
The natural ingredients of the cream ensure optimal working without any side effects.
---
3
Nature's Beneficials® Anti Imflammatory

Relief Cream
Give yourself the best pain treatment with this organic and natural pain relief cream.
Nature's Beneficials is known for providing for the best natural products that are highly effective in treating all kinds of pains.
It consists of premium quality hemp as the main ingredient that helps in relieving the pain.
The cream is Non-GMO and does not consist of any type of harmful substances.
The cream is built with the 1000 mg hemp oil for achieving the best results.
---
4
TresMedic® Menthol

Organic Pain Relief Cream
This TresMedic made pain relief cream is highly effective in treating all kinds of joint, knees, and elbow pain.
It consists of menthol, arnica, and aloe that provides a pleasing and sweet smell to the cream.
It is made with the non-greasy formula that helps the skin to fastly absorbs the cream and show its effect.
The cream consists of 5000mg of Omega 3 fatty acids and hemp oil.
It is also helpful in treating inflammations.
---
5
KYU® Organic

Pain Relief Cream
This KYU made premium quality organic cream is one of the best pain relief creams of its range.
It helps in taking care of back pain, inflammation, swelling, and strained muscles.
It is ideal for treating the pain with its natural healing process.
The cream has several moisturizing qualities that bring nourishment to the skin.
---
6
BinWeed® Pure

Organic Pain Relief Cream
Get the best results for all kinds of back, neck, shoulder, and joint pains with this high quality organic pain relief cream.
The creams consist of Omega 3 fatty acids and 20,000mg of hemp oil that naturally moisturizes the skin.
The cream is formulated by professionals and is highly effective in treating acute and chronic pains.
The non-greasy effect made with the blend of aloe vera provides faster relief from the pain.
It has an aromatic smell and is ideal for children and adult's usage.
---
7
Quanta® All-Natural

Hemp Muscle Rub
This is an all-natural Hemp muscle rub.
It is made with a proprietary blend of Pesticide-free, additive-free, and anti-inflammatory.
The pain relief rub cream is made with ingredients such as Organic Beeswax, Menthol crystals, Arnica Montana Oil, Turmeric Oil, and essential oils, including Vitamin E.
It can be applied directly to any aching part of the body and deliver targeted pain relief from sore muscles, joints, sprains, strains, and inflammation.
---
8
Seven Minerals® Magnesium

Cream for Pain
This is Seven Minerals Magnesium cream designed for pain relief.
It is 100% Gluten-free and contains no artificial fragrances, soy, preservatives, phthalates, or parabens.
This cream contains 10% of Transdermal Magnesium Chloride for quick absorption and pain relief.
It also includes Vitamin E and Cocoa Butter for long-lasting moisture.
---
9
Forces Of Nature Store® Organic

Nerve Pain Relief
This is a 11ml bottle of Nerve Pain Management topical lotion.
It is designed to treat and relieve pain from Sciatica, Diabetes, or Shingles.
It penetrates deep into skin tissue for fast-acting pain relief and anti-inflammation.
This pain reliever is USDA Certified Organic, FDA Registered homeopathic medicine.
---
10
Organic Excellence® Natural

Joint Pain Relief
This Organic Excellene Joint Pain Therpay penetrates deep into the skin to provide relief from aches, pain, and stiffness.
It offers a safe and effective pain remedy without any side effects.
This cream is made with natural ingredients and is designed to be fragrance-free.
It can also be helpful in the case of Arthritis joint pain.
---
Index Table: Top-Rated Organic Pain Relief Cream
---
---