Some of the links in this post are affiliate links. This means if you click on the link and purchase the item, I will receive an affiliate commission at no extra cost to you. All opinions remain my own.
For centuries, tea tree oil has been touted for its antiseptic, anti-inflammatory, and antimicrobial properties in traditional medicine.
Today, organic tea tree oil has become a staple in every household.
Organic tea tree oil has many benefits for your skin and hair. Here's all about tea tree oil, its uses, and the best organic tea tree oils available online.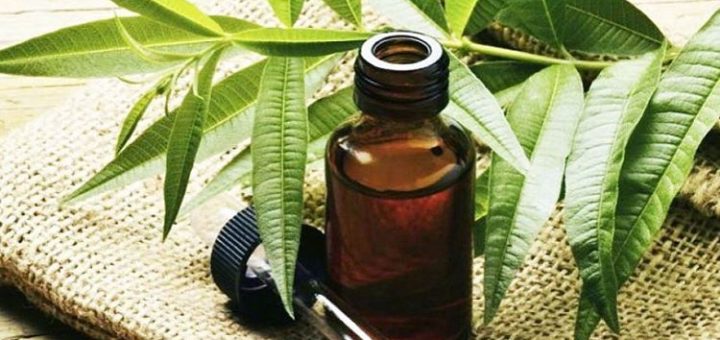 ---
All About Organic Tea Tree Oil
The tea tree oil is the product of Melaleuca Alternifolia — a fast-growing tree native to Australia. The tea tree is a powerhouse of antioxidants, anti-inflammatory, and antimicrobial compounds. It is effective in drying up dampness – hence effective against molds and fungus.
Because of its high intensity, dilution in appropriate carrier oil is recommended, especially for topical application. Coconut oil, jojoba oil, and rosehip oil are excellent carrier oils of organic tea tree oil.
Tea tree organic essential oil works well in your bathtub, in an aromatherapy diffuser, or even in skincare products. But for the sake of safe usage, you should know 'when to use,' 'when to mix with a carrier oil,' or 'how to mix with other essential oils,' etc.
It is also a common ingredient in organic hairspray, shampoos, and conditioners.
Do not apply it as such to the irritated skin. Apply it only if you have oily or non-sensitive skin. For bug bites and infected toenails, apply one or two drops onto the affected area.
Palmarosa and geranium are two excellent essential oils that jell well with organic tea tree oil.
Mix tea tree oil with a carrier oil only if your skin problem goes past epidermal layers – think muscle sprain.
---
Benefits of Using Organic Tea Tree Oil
If it's your first encounter with organic tea tree oil, the logical question is, 'What's in it for me?' It does so many things: treating acne to athlete's foot, respiratory problems, soothing irritated skin, and fighting bad breath.

Organic tea tree oil is an amazing solution for treating acne. It prevents future breakouts as well.
Tea tree contains antimicrobial and anti-fungal compounds that make it great for treating affected toenails and athletes' feet.
It also has excellent cleansing properties. So, you can use it to clean skin abrasions and scrapes.
Organic tea tree oils keep ticks, ants, mosquitoes, and fleas at bay.
Tea tree essential oil vapors are excellent for clearing up nasal and bronchial congestions.
When used in mouthwashes, it can eliminate oral bacteria that cause bad breath.
It works wonders on your skin and hair, too – thanks to its hydrating properties.
Mix it with lemon, water, and vinegar, and you will get an excellent antibacterial household cleaner.
---
Things To Look For in Tea Tree Oil
There are a lot of substandard tea tree essential oils on the market. Not to mention the 'misleading' marketing tactics and claims. To help you out, we've jotted down a few things you should consider when making a purchase.

Purity: Be it cosmetic or therapeutic purposes, always buy 100% pure natural tea tree oil.
Organic: You'll find a wide variety of different oils in the market, one of the top organic oils is organic evening primrose oil, but whatever it is, it should be organic. Organic oils contain high concentrations of antibacterial terpinene-4-ol.
Budget: Organic tea tree oils come at a range of prices to suit all budget ranges. Remember, a high price isn't a guarantee of supreme quality.
Bottle Color and Overall Packaging: The packaging determines the overall potency of the tea tree oil because heat, light, and air affect the stability of essential oils. So, ensure you buy tea tree oil in dark brown glass bottles that are packaged airtight.
Terpinen-4-ol: Concentration of Terpinen-4-ol is an important factor because it is directly linked to the antibacterial properties of organic tea tree oil.
---
Reviews: Best Organic Tea Tree Oil
---
1
Ideal for both adults and kids, Healing Solutions is by far the most versatile and divine-smelling tea tree available online.
It offers antibacterial and anti-fungal properties with a spicy aroma and camphoraceous notes.
Best suited as a topical agent for treating sores, warts, and fungus. Plus, you could also use it to treat toenail fungus.
You could also use it as a part of your hair care routine as well. It is the best tea tree oil for hair to remove dandruff and reduce itchiness in the scalp.
It has higher concentrations of terpenes that help to heal scars and skin irritations.
---
2
Essential Oil Labs® Natural

Tea Tree Oil
Essential Oil Labs is certainly no new name to the essential oil enthusiasts. The brand has a long-standing history of bringing out high-quality organic products into the essential oil marketplace.
Perfect for fighting off bacteria and cleansing your home, this organic tea tree oil bursts with antiseptic and antibacterial properties.
We also love the fact that you can also use it to keep your fingernails and toenails healthy and good-looking.
It has a refreshing natural scent and is free of chemicals, fillers, and other additives as an extra perk.
---
3
ArtNaturals® Natural

Tea Tree Essential Oil
In this 118 ml bottle of tea tree essential oil, ArtNaturals is guaranteeing you 100% purity.
This tea tree oil is derived from Melaleuca Alternifolia; this tea tree oil is therapeutic-grade, unadulterated, environment-friendly, vegan-friendly, cruelty-free, and GC/MS-tested.
Use it as a skin care oil, a deep scalp cleanser to fight dandruff, or an air diffuser to purify the air.
Use it alongside a carrier oil for topical application to treat scars, skin irritation, or acne. It is proven to be effective in healing a wide range of other skin and hair conditions.
Certified Vegan is ethically sourced, non-GMO, and gluten-free as well.
---
4
NOW Foods® 100% Pure

Tea Tree Essential Oil
Now Food's 100% pure tea tree oil is one of the finest quality essential oils on the market today. It's USDA-certified, with every single drop tested for purity, safety, and therapeutic and cosmetic potency.
This effective all-purpose tea tree oil is harvested from tea trees grown in Australia.
It boosts scalp health, reduces dandruff, and helps reduce itchiness in the scalp. It also treats acne and reduces nail fungi.
Apart from the skin and hair benefits, it's also great for aromatherapy purposes. You can also use it to purify air at home.
It is naturally safe and fresh and possesses some of the highest therapeutic ingredients available for essential oils.
To amp up its skincare benefits, mix it well with grapefruit oil and lemon oil. In short, it is the best organic tea tree oil for acne and fungus.
---
5
US Organic® Organic

Essential Oil Tea Tree
Acne-prone skin? Trying to get rid of dandruff? Consider US Organic Essential Tea Tree Oil as an effective treatment for all skin conditions.
This 100% USDA-certified tea tree oil is a potent antiseptic, too. Apply it topically on cuts, wounds, or scars to get significant relief.
Steam-distilled from the leaves of Melaleuca Alternifolia, it has Leaping Bunny certification – it is not tested on animals and is cruelty-free.
Furthermore, it is undiluted, unfiltered, and has no toxins or fillers.
---
6
Eve Hansen® Essential

Organic Tea Tree Oil
This organic essential oil batch is rigorously tested for purity and potency to ensure the highest grade quality oil.
This all-purpose oil is safe and effective for DIY home use as a natural cleaner, aromatherapy air purifier, or added to shampoo, lotion, and soap.
Tea Tree Oil may also help reduce the appearance of lice, dandruff, and flakes.
This Tea tree oil can help promote acne relief, nail fungus, toenail fungus, keloids, and skin tags removal.
This product is natural, organic, Vegan. Cruelty-free and Made in the USA.
---
7
Mary Tylor Naturals® Essential Oil

Organic Tea Tree
This tea Tree Essential oil is USDA Certified Organic, 100% Pure, and Natural.
It is produced through steam distillation of hand-picked, fresh Tea Tree leaves.
The amber glass bottle comes with a high-quality glass dropper for convenient use.
It is free of any pesticides and other chemicals.
You can use it with a diffuser for a fantastic aroma.
Tea Tree Oil also boasts detoxifying and anti-fungal properties.
---
8
PURA D'OR® Melaleuca

Tea Tree Essential Oil
This potent Tea Tree Oil helps soothe irritations on the skin and improve the skin's soft and smooth appearance.
This diffusing oil contains anti-fungal properties that help eliminate dandruff and results in a scratch-free scalp and healthy, shiny hair.
The Tea Tree Essential Oil has a refreshing mild earthy aroma that promotes relaxation with better and smoother breathing in just a few whiffs.
---
9
Naturenics® 100% Pure

Tea Tree Essential Oil
The Naturenics essential oil has been distilled and extracted from the very best leaves from the tea tree plant, using the traditional steam distillation method.
It is an incredibly pure, highly concentrated, exceptionally effective essential oil that is USDA Certified Organic.
It contains no Sulfates, Parabens, or Gluten.
You can use this oil to treat Acne, Psoriasis, Athletes' Foot & Strengths toenails, prevent dandruff, hair loss, and sore muscles.
Tea tree oil can improve your skin in dozens of ways. It can fight breakouts, acne, and pimples and improve skin conditions like eczema and psoriasis. It can also reduce facial oiliness, as well as help heal dry, cracked feet.
---
10
L'ARCENCIEL SKINCARE® Pure

Organic Tea Tree Oil
This Tea Tree Oil can improve your skin in dozens of ways.
You can also use it with shampoo for shiny hair.
You can use this high-quality Tea Tree Oil in a diffuser or humidifier to freshen the air. A few drops provide aromatherapy for your home or office.
---
Index Table: Top Rated Organic Tea Tree Oil
---
---