Some of the links in this post are affiliate links. This means if you click on the link and purchase the item, I will receive an affiliate commission at no extra cost to you. All opinions remain my own.
Pomegranate has been cultivated in the Mediterranean region for hundreds of years. It is a shrub-like plant that belongs to the family Punicacea.
Extracted from the red seeds, Pomegranate Seed Oil is rich in Antioxidants, Fatty Acids, and a ton of other nutrients.
Keep scrolling to find out more about Pomegranate Seed Oil and how to get your hands on the best Organic Pomegranate Seed Oil.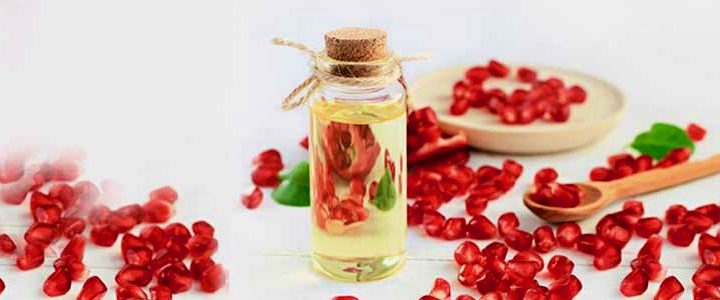 ---
Types of Pomegranate Seed Oil
Cold-Pressed Extraction – The best way to get the highest quality Pomegranate Seed Oil is by the cold-pressed method. Cold-pressed oil comes from pressing the fruits or seeds in a steel press. This method makes sure all the nutritional values and flavors remain the same after extraction.
Homemade Oil – Pomegranate Oil is made by cooking the seeds with a carrier oil. It is a quick and easy way to make and can last up to 6 months.
Unrefined Oil/Virgin – Unrefined or Virgin cold-pressed oil contains the highest level of beneficial Phytoactive compounds and is free of chemicals or solvents.
Refined Oil – Refined pomegranate oil is further processed by bleaching, deodorizing, or solvents. Consequently, it may also remove some useful Phytonutrients.
---
Benefits of Pomegranate Seed Oil
Rich in Fatty Acids(Punicic Acid) – Pomegranates are rich in Omega-5 Fatty Acids called Punicic Acids. Having this ingredient makes it excellent for improving skin quality when applied directly. Ingesting this oil also plays a major role in heart health.
Source of Anti-Oxidants – It contains Antioxidant Phytochemicals and is very beneficial in maintaining and improving skin quality.
Slows Down Oxidation – Pomegranate is beneficial in slowing down the oxidation of DNA, which in turn slows down aging. The benefits are even greater when Pomegranate Oil is applied directly to the skin.
Punicalagins – Punicalagins are antioxidants found in pomegranate juice and peel. Pomegranate oil comes from the seeds, and it contains all the Punicalagin needed.
Slows Cancer Cell Reproduction – Pomegranate slows down cancer cell reproduction and induces Apoptosis, or cell death, in cancer cells. Therefore, pomegranate oil aids in fighting cancers.
Is Anti-Inflammatory – Pomegranate is a great source of Anti-oxidants. It fights off free radicals and protects the skin from environmental and sun damage, and fights off the effects of aging.
Is Anti-Microbial – Pomegranate Oil has Anti-fungal and Anti-microbial properties. That makes it great for clearing out acne-prone skin.
Provides Intense Moisture – Pomegranate Oil contains many essential nutrients and fats that deliver intense moisture to the skin and keep it supple and hydrated applied to the skin.
---
How to Use Pomegranate Seed Oil
Facial and Hand Creams – Pomegranate Seed Oil is used in Facial and hand creams to directly provide a burst of benefits to the skin.
Serums and Oils – Pomegranate Oil can be applied to the skin directly or mixed with a carrier oil to aid in skin recovery and slow down aging.
Haircare Products – Pomegranate oil fights dandruff and provides moisture to the scalp. It also clears out the scalp and promotes hair growth.
Edible Oil – Pomegranate Oil is edible and can be ingested directly. You can also add it to any food to provide flavor and give it a unique aroma.
---
Reviews: Best Organic Pomegranate Seed Essential Oil
The below list consist of the best Organic Pomegranate Seed Oils in the market.
---
1
100% Pure Pomegranate Seed Oil is based on only one natural and organic ingredient.
This product is a Non-GMO Project verified and does not contain any parabens, fillers, additives, or added fragrances.
This therapeutic grade oil promotes cell renewal, thereby regenerating new skin. It also improves the skin's elasticity, which aids in reducing the appearance of wrinkles and fine lines.
It's a quick-absorbing oil and leaves the skin soft with a healthy-looking radiant glow.
Pomegranate Seed Oil has a high Omega Fatty Acid 5 content, which gives it anti-inflammatory and antioxidant properties. It fights off free radicals, unclogs pores, and relieves symptoms of acne.
It increases hair growth by clearing out scalp pores and adds shine to dull hair.
Suitable for oily and dry skin.
---
2
Authentic By Nature® Organic Pomegranate Seed Oil

Cold Pressed Essential Oil
This product is free of any chemicals and only contains natural organic Pomegranate Seed Oil.
It naturally promotes hair growth and treats sensitive skin by penetrating easily and deeply into the skin to deliver intense moisture.
The high Omega 5 Fatty Acid (Punicic acid) levels in this oil provide great antioxidant benefits. It aids in the healing and regeneration of the skin. It also increases elastin in the skin and consequently reduces fine lines and wrinkles.
This oil is extremely beneficial for acne-prone skin since it has anti-bacterial and anti-inflammatory properties and balances sebum levels.
Grown in Northern India, packaged in the USA, this product is free from pesticides or GMOs.
The essential oil is free of toxins, fillers, Parabens, artificial preservatives, sulfates, synthetics, or perfumes.
---
3
Natures Leaf® Pomegranate Seed Oil

Cell Renewing Cold Pressed Oil
A therapeutically active agent, this Pomegranate Oil restores, repairs, and revitalizes skin and hair.
Almost 80% of this oil is an Omega-5 Fatty acid called Punic Acid. This acid provides anti-inflammatory benefits, improves elasticity, aids in repairing damaged skin, speeds up healing, and soothes acne-prone skin.
It is a rich source of Ellagic Acid, promoting cell regeneration and reducing fine lines and wrinkles.
Pomegranate Seed Oil gives a natural shine to otherwise dull and dry hair. Massaging this oil on the scalp increases blood flow, unclogs and cleans the scalp, and aids in hair growth.
---
4
Teddie Organics® Pomegranate Seed Oil

Cold-Pressed Virgin Skin Serum
This unrefined oil has countless beneficial Phytoactive compounds to give your skin the boost it needs.
It contains Punicic acid, sometimes called Omega-5 Fatty Acid. It helps combat skin redness, reduce breakouts and blemishes, and evens out skin tone. It also boosts collagen production.
Pomegranate Seed Oil removes dirt, impurities, and excess sebum from the skin.
Teddie Organics' oil also helps strengthen hair and gives it a luscious healthy look. It contains Omega-6 and Omega-9, both of which work towards increasing hair volume.
---
5
Dr.Adorable® Pomegranate Seed Oil

100% Pure Organic Cold-Pressed
It's a 100% Pure Cold-Pressed Organic Pomegranate Seed Oil.
This oil is completely fresh, bottled daily, and can stay fresh for up to a year.
---
6
SVA ORGANICS® Pomegranate Seed Oil

Cold Pressed Unrefined Carrier Oil
This oil is extracted from Punica Granatum seeds via the cold-pressed method.
It is 100% pure, natural, authentic, and cruelty, alcohol, and solvent-free.
Pomegranate Seed Oil is rich in Fatty acids, Vitamin E, B, and other nutrients. It has been commonly used in creams, lotions, skincare, and hair care products because of its many benefits.
This rejuvenating oil is one of the best carrier oils to treat skin issues such as dry skin, dark spots, fine lines, and wrinkles. It leaves the skin brighter and plumper.
It also promotes hair growth.
---
7
Mother Nature Organics® Pure

Organic Pomegranate Seed Oil
Mother Nature Organics offers a 100% pure Pomegranate oil sourced in Turkey's Mediterranean regions.
Certified USDA Organic moil's eans the quality, effectiveness, and I the oil has been tested and certified to meet or exceed organic oil standards.
This Pomegranate oil is unrefined and cold-pressed, which allows it to retain maximum potency, and additionally, it is produced in small batches.
Pomegranate oil is rich in antioxidants and Vitamin C, reducing free radicals and helping reduce wrinkles and fine lines. The omega-3 fatty acids aid in skin repair and hydration and keratinocytes help slough off old, dead layers of skin to reveal new, healthy, youthful layers underneath.
It also contains a highly-concentrated antioxidant called Ellagic acid that prevents damage from UV ray exposure and lightens and brightens the skin.
The Polyphenols in Pomegranate oil have been scientifically shown to reduce oxidative stress, which causes a build-up of lipids or plaque on blood vessel walls. It reduces unhealthy LDL "bad" cholesterol, increases HDL "good" cholesterol levels, and reduces triglycerides.
It also helps to reduce glucose resistance, improving the glucose levels in blood sugar.
---
8
Bella Terra Oils® 100% Pure

Pomegranate Seed Oil
This is a 100% pure, cold-pressed, unrefined, and organic pomegranate oil.
This antioxidant-rich oil is great for skin, hair, as well as making skincare products.
It deeply moisturizes the skin and leaves it soft and smooth.
The organic Pomegranate oil also promotes skin elasticity and helps to reduce fine lines and wrinkles.
---
9
Natural Born Oils® Natural

Pomegranate Seed Oil
It is rich in antioxidants and has a lightweight texture; therefore, it quickly absorbs the skin and revitalizes it.
This Pomegranate Seed Oil rejuvenates your skin and hair, leaving you glowing from head to toe.
This oil also contains a huge amount of essential fatty acids that help to soothe the skin.
It comes with a flip cap and an application pump for your convenience.
---
10
Mayan's Secret® Unrefined

Organic Pomegranate Seed Oil
This all-natural and Organic Pomegranate Seed Oil is based on only one ingredient, without anything added or taken away.
This product is USDA Certified Organic, Non-GMO, and free of parabens, fillers, additives, or added fragrances.
It helps soothe eczema, psoriasis, and other dry skin, reduce wrinkles' appearance and improve collagen production and skin elasticity.
The high Omega-5 fatty acid (Punicic acid) levels in Organic Pomegranate Seed Oil give it strong anti-inflammatory and anti-aging properties by helping to fend off free radicals.
It also helps unclog pores on the face to help relieve the symptoms of acne.
Pomegranate oil adds shine to dull hair, increases scalp health, and fights dandruff.
---
Index Table: Top-Rated Organic Pomegranate Seed Oil
---
---