Organic essential oils are having a moment. Because they are the natural, safe, and cost-effective alternative for conventional medications.
They also cuts down the side effects of conventional medicinal practices, not to mention the healthcare bills.
Want to know more on the need to add organic essential oils to your cabinet? Read on!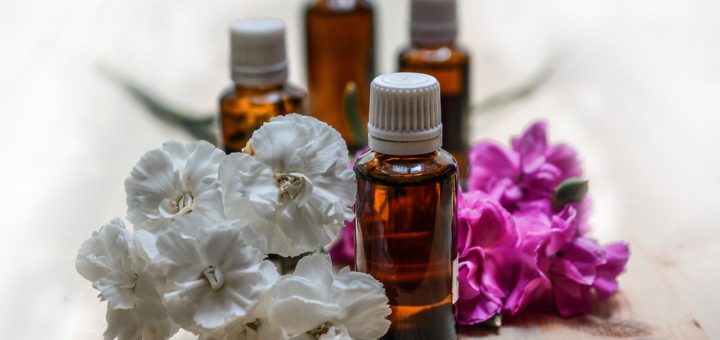 ---
Organic Essential Oils – Are They All Natural?
We know the essential oils are made from plants, flowers, stems, and leaves. So, technically they are natural, right? Well, not necessarily. Let us tell you why. All source materials used during the extraction have to be grown before they are used.
If there are any pesticides or chemicals used during planting or harvesting, then is the source material is compromised? You might think that it would be, but here are few reasons why it might not be the case always.
Many plants like lavender, chamomile, and citronella are natural pest repellents. That means they do not need extra doses of pesticides.

Steam distillation happens at high temperature. Therefore, pesticides affect neither quality nor purity of the final product.
---
How to Test Organic Essential Oil
There are several natural or organic essential oil brands out there and, they come with different claims and promises. So, it's imperative to TEST them. And, here's how you do it.
Know the labels: First things first: Read your labels and find out botanical name of the plant(s), origin, and purity statements. Also, check the distillation and expiration date.
Testing: Try to get batch-specific gas chromatography and mass spectrometry test reports from the vendors. Many brands provide GC/MS test reports in the website. Some others will provide them upon request.
Know the terminologies: The terms 'pure', 'organic', 'wildcrafted', and 'natural' aren't standardized i.e., they can mean anything the vendor wants them to mean. Even if you find those terminologies, it doesn't mean that they're misleading you.
Ask around: Trust word of mouth especially, if it comes from someone you trust. Ask friends and colleagues about the brands, price, and personal experience. If possible, try a sample batch to verify the effectiveness of the oil.
---
Benefits of Organic Essential Oils
Irrespective of its popularity, very little information is available about the effectiveness of essential oils. Here are some science-backed benefits.
Improves mood and reduces stress or anxiety: Scents are powerful stimuli to trigger positive emotional responses in the brain. That's why aromatherapists ask you to inhale essential oil.

Induces sleep: Research shows that inhaling lavender oil induces sleep in new moms and in patients with cardiac diseases.

Ward off inflammation: Animal studies show that certain essential oils like thyme, peppermint, and tea tree oil help fight skin inflammation.

Pain relief: Topical application of organic essential oils is shown to provide relief from lower back and muscle pain. They relieve arthritic pain, too.

Boost immune system: When inhaled or ingested, essential oils boost immune system. In fact, they reduce the chances of fungal or bacterial infections.
---
Reviews: Best Organic Essential Oils
There are roughly 100+ types of organic essential oils, and each offers a plethora of health benefits. Don't know where and how to start your organic essential oil hunt? Pick any one of these pure essential oils and add a few more as you go. It's as simple as that!
---
For a nutrient-rich head to toe treatment, choose Viva Naturals Organic Jojoba Oil. It is 100% pure, unrefined, and GMP & USDA certified. With zero fillers and fluff, it is completely safe to use.

Frizzy hair? Overly dry skin? Eczema? Mix with any carrier oil and smooth it into your skin and hair.

You can use it in daily makeup and skincare essentials as well. Regular usage will ensure well moisturized, soft, and wrinkle-free skin.

The biggest bonus is that it is a cold-pressed essential oil. That means the nutrients (iodine, vitamins E & B, and essential fatty acids) remain unaltered.

Viva Naturals jojoba oil is hexane-, allergen-, and fragrance-free. Plus, it is food-grade, too.

It has never been tested on animals. So, it's a perfect choice for both vegans and vegetarians.
---
2
If you like using essential oils on your skin, you'll want this organic lavender oil from Plant Therapy. Like their other essential oils, it's 100% pure.

Plant Therapy lavender essential oil is undiluted and non-GMO besides being USDA-certified organic.

Being a therapeutic grade oil, it acts as an analgesic, anti-inflammatory, antibacterial, antifungal, and antispasmodic agent. Plus, it can also relax your mood.

It's a great remedy for acne, fine lines, wrinkles, cold sores and chapped lips. Additionally, it stimulates hair growth and ward off dandruff and scalp itchiness.

We recommend using it right before bedtime for a good night's sleep. Adding few drops in the bath works is great to relieve sore muscles.
---
3
Frankincense, also known as olibanum is extracted from the resin inside the Boswellia tree. It has been used for thousands of years as folk medicine. No wonder aromatherapists consider it 'the holy grail of essential oils'.

Prime Natural's organic Frankincense oil is 100% pure and has no fillers, synthetic fragrances, and additives. Also, it is GMO-free, and USDA certified for purity.

Frankincense oil treats stress & anxiety and reduces pain & inflammation. It also builds immunity and supports health.

When mixed into skin care products, frankincense essential oil can treat dry skin and reduce signs of aging. Additionally, it helps getting rid of old wound scars and stretch marks.

When put in a diffuser, it amazingly boosts your mental well-being — specifically during meditation or yoga.
---
4
Dry skin and Frizzy, damaged hair? Moroccan Argan it is. The oil works wonders to moisturize and repair skin and scalp. Rub few drops of the oil between your palms and run through the wet hair for a one-two punch.

Being cold-pressed, it contains plentiful vitamin E and anti-oxidants to nourish the skin. It can even halt the onset of fine lines and wrinkles.

It's been scientifically proven that Moroccan argan oil can reduce sebum levels. If you're fighting acne, add few drops of argan essential oil to your skin toner and moisturizers. It will work wonders. We bet.

Topical application of argan oil can fasten skin healing thanks to its mild antibacterial nature. The best part – it seeps into the skin without making you look greasy.

In short, Pura d'or Argan oil is a safe bet to include in your life. It is free of all nasty chemicals including paraben, SLS, synthetic fragrances, and colorants.
---
5
Bergamot is the unofficial essential oil of depression. It's commonly used in black tea and has roots that trace back to early Chinese medicine as a digestive aid.

Bergamot essential oil offers myriad beneficial properties for the skin: It's antimicrobial, anti-inflammatory, aids digestion, and can uplift your moods.

Made with pure, cold-pressed bergamot, this one is USDA certified and contains no preservatives, toxins or additives.

As an antiseptic, analgesic, and disinfectant, it's often used to protect skin from infections.

As bergamot is also quite calming, you can stash a bottle in your vanity to beat things like mental fatigue, exhaustion, stress and anxiety.

You can wear bergamot oil as a perfume thanks to its delightfully, sweet citrusy scent.
---
Index Table: Top Rated Organic Essential Oils
---
---