Rosehip oil is one of the most wonderful natural ingredients for your skin; unlike rose oil extracted from the roses' petals, this oil is pressed from the seeds and fruit of the Rosa Canina plant, which is originated from Chile.
Keep reading to find out why you should start incorporating this oil into your routine.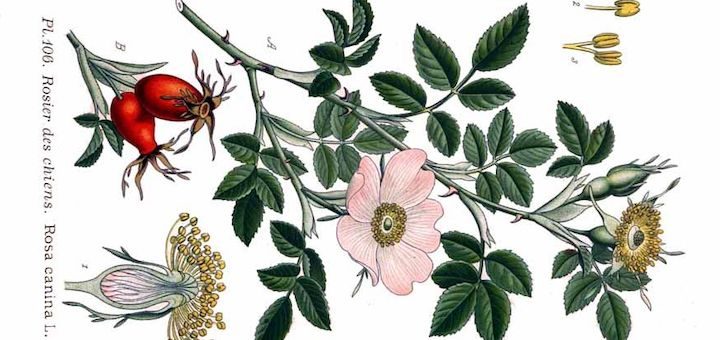 ---
Health Benefits of Organic Rosehip Oil
It Moisturizes the Skin – Rosehip oil contains essential fatty acids like linoleic and linolenic acid that deeply moisturize the skin and prevent water loss. Linolenic acid is an important component of ceramides, building the skin's barrier and protecting us from environmental aggressors like pollution. It is suitable for all skin types, even oily skin.
It Helps to Heal the Skin – It has regenerating effects on the skin that makes it able to heal scars and burns. It accelerates wound healing. According to research, rosehip oil stimulates macrophages to repair your skin effectively. It helps the skin to rebuild collagen and minimize the appearance of stretch marks.
It is an Anti-Aging Oil – Rosehip oil contains nourishing ingredients like vitamin A and vitamin C. Vitamin A, also known as retinol, promotes skin renewal and stimulates collagen production. Vitamin C reduces fine lines and wrinkles and also increases collagen production.
It is an Antioxidant -oxidant – Vitamin C is a powerful antioxidant-oxidant that fights free radical damage, which has an important role in the premature signs of aging and sun damage.
It Improves your Complexion – Thanks to its high vitamin A and vitamin C content, rosehip oil can fade dark spots and improve hyperpigmentation. It brightens your complexion and is going to give you a wonderful glow.
It Has Antimicrobial Properties – Rosehip oil contains phenols that have antifungal, antiviral, and antibacterial properties. It is great to prevent fungal acne and infections related to eczema.
It Relieves the Stress – Rosehip oil is commonly used in aromatherapy. It has been proven to reduce systolic blood pressure, breathing rate, and blood oxygen saturation, making you feel more relaxed and calm.
It is Anti-Inflammatory – Due to the high content of polyphenols and anthocyanin, rosehip oil effectively reduces inflammation and joint pain.
---
What to Look For on a Good Rosehip Oil
Cold-Pressed – This assures that the oil contains all of its nutrients, oils that are processed under heat lose several of their properties.
First Active Ingredient – Rosehip oil must be the first of the second main ingredient on the product you are buying. When you check the ingredients label, the first or second ingredient must be the rosehip oil. The first ingredients are the ones that have a larger concentration on the product.
Unrefined – This type of oil contains more nourishing ingredients than refined ones.
It Has to Come on a Dark Bottle – Oils may get damaged due to light and heat exposure, so they must come in a dark bottle.
Organic – When you use an organic oil such as rosehip, oregano, or organic tea tree oil for skin and hair, make sure that it doesn't contain harmful chemicals and no synthetic pesticides or fertilizers are used during the process of obtaining the oil, this way, you are going to get all the benefits of the oil.
Check the Expiration Date – If the oil expires in 3 years or any other long period of time, it is most likely refined.
Check the Smell and Color – Even if the oil promises to be organic, if it doesn't have a smell and the color looks light, it is most likely refined and doesn't provide the same benefits as organic oil.
---
Ways to Use Organic Rosehip Oil
As the Last Step of Your Skincare Routine – Rosehip oil is going to moisturize your skin and give it a healthy glow.
For your Hair – Rosehip natural organic essential oil doesn't only provides benefits for the skin; its nourishing ingredients also work for hydrating your hair and keeping a healthy scalp.
For your Eyelashes – Apply some oil on your eyelashes every other day to keep them healthy and long.
Apply it on Scars, Bruises, or Burns – Rosehip accelerates wound healing, promotes skin turnover, and helps repair it.
For the Stretch Marks – Apply it on stretch marks daily to minimize their appearance.
---
Reviews: Best Organic Rosehip Essential Oil
The below list consists of the best Organic Rosehip oils available in the market.

---
1
The premium quality Rosehip oil comes in a large 4 Oz. Bottle with a dropper.
USDA Certified Organic, Cold-pressed, does not contain any added chemicals, and is Gluten-free and Hypoallergenic.
The oil works excellently as a carrier oil.
You can use rosehip oil in aromatherapy, massage, skincare for the face and body.
It provides the skin with a rich source of antioxidants-oxidants and essential fatty acids.
This oil restores elasticity, fixes wrinkles and fine lines, reduces blemishes and aging effects, and helps with skin conditions such as Eczema and Rosacea.
This product is free of Pesticides, Sulfates, Parabens and does not contain artificial colors or fragrances.
| Rating Category | Weight % | Score |
| --- | --- | --- |
| Hydrating | 25% | 100 |
| Chemical-Free | 25% | 100 |
| Moisturizing | 20% | 95 |
| Reduce Redness | 15% | 90 |
| Versatility | 15% | 95 |
| Total Score | 100% | 96.75 |
---
2
Cliganic® USDA

Organic Rosehip Seed Oil for Face
This Rosehip seed oil has been in use for centuries, starting with the Mapuche Indians.
It is a great natural moisturizer and soothes skin conditions such as Eczema and Rosacea.
The oil offers anti-aging benefits and minimizes the appearance of fine lines, wrinkles, redness, age spots, scars, burns, and rashes.
It also improves elasticity and skin tone.
Cliganic Organics offers pure, organic cold-pressed Rosehip Seed oil.
It comes in a dark amber bottle with a dropper for ease of use.
| Rating Category | Weight % | Score |
| --- | --- | --- |
| Hydrating | 25% | 100 |
| Chemical-Free | 25% | 95 |
| Moisturizing | 20% | 95 |
| Reduce Redness | 15% | 90 |
| Versatility | 15% | 95 |
| Total Score | 100% | 95.5 |
---
3
Kate Blanc Cosmetics® Unrefined

Rosehip Seed Essential Oil
The Kate Blanc rosehip seed oil is certified organic by USDA.
The unrefined oil is pure, natural, and hexane-free. It may have a slight fishy smell, which is entirely natural.
The cold-pressed oil comes with anti-inflammatory and anti-aging properties.
It reduces stretch marks, acne spots, fine lines, and scars and helps with skin conditions such as Eczema, Dermatitis, Psoriasis, Rosacea, and acne.
It tightens the skin and leaves it hydrated and supple.
Rosehip seed oil is rich in Omega fatty acids as well as vitamins.
It is excellent for massaging the face and body as well as helpful in reducing dandruff and itching.
This product is Paraben and cruelty-free and works as a moisturizing serum.
| Rating Category | Weight % | Score |
| --- | --- | --- |
| Hydrating | 25% | 100 |
| Chemical-Free | 25% | 95 |
| Moisturizing | 20% | 95 |
| Reduce Redness | 15% | 90 |
| Versatility | 15% | 90 |
| Total Score | 100% | 94.75 |
---
4
Trilogy® Pure

Certified Organic Rosehip Oil
This wild-harvested oil is 100% certified organic and suitable for all skin types.
It provides intense nourishment and replenishes skin for a youthful look.
Trilogy oil is pure and cold-pressed.
It is rich in essential fatty acids such as Omega 3, 6, and 9 and vitamins.
This rosehip seed oil works excellently to reduces fine lines, wrinkles, scars, and stretch marks.
The cold-pressed oil quickly absorbs into the skin and hydrates skin.
It boosts the natural barriers of the skin.
---
5
PURA D'OR® Premium Grade

Organic Rosehip Seed Oil
This oil is rich in antioxidants, Vitamin A and C, as well as Retinol.
It improves collagen production and reduces wrinkles by fighting the signs of aging.
The rosehip seed oil is rich in essential fatty acids that are integral for tissue and cell regeneration. Therefore it improves the texture of the skin and even reduces acne scars or stretch marks.
This rosehip seed oil is Certified USDA Organic and extracted via the Cold-pressed method.
PURA D'OR oil comes in a pump bottle for your convenience.
---
6
InstaNatural® 100% Virgin

Organic Rosehip Seed Oil
This oil is fast-absorbing, all-natural, and 100% virgin oil.
It reduces the appearance of wrinkles, dark spots, eye bags, fine lines, etc.
The rosehip seed oil also visibly reduces the signs of aging and reverses damage caused by prolonged sun exposure.
It nourishes the skin and helps you in achieving a youthful, healthier, and vibrant look.
InstaNatural Rosehip seed oil contains Vitamin A, which is a natural antioxidant-oxidant.
It is rich in essential fatty acids such as Omega 3 and 6, increasing skin cell reproduction.
---
7
Cliganic® Unrefined

Organic Rosehip Seed Oil
This Certified Organic Rosehip Oil is formulated under the strict oversight of USDA, which ensures this Organic Cold Pressed Rosehip Seed Oil's integrity.
This premium Rosehip Oil Organic is 100% Pure & Natural, free of any Additives, Chemicals, Alcohol, Fragrance, and is not diluted.
This is multipurpose oil with numerous benefits for skin, hair, and health.
Cliganic Organic Unrefined Rose Hip Oil is bottled in the USA with the highest standards and comes with Cruelty-Free Certification.
---
8
Leven Rose® 100% Pure

Rosehip Seed Oil
This is 100% Pure, All natural, and organic Rosehip Oil, with nothing added or taken away.
It is a potent antioxidant with a lot of anti-aging benefits.
This product is Non-GMO and free of any parabens or additives.
Leven Rose Rosehip Seed Oil is a therapeutic grade oil, Cold-Pressed, and Unrefined.
You can use this Rosehip Oil to treat Rosacea, and it is great for lips, cuticles, stretch marks, scars, wrinkles scars, fine lines, and acne.
Pure Organic Rosehip Oil works as a skin toner to lift with Vitamin E and Vitamin C for the lips, eyes, body, face, and skin as a botanical collagen cleanser for antioxidant vitality.
---
9
Mary Tylor Naturals® Cold Pressed

Organic Rosehip Seed Oil
This is Organic, Cold-Pressed oil made from the highest quality seeds of the wild rose bush.
It is USDA Certified Organic and free of any pesticides and other chemicals.
It comes with a High-Quality Glass Dropper for Convenient Use.
Rosehip Seed Oil is a superior Moisturizing oil because it is rich in Essential Fatty Acids, Omega-3, and Omega-6.
This is a Therapeutic Grade, Undiluted oil, without any fillers or additives.
---
10
Sky Organics® Anti-aging

Organic Rosehip Oil
Each bottle contains one fl oz. of 100% pure USDA Organic Rosehip Seed Oil in a glass amber bottle with a dropper.
Rosehip Seed Oil is rich in antioxidants-oxidants that help reduce the appearance of dark spots and protect from free radical damage.
This moisturizing oil provides nourishing hydration that soothes, softens, and repairs the skin's barrier.
It is packed with vitamin A as well as other nutrients.
This rosehip oil is ethically sourced from small family farms and is 100% cruelty-free and vegan.
---
Index Table: Top-Rated Organic Rosehip Oil
---
---