Eyeshadow helps draw attention to your beautiful eyes, but your eyes are also an easy and open gateway directly to your bloodstream.
That's the prime reason you should always choose organic eyeshadow.
Organic eyeshadows are formulated to save your eyes from harsh and toxic chemicals.
They contain zero preservatives, artificial colors, and fragrances, too.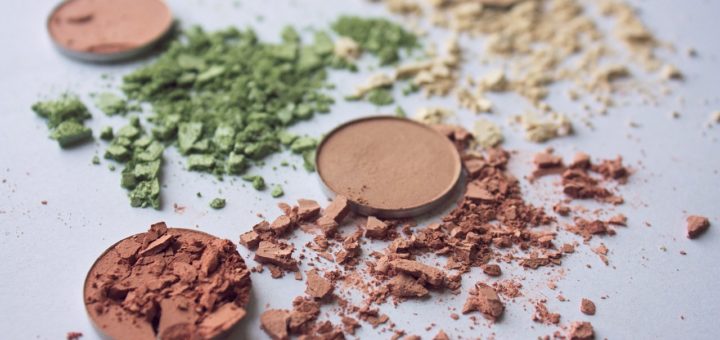 ---
How Toxic Ingredients In Eyeshadow Affect Your Body?
Eye shadow is used directly on the eyelid and the areas around the eye, one of the most sensitive parts of the body. That's why the safety of your eyes is important and something you do not want to take for granted. Using chemical-filled eyeshadow every day can be harmful because the toxins are absorbed directly into your bloodstream.
If you're using eye makeup with heavy metal and synthetic preservatives, you're pretty much screwed because they actually inhibits your body's ability to flush them out when sucked up into the bloodstream by eyelid pores.
The nanoparticles present in your regular eyeshadow are a serious threat. Because they are so tiny that you'll end up accumulating them in your lungs, which can damage DNA and lead to cancer in the long run.
Hormonal imbalance, skin allergies, ovarian cancer, breast cancer, organ toxicity are some other threats the chemicals in eyeshadow pose.
---
Eyeshadow Ingredients to Avoid
Eyeshadow is supposed to make you look even more beautiful, but it comes at a cost when you consider the toxic chemicals lurking in it. So because of protecting our precious peepers, here are the toxic eyeshadow ingredients to avoid.
Heavy Metals – nickel, chrome, and aluminum powder found in eyeshadows are potent neurotoxins.
Retinyl Acetate – this synthetic form of vitamin A has been shown to cause skin cancer as well as reproductive toxicity.
Bismuth Oxychloride– Though it gives that sexy, shimmery look to eyeshadow, this chemical is linked to eyes, skin, and lung irritation.
Talc– Talc in eyeshadows can be carcinogenic, and several studies have linked it to ovarian cancer.
Parabens– These synthetic preservatives quickly get absorbed into the bloodstream, causing hormonal disruption, early puberty, reproductive toxicity, and cancer.
Benzalkonium Chloride (BAK)– BAK disrupts the epithelial cells of the eyes and thereby causes irritations and infections.
Formaldehyde– formaldehyde can cause severe skin irritations, inflammation, or even cancer.
Carbon Black – It is a powder found in eye makeup, and it can cause cancer and organ system toxicity.
Ethanolamine Compounds– DEA, TEA, and MEA have been linked to breast cancer.
---
Which Safe Eyeshadow Ingredients Should You Look For?
As explained, organic eyeshadow contains plant extracts, essential oils, vitamins, and minerals. Here are some of the eye boosting ingredients commonly seen on organic eyeshadow brands.

Organic Green Tea Leaf: Rich in anti-aging polyphenols, green tea leaf powder, or extract in eyeshadow goes a long way besides transforming your eye makeup look.
Jojoba Oil : As it is a strong nourishing oil, jojoba oil nourishes the lids making it radiant and soft.
Organic White Tea Leaf: Packed with antioxidants and Phyto compounds, white tea in organic eyeshadow help neutralize damaging effects from UV rays, pollution, and toxins.
Organic Cocoa Butter: Cocoa butter has a luxurious texture, and when applied to your skin, it softens and awakens dry skin.
Organic Camellia Oil: Rich in palmitic and omega-6 linoleic fatty acids, camellia oil acts as an all-around moisturizer for the skin.
Organic Beeswax: Beeswax is great for preventing inflammation and providing additional antioxidants to the skin.
Vitamin E: From protection to repair and renewal, Vitamin E does all. Vitamin E is also known to improve eye health and eyesight!
You must also go for an organic bronzer to maintain the natural glow of the skin, a perfect blend for all skin types.
---
Reviews:Best Organic Eyeshadow Brands
Here are the top-performing organic eyeshadow brands you'll find in the kits of makeup artists and organic makeup lovers.

---
1
This eyeshadow is formulated without parabens and phthalates.
This eyeshadow offers vibrant pink nudes minus the gnarly ingredients.
The shades are not too intense, but not too sheer either. You'll get ten beautiful pinks, warm nudes, and browns, including Nude, Sentimental, Touched, Rapture, Madly Deeply, Even Nuder, Vapid, Moonstruck, Roused, and Lightness of Being.
With a rich texture between cream and powder, this coconut water-infused eyeshadow applies easily with just a swipe of the finger. It actually goes on creamy and dries slightly for staying power.
This 100% natural and cruelty-free product works best when applied to a nude eyelid (no oils or primers) as it is already very moisturizing.
| Rating Category | Weight % | Score |
| --- | --- | --- |
| Promote Skin Health | 25% | 100 |
| Quality | 25% | 95 |
| Anti-Aging | 20% | 100 |
| Anti-Itching | 15% | 95 |
| Color | 15% | 95 |
| Total Score | 100% | 97.25 |
---
2
ONLYBETTER® Vegan

16 Shades Organic Eyeshadow
Fat and the Moon make beautiful eyeshadows made from a few natural and organic ingredients. The key ingredients are organic sunflower oil, white clay, beeswax, ultramarine in blue shades, and black oxide in black shade.
This sunflower oil-based formula is so dense and pigmented that no layering is needed. In fact, they can even double as eyeliner.
Additionally, the sunflower oil base helps it apply effortlessly then the powders dry to prevent creasing and smudging.
It is convenient to carry around because of its sleek design. In short, this Paraben Free, Sulfate-free, Cruelty-Free formula is a real deal to have in your makeup kit.
| Rating Category | Weight % | Score |
| --- | --- | --- |
| Promote Skin Health | 25% | 100 |
| Quality | 25% | 95 |
| Anti-Aging | 20% | 100 |
| Anti-Itching | 15% | 90 |
| Color | 15% | 95 |
| Total Score | 100% | 96.5 |
---
3
puroBIO Certified Organic Cosmetics® Certified Organic

Long-Lasting Matte Eyeshadow
Created without mineral oil, sulfates SLS and SLES, parabens, formaldehyde, phthalates, and coal tar, having this natural eyeshadow means zero re-application.
Claimed to lasts up to 12 hours, this high coverage formula doesn't fade even when you sweat.
With a range of 22 colors to choose from, you can achieve any look you wish. Plus, it is ideal for everyday wear and special occasions.
Besides being cruelty-free and organic certified, this palette is nickel tested as well. Yes, you can wear it without worrying about the side effects of heavy metal traces.
Most importantly, this natural eyeshadow is ophthalmologically tested for safety – that's a great relief!
| Rating Category | Weight % | Score |
| --- | --- | --- |
| Promote Skin Health | 25% | 100 |
| Quality | 25% | 95 |
| Anti-Aging | 20% | 95 |
| Anti-Itching | 15% | 90 |
| Color | 15% | 95 |
| Total Score | 100% | 95.5 |
---
4
100% PURE® Fruit Pigmented

Eyeshadow
The eyeshadow is a natural combination of fruit pigments from blackberries, pomegranates, peaches, papaya, cherries, raspberries. Mica is also present for a shimmery look.
It is also a combination of age-defying rosehip seed oil, vitamin C, acai, lavender, avocado butter, rice starch, and resveratrol.
The pretty matte, maybe satin-ish, pinkish shade works great as a base layer to build up a dramatic look. Pinkish eyeshadow is also a great option to highlight the inner core of your eyes.
Best of all, it has a high pigment content, and the color doesn't crease on you.
---
5
Honeybee Gardens® Skinny Dip

Refillable Eyeshadow Palette
Apply these velvety pigmented matte eyeshadows from Honeybee Gardens for a naturally subtle look or layered up for a glam look.
It has a surprisingly silky smooth texture and can be applied with a moist brush for a creamier look. The highly pigmented product goes on smoothly and blends beautifully to give you a crease-proof, natural look.
It contains no petroleum-based oils, alcohol, talc, fillers, fragrances, preservatives, and chemical dyes. Additionally, it is gluten-, paraben-, and cruelty-free, as well as vegan.
Available in universally-flattering shades like Porcelain (matte very pale pink), Cameo (matte warm pale rose), Canterbury (matte light dusty plum), Tippy Taupe (brownish-grey/plum with shimmer).
A favorite among natural/organic beauty enthusiasts, it's a long-lasting product for the asking price.
---
6
BaeBlu® Hypoallergenic

Finely Pressed Organic Eyeshadow
This buildable formula creates a highly pigmented look with a touch of water or liquid primer.
The natural mineral color will not irritate the eyes.
There are no petroleum-based oils, alcohol, talc, fillers, fragrances, preservatives, or chemicals.
It is made in the USA, vegan, cruelty-free, gluten-free, and paraben-free eyeshadow.
It comes in bright metallics, shimmery bronzes, matte neutrals, and smoky darks.
This smooth velvety pigment applies easily and lasts all day.
---
7
Lauren Brooke Cosmetiques® Organic

Pressed Eyeshadow Duo
This is a natural, organic, vegan, pressed eye shadow that works well because it is highly pigmented, goes on silky smooth, blends easily, and lasts all day.
It is made completely with clean ingredients such as 100% natural vitamins, minerals, and pigments blended in an 88.3% certified organic botanical base.
The beautiful minerals and pigments from the earth help create exquisite, opulent colors.
The powerful natural vitamins and minerals, such as jojoba, zinc, orange peel wax, and lecithin, give exceptional skin-softening, moisturizing and anti-aging abilities.
This brand is EU-certified, cruelty-free, with certification by Leaping Bunny and PETA's Beauty Without Bunnies programs.
---
8
DEMÚRE® Mineral

Organic Eye Shadow
Demure's glitter eyeshadows are made of all-natural shimmer minerals.
Demure's Mineral Makeup is made with 100% pure crushed minerals from the earth.
It contains no chemicals, harmful preservatives, or other skin irritants like talc or rice and additives, binders, fillers, and fragrances.
Demure's highly pigmented Mineral Eye Shadow is lightweight yet offers great color.
It is great for all skin types and cruelty-free.
---
9
CLOVE + HALLOW® Pressed

Organic Eyeshadow Palette
CLOVE + HALLOW eyeshadow palette includes four shimmer shades and two matte shades that you can combine endlessly to create warm-toned casual or glam looks.
These highly-pigmented shadows perform like those of conventional brands.
It contains an antioxidant complex of rosemary, rice bran, and sunflower extracts that soothes and protects the delicate eye area.
The all-natural eyeshadow is recyclable, cruelty-free, and vegan.
---
10
Au Naturale® Bora Bora

Creme de la Creme Eyeshadow
These eyeshadows are the best of the best in terms of both texture and color.
This Créme de la Creme Shadow delivers striking pigmentation and nourishment.
It is formulated without animal bi-products, synthetic preservatives, nano-particles, gluten, parabens, fillers, dyes, or toxins.
It is 100% natural, cruelty-free, vegan, and made in the USA.
They are roudly hand-crafted in the USA in Green Bay, WI.
---
Index Table: Top Rated Organic Eyeshadow
---
---