Adding a scoop of protein powder to your smoothie or a glass of milk may seem healthy. After all, you need protein to get that Dwayne Johnson body. But that's not the real deal!
Before you give us quizzical looks, know this: along with proteins and nutrients, protein powders also bring toxins and chemicals to your glass of shake/smoothie/milk.
And, some can make you gain weight, some can keep you bloated, and some others can create havoc.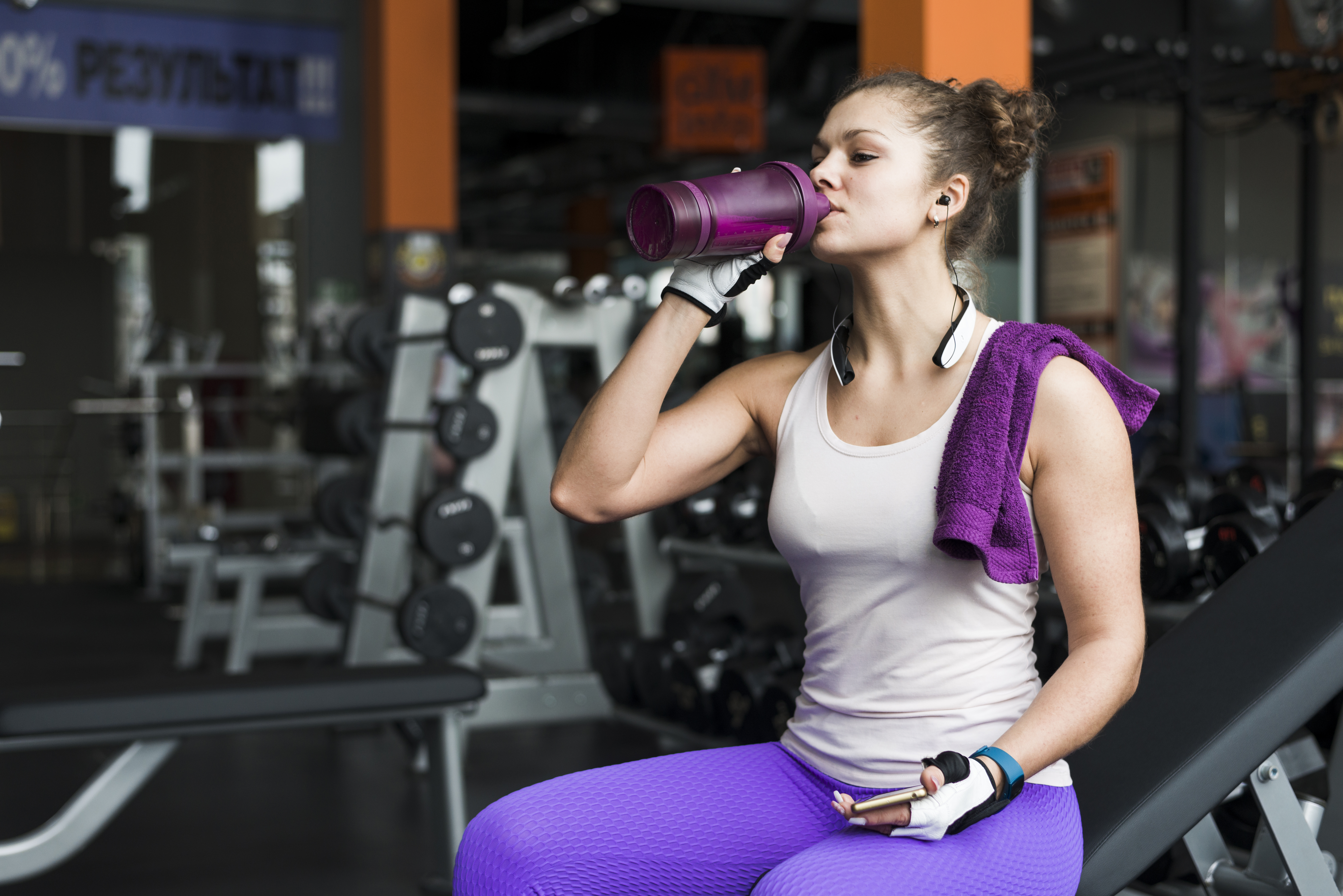 ---
Hidden Dangers of Non-Organic Protein Powders
According to science, your regular morning protein shakes might come with a high dose of toxins and metals. And, there are many risks associated with consuming filler-rich protein powders.
Creatine, a common sports supplement, increases the water content in your muscle cells, leading to significant weight gain. Plus, it increases the risk of dehydration and muscle cramping.
Caffeine in protein powder will give tremors and sleepless nights. Synthetic colors and flavoring agents can be harmful in large quantities.
The levels of BPA, lead, and cadmium in protein powders cause heavy-metal toxicity and neurological problems.
For these reasons, you should know what to avoid in your protein powders.
---
Ingredients To Watch Out for In Your Protein Powders
Many protein powders come fortified with unhealthy ingredients. Though the effects are totally individual, the 'fillers' can cause allergy, spike up insulin levels, build toxins in your body, or result in health problems in the long run.
That said, here's what you should watch out for in your protein powder.

Casein – Because it is high in lactose, it can cause flatulence, bloating, or digestive problems in some people.
Gluten – May cause allergies and inflammation. In some individuals, it may cause hormonal imbalances, fatigue, headaches, or migraine.
Artificial sweeteners – Your ' mission-toned body' may fail if the protein powders have unnatural sweeteners. Plus, they can cause gastric problems and headaches.
Soy protein – Most soy proteins are sourced from GM varieties. You know what that means, right?
Trans fats and vegetable oils – Many weight loss supplements come with trans fat that lowers good cholesterol and raises bad cholesterol.
---
Ingredients Found in a Good Organic Protein Powder
In making this important choice, we suggest checking if the brand meets these criteria below.
Amino acid profile: As our science teachers taught, 'Amino acids are the building blocks of protein. They are of two types – essential and non-essential.' Since essential amino acids can't be synthesized in our body, you should look for protein powders containing them. To be specific, BCAA is the term.
Taste and Mixability: This is the prime concern of many. And who doesn't want tasty organic protein powders? Speaking of mixability, you should check if it is 'shaker' or 'blender.'
Nutrient profile: Check the label for protein, dietary fiber, vitamins, enzymes, minerals, and probiotics. Choose the ones that are good for your gut.
Creatine: It is essential if your goals are to build muscles. Organic Creatine will speed up muscle recovery, enhance lean muscle mass, and increase muscle strength.
Omega-3 and 6 Fatty Acids: By now, you must be knowing how important omega-3s and omega-6s are. For starters, these fatty acids cut post-workout soreness and reduce inflammation.
---
What are the Best Types of Organic Protein Powders?
The following are the five best types of protein powders.

Whey Protein – Whey comes from milk and separates during the cheesemaking process into curds and whey liquid. Organic whey protein powders contains sugar that many people can't break down.
Egg Protein – Eggs are a great source of high-quality protein that is very easy for your body to digest. Egg protein powders are made from whites rather than yolks and happen to be one of the most filling foods out there.
Casein Protein – Casein is a protein found in milk, but it isn't digested and absorbed as quickly as whey. Casein forms a gel when interacting with stomach acid that slows down your stomach emptying time and delays the absorption of amino acids into the bloodstream.
Pea Protein – Aside from pea protein, we also have this organic vegan protein powder which is suitable for those who don't like to eat meat, dairy, or eggs. Why? It's made from a high fiber legume that has all but one of our essential amino acids.
Hemp Protein – Hemp protein is a plant-based supplement that's gaining popularity. It has been proven to be rich in omega-3s and amino acids that are essential for our bodies.
---
Reviews: Top 5 Best Organic Protein Powders
Want some recommendations? Check out the names below. These are our faves, hope they'll find a soft spot in your heart (and, pantry too!).
---
1
Made from plant-based ingredients, this is a must-have if you're counting macros. Plus, it lets you have a check on the carbs. Best of all, it has zero sugar and about 3 grams of carbs. Win-win!
Each serving provides 21 grams of protein as well as 5 grams of fiber. The protein sources are peas, brown rice, and chia seeds. Talking about the calories, it provides 150 calories per serving.
This has no artificial flavoring or coloring. It's also gluten-, dairy-, soy-, carrageenan-, and GMO-free. Also, it is a USDA organic protein powder.
Orgain recommends mixing it with almond milk, water, or any sugar-free protein shake. The chocolate flavor goes well with cake, muffin, brownie, or cookie mix.
---
2
Tone It Up® Organic

Vanilla Protein Powder
Made for busy babes by the busiest duo Karena and Katrina of the Tone It Up brand! It's organic, gluten-free, vegan, non-GMO, kosher, and non-fat. Also, it is low in sodium as well.
Need a few more reasons to add this to your weight loss journey? Here you go – the flavorful protein powder is free of lactose, cholesterol, soy, corn, wheat, and allergens.
It has no stevia. So, if you hate stevia, this is for you. It is sweetened with Monk fruit.
Speaking of the nutrition each serving provides, it gives 15 grams of protein and zero sugar. Perfect to fuel your body and tone the muscles!
Don't like vanilla? Don't you worry, they have delicious café latte, chocolate, peanut butter, and coconut flavors?
---
3
Optimum Nutrition® Gold Standard

Plant-Based Protein Powder
Pea, millet, quinoa, and brown rice are mixed to form a complete protein in this tub. And, each serving will give you 25 grams of proteins and 4 grams of naturally occurring BCAAs (aka Branched Chain Amino Acids).
This vegan protein powder also provides 100% DV for vitamin c. Imagine how nutritious it is that?
It's synthetic flavor-, color-, and sweetener-free and has no GMOs. And yes, it is USDA Certified Organic, too.
Add a scoop to water for a lean post-workout recovery drink. You can also throw some into your smoothie, protein shake, or baking recipe.
---
4
Garden of Life® Raw Organic

Vanilla Protein Powder
As the name says, it is raw, organic, and plant-based! It's also gluten-, dairy-, soy-, and GMO-free. Besides vanilla, it also comes in chocolate and vanilla chai flavors.
Don't like flavors in your protein powder? They have an unflavoured, no stevia version, too.
It provides 22 grams of sugar-free protein from organic peas and sprouts. Other nutrients it offers are fat-soluble RAW food created vitamins A, D, E, and K.
Besides assisting with post-workout recovery, it boosts your gut health as well. All thanks to the live probiotics and non-GMO enzymes. Each serving will give you about a whopping 3 billion CFU probiotics and 13 Enzymes.
---
5
Vega® Plant-Based

Protein Powder
The flavored chocolate formula offers 20 grams of protein per serving, made from a blend of pea, hemp, flax, and sacha inchi. It also has 4 grams of fiber to keep you fuller for longer.
Each serving also contains 50% (DV) of vitamins and minerals from broccoli, kale, spirulina, and strawberries.
Plus, 25% DV fiber, 1.5 grams omega-3s, probiotics, and antioxidants – and that's a whole lot of nutrients!
The entire product is vegan and non-GMO verified. With a low glycemic index, it is gluten-free, soy-free, whey-free, and dairy-free.
It's available in vanilla, coconut almond, berry, mocha, or plain unsweetened flavors.
---
6
Purely Inspired® Plant-Based

Organic Protein Shake Powder
This protein shake features 20 grams of plant-based organic protein powder, including organic pea protein and organic brown rice.
This clean and healthy protein contains 7 grams of fiber and only 2 grams of sugar.
It is vegan-friendly, USDA Organic Certified, Non-GMO, gluten-free, and free of artificial flavors, colors, or sweeteners.
---
7
Forzagen® Vegan Pro 360

Organic Protein Powder
This Plant Protein Powder is Non-GMO , Gluten-Free, all-Natural, and is low sugar and Soy Free.
It contains 20g of premium Vegan protein powder, with 3629mg powerful Amino Acids formula.
This plant-based vegetarian alternative protein powder relieves stress on the digestive system.
---
8
KOS® Raw Vegan

Organic Plant Protein Powder
It is infused with organic Peruvian cacao, organic Himalayan pink salt, organic coconut milk, a dash of organic stevia, and organic monk fruit.
It is made by incorporating 100% non-GMO Pea, Flax Seed, Quinoa, Pumpkin Seed, and Chia Seed Protein into our proprietary formula, USDA organic, gluten, soy,and dairy-free.
This raw vegan protein powder comprises healthy fibers and digestive enzymes that help your digestive system run efficiently.
---
9
Sunwarrior® Warrior Blend

Organic Vegan Protein Powder
This is a purely natural dietary supplement that combines plant-based proteins, super antioxidants, goji berries, MCTs, legumes, hemp, and ground coconut.
It contains electrolytes to keep your body fit, along with promoting lean muscle.
It is raw, keto-friendly, low-carb, high-protein, non-GMO, certified organic and vegan, and free of soy, dairy, sugar, and gluten.
This contains essential amino acids, including L-Arginine, L-Lysine, L-Tyrosine, L-Glycine, L-Leucine, L-Tryptophan, L-Proline, L-Methionine, L-Histidine, and L-Serine.
---
10
Nutribiotic® Raw

Organic Rice Protein
This easily digestible protein provides an extensive array of naturally occurring amino acids, which are the building blocks of proteins.
This product is certified Organic by CCOF / USDA Organic.
Nutribiotic protein powder is made without pesticides, herbicides, GMOs, and PCBs.
---
Index Table: Top Rated Organic Protein Powders
---
---