Protein powders are an excellent way of meeting your daily protein requirements, whether you are looking to build muscles or not. They are a cult favorite for health-conscious, gym-going people these days. Read on to determine whether Organic protein powders are better than conventional powders.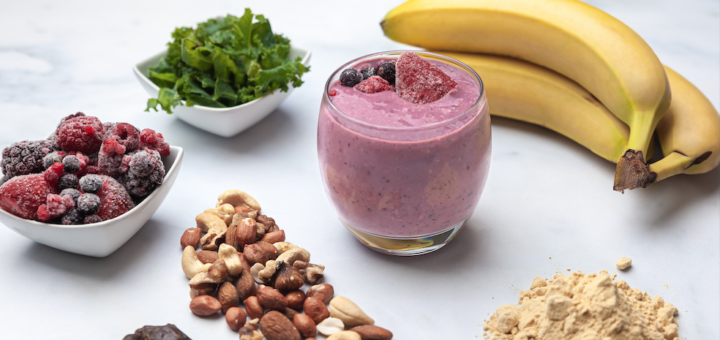 Table of Contents
What are Protein Powders?
Here are the reasons why you should choose protein powders:
1. Protein Concentrates
2. Protein Hydrolysates
3. Protein Isolates


Protein is one of the three food groups. Our body combines the building blocks of Amino acids to form a protein. There are 20 different types of amino acids that can be joined together to create a protein block. All of these amino acids and the subsequent protein are essential for life. However, only plants can synthesize all 20 of these amino acids themselves. Whereas animals cannot produce all, including humans, which can only produce 10 of them. This is because plants can harness the chemicals needed to create these amino acids from the air, water, and the soil they are grown in. In contrast, animals need to obtain them through external sources. Still, the protein content in plants is quite low; therefore, humans majorly depend on animals and animal by-products to fulfill their protein requirements.
As the name suggests, protein powders are a concentrated form of protein. This protein is derived from a food source, either plant or animal. Most common sources of protein powders include dairy, eggs, rice, etc. However, there are three common types of protein powders available in the market. These are explained down below:

Protein Concentrates – Protein concentrates are obtained by extracting protein from the source by heating. This process commonly produces 60-80% protein, whereas the rest is fat and carbohydrates.
Protein Hydrolysates – Hydrolysates are anything that is obtained through the process of hydrolysis. Protein Hydrolysates are extracted by further purifying, and heating protein concentrates on breaking down the bonds between amino acids and remove the excess. This can be done via acids or enzymes as needed. Protein hydrolysates are most efficiently absorbed by the muscles and body as a whole. Moreover, hydrolysates increase the insulin levels more than any other form of protein powder, especially for organic whey protein.
Protein Isolates – To obtain protein isolates, additional filtering is performed on protein concentrates. This step filters out the carbs and fat from the protein concentrate. Protein isolates contain more than 90% of protein.
Although protein powders are advertised in this way, most powders are not made completely of protein in some form. Most Protein powders contain fat metabolizers such as Creatinine, and are fortified with vitamins and minerals, especially Calcium. These things are added as a way to enhance the performance of these protein powders. However, they also contain a lot of additives such as artificial sweeteners, artificial flavoring, thickeners to give it a milkshake-like texture, and other such items.
Non Organic Protein Powders
Read below the definition of non-organic protein powders:
1. Flavor Options
2. Protein Content Variety
3. May Cause Digestive Issues
4. Comparatively Inexpensive

What is Non-Organic Protein Powder?
Non-organic protein powder is not obtained through organic sources. In other words, it is the regular protein powder available in all supermarkets. This protein powder can be plant-based or animal-based.
Features of Non-Organic Protein Powders:

Flavor Options – Conventional protein powder is not only easily available, it also comes in a lot of flavor options. Flavor options range from Vanilla and chocolate to fruit flavors such as strawberry. Although, it is essential to mention that all these flavor options are synthetic and chemical-based.
Protein Content Variety – Protein supplements can offer a range of protein content. For example, protein powders used for muscle building contain more protein than protein supplements designed for weight loss. Therefore, you can choose the powder that best suits your needs. However, organic protein powders also offer this variety.
May Cause Digestive Issues – Protein powders are known to cause digestive stress. This includes nausea, bloating, and other digestive problems. There are two reasons for this. First, animal by-product protein powders can trigger allergies in lactose-intolerant people. Secondly, some protein powders contain additives to keep you feeling full for a while. These fillers can be gluten, soy, artificial sweeteners, and flavors, etc., which can cause digestive issues and allergic reactions in people.
Comparatively Inexpensive – Since conventional protein powders are derived from regularly grown and bred livestock or crops, their price tag is comparatively lower than organic protein powders. This is because the ingredients used are more accessible and cheaper to produce.
Organic Protein Powders
Read below the definition of organic protein powders:
1. Complies with Strict Health Standards
2. Does not include artificial additives
3. Minimally Processed
4. Healthier for You and the Environment
5. Gentler on the Stomach

For any food to be considered organic, it needs to meet certain standards and requirements. Organic food is produced without the use of synthetic chemicals that may be harmful to human health, as well as to the world as a whole. Organically grown crops do not harness the powers of synthetic fertilizers, chemical insecticide or pesticide sprays, etc. Rather, they use natural techniques for effective crop growth, organic fertilizer (manure, compost, etc.), and other such eco-friendly methods. Similarly, organic livestock is produced without genetic enhancements or changes, synthetic growth hormones, antibiotics, etc. Moreover, organic livestock is allowed to graze in outdoor pastures with rich grass for at least one-third of their lives, is provided with 100% organic feed, and is housed in clean and safe areas.
What is Organic Protein Powder?
Organic Protein Powder is protein powder derived from organic sources. These sources include animal byproducts such as milk, eggs, casein, and whey. Moreover, plant-sources include Soybean, Rice, Peas, Hemp, Potatoes, etc. Whether the organic protein powders are made from animal or plant-sourced, these sources need to be completely organic for the powder to be considered organic. For example, if the protein is derived from milk or whey, the cow that gave the milk would need to be fed organic feed, allowed to graze freely, etc.
Features of Organic Protein Powders:

Complies with Strict Health Standards – The 'organic' label brings a sense of safety to any food. This is because regulatory authorities ensure the product complies with all the rules and regulations of organic items, from their production to manufacturing and processing.
Does not include artificial additives – As previously mentioned, organic protein powders only contain organic ingredients. This excludes any synthetic chemicals such as artificial sweeteners and flavorings, etc.
Minimally Processed – Organic protein powders are minimally processed, especially compared to the conventional protein powders. This is done to reduce the chance of contaminating the powders and ensure the product remains as natural as possible.
Healthier for You and the Environment – Anything that is Organic is almost always beneficial for the environment in the sense that it doesn't harm nature. Moreover, organic is always much better when it comes to food than the alternative. You need as few synthetic chemicals in your food as possible.
Gentler on the Stomach – Since organic protein powders contain as little additives and chemicals as possible, it is much gentler on the stomach. Although, lactose-intolerant people can still be at risk.
---
---