Have you ever wondered why organic vegan protein powder is healthier for you than non-organic?
In this Organic Vegan Protein Powder Buyer's Guide, we will discuss why organic vegan protein powder is the healthiest option, harmful ingredients you can avoid in your protein powders, and different types of plant proteins and what they can do for you.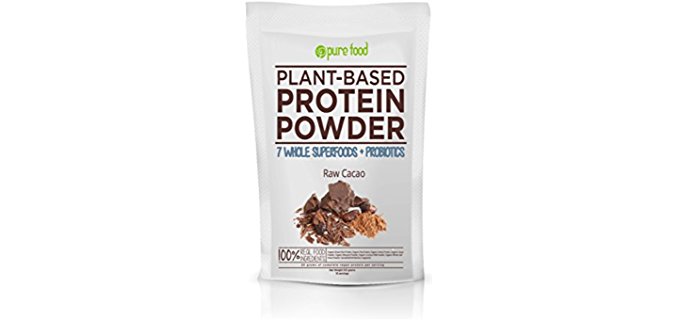 ---
Why Organic Plant Proteins Are The Best
Plant-based proteins are a favorite amongst those who are opposed to eating meat or who have a dairy (lactose) intolerance.
They are also becoming more of a popular choice amongst those who wish to add some extra nutrition to their diet, as they tend to be loaded with vast quantities of antioxidants too.
Synthetic protein powders and bodybuilding shakes are not as healthy because they are missing many of these natural immune-boosting antioxidants.
On top of this, a whole host of chemical additives and preservatives are added to the powder, which has adverse health effects.
Organic plant protein is even more healthy for you than ordinary plant-based protein too.
This is because organic food tends to have a larger nutritional content, and it also has not been sprayed with metal-heavy pesticides.
Pesticides are now known to cause endocrine disruption, as well as encourage tumor growth as well as weaken our immune functions.
---
6 Harmful Ingredients To Avoid In Your Vegan Protein Powder
Additives are added to protein powders to help them blend better with water and taste nicer. The healthiest way to overcoming these two problems is to add your protein powder to a fresh fruit smoothie each day. Not only will it taste better, but it will feel much better too!
Here are six things you want to avoid eating in your protein powder to avoid health issues.
Sugar – excess refined sugar can cause a lot of inflammation in the gut, which over time can lead to conditions like diabetes or leaky gut syndrome.
Artificial Sweetener – artificial sweeteners are neurotoxins, overexciting the brain until neurotransmitters are essentially fried. Artificial sweeteners have also proven to induce obesity and damage our metabolisms. Conditions like ADD, ADHD, diabetes, Parkinson's and Alzheimer's have been linked to artificial sweeteners.
Flavoring & Colorants – These are usually all those little E-numbers in the ingredients list. Flavors and colorants are also neurotoxins and act very similarly to artificial sweeteners.
Thickeners – Ingredients such as lecithin should be avoided, as this bloats up your stomach and causes a lot of gastrointestinal irritation.
Stabilizers / Emulsifiers – Xanthan gum or guar gum are both stabilizers, helping the protein powder to blend with the water it's going to be added to. These unnatural emulsifiers tend to wreak havoc in our digestive tracts, creating blockages in our stomachs.
---
Different Types of Organic Vegan Protein Powders
Many proteins should be blended for a complete set of proteins. One of the dangers of eating a strictly vegan diet is not getting enough protein, so make sure your protein shake has a mix of proteins.
Here are some common healthy plant proteins used in protein powders.
Chia Seed Protein – Chia seeds are one of the few plant proteins that have the full range of proteins for a healthy diet. They are also wonderful for protecting against cardiovascular disease and act as an emulsifier on their own.
Whey protein – organic whey protein powders are naturally hydrating and loaded with antioxidants, vitamins, and minerals while organic protein strengthens hair and nails, helping muscles to recover and skin to look healthier.
Pea Protein – Peas and other legumes are rich in many proteins but lack methionine. Pea protein contains a lot of soluble fibers, which cause the powder to swell upon impact with the water, acting as a thickener. Pea Protein usually tastes better and is more neutral than the other proteins.
Wild Rice Protein – This protein lacks a few amino acids that are essential for us, such as leucine, histidine, and threonine. Rice protein tends to be grainy and does not dissolve well in water.
Hemp Protein – hemp is another plant protein that contains the full spectrum of amino acids as well as an impressive array of omega-3 fatty acids. Having this in your protein mix is especially great if you have aches in your joints.
---
Reviews: Best Organic Vegan Protein Powders
We have selected some of the most nutritious organic plant protein powders below. Drink them stand-alone or add them to your next smoothie for a big boost!
---
1
This is a super potent blend of multiple different plant proteins to give you the health boost you need!
Contains rosemary, stevia and monk fruit extract for additional antioxidant support.
This plant protein powder is made from a base that consists of chia seed, hemp, rice, and pea protein.
It's recommended to add two scoops to 8-10 ounces of water or add it to your smoothie to give yourself energy all day long.
Enjoy the full-bodied, natural vanilla bean taste while feeling great at the same time.
Kosher, Vegan, and free from gluten, dairy, soy, and GMO.
---
2
Vega® Organic Green Protein Powder

Vegan Vanilla Vegetable Protein Powder
This pure organic plant protein powder from Vega contains a blend of green vegetables and proteins to make the ultimate every day vegan meal supplement.
A balanced ratio of a pea, brown rice and hemp proteins come together to give a great all-rounded base of protein.
Keep your blood sugar level constant throughout the day thanks to ingredients like sacha inchi protein, papain powder, and alfalfa grass powder.
Vegetable powders such as broccoli, kale, and spinach will help you to feel uplifted, contributing to clearing out your liver and aiding digestion.
This product is certified to being GMO-free, vegan, organic, gluten-free, and free from artificial colorants, flavors, or sweeteners.
---
3
Blend It Up® Organic Vegan Protein

Neutral Taste Organic Plant Protein Powder
This blends it up organic plant protein powder is perfect for those who need a meal on the go to keep their blood sugar stable throughout the day.
Keep yourself on top of your game with the optimal balance of vital nutrients that you need, such as vitamins and amino acids.
There are no artificial additives, sweeteners, flavoring, or colorants inside this plant-based protein powder.
Blend this powder into a smoothie or enjoy it mixed straight into the water.
It has a neutral, natural flavor with a mild sweetness.
100% sugar-free, gluten-free, vegan, and kosher.
---
4
Pure Food® Superfood Protein Powder

Organic Vegan Superfood Protein Powder
This is an all-round nutritional boost as well as a complete set of plant-based proteins, perfect for making sure your diet is as healthy as it could be!
Organic hemp, pea, and brown rice give you all the amino acids you need, providing enough stamina to last the whole day.
Organic Mesquite powder inside this blend stabilizes blood sugar levels and has a rather delicious nutty flavor.
Lucuma powder is rich in natural ingredients giving you 20% of your daily intake alone of zinc, potassium, manganese, magnesium, phosphorus, and calcium.
It is flavored primarily with vanilla bean powder and stevia leaf powder so that you don't have to compromise at mealtimes.
This protein powder is free of pesticides, chemicals, preservatives, GMO, gluten, and dairy.
100% vegan, kosher, and healthy for you!
---
5
Pure Food® Green Cacao Vegan Protein Powder

Decadent Organic Green Vegan Protein Powder
This is another Pure Food vegan protein powder which has the exciting and delicious flavour of raw cacao!
Raw cacao gives you more energy, as well as boosting your metabolism, keeping you on your feet the entire day.
The probiotics in this protein blend aid digestion, helping you to absorb all the other nutrients for maximum benefits.
Organic coconut milk powder fills out the flavor wonderfully and adds many anti-inflammatory compounds to your meal replacer.
Mesquite and other superfoods have been added to this protein powder to enhance the nutritional value while still giving you all the protein you need.
---
6
Garden of Life® Plant-Based

Organic Vegan Protein Powder
This product is Certified USDA Organic, Non-GMO Project Verified, NSF Certified for Sport, Informed-Choice for Sport Certified, Vegan, Gluten-Free, Dairy-Free, Soy Free, and free of added sugars.
Garden of Life Vegan Protein helps you refuel and repair muscles after a hard workout with 30gram of Complete Protein and over 5gram BCAA amino acids, Glutamine & Glutamic Acid.
This sport protein powder promotes faster recovery with an Organic High Antioxidant Blend of Organic Tart Cherries, Organic Apples, Organic Turmeric, Organic Gogi berries, and Organic Blueberries.
This BCAAs amino acid powder contains 2 Billion CFU probiotic blend to keep your immune system strong during training.
It is clean and free of any banned substances.
---
7
Forzagen® Vegan

Organic Protein Powder
Organic Vegan 360 Pro protein power is the best health and nutritional alternative to animal-based products.
It contains 20g premium Vegan protein powder as well as powerful Amino acids formula.
The Plant Protein Powder is Non-GMO, Gluten-Free, All Natural, Low Sugar, And Soy Free.
This Vegetarian Plant-based Protein helps relieve stress on the digestive system.
---
8
Ora Organic® Superfood

Vegan Protein Powder
The organic plant-based protein powder formula is made from all-natural ingredients, including 21 grams of protein and 4 grams of carbs, all completely vegan.
It includes 20+ superfoods for added micronutrients and all essential amino acids to ensure you get the most out of your post-workout routine.
This inclusive plant-based protein formula makes use of pea protein as well as rice protein, as well as digestive enzymes to help break down the plant protein, which helps eliminate bloating while maximizing absorption.
These clean, whole-food ingredients are sourced from USDA organic certified farms.
It is non-GMO and free from gluten, dairy, fillers, and artificial ingredients, as well as tested for heavy-metal.
---
9
SB Organics® Plant-Based

Organic Vegan Protein Powder
SB Organics Vegan Protein Powder is an all-in-one protein powder that includes a complete mix of probiotics, enzymes, and amino acids.
It is gluten-free, dairy-free, and plant-based with no artificial ingredients.
It includes essential vitamins and minerals such as Vitamin A, Vitamin B, Vitamin C, Vitamin D, Vitamin E, Vitamin K, Fiber, Thiamine, Calcium, Iron, Phosphorus, and Selenium.
SB Organics Vegan Protein Powder is ideal for supplementing healthy lifestyles and serving as meal replacements, on-the-go nourishment, smoothie boosts, or post-workout.
---
10
Wyldsson® EarthChimp

Vegan Protein Super shake Powder
This natural-tasting vegan protein shake boasts of 20g of plant-based protein per serving, as well as organic Fruits and Veggies, and Superfoods like Baobab, Flax, Turmeric & Cinnamon.
It contains 1 billion Probiotics, Digestive Enzymes, and 4g of fiber per serving to keep you healthy and happy.
It is Gum-free and Erythritol-free, as well as free of soy, dairy, gluten, GMOs, or added sugar.
---
Index Table: Top Organic Vegan Protein Powder
---
---