Some of the links in this post are affiliate links. This means if you click on the link and purchase the item, I will receive an affiliate commission at no extra cost to you. All opinions remain my own.
Protein powders are an excellent way to make up for the nutritional gap in your day-to-day life. It helps rack up your protein count, making your muscles stronger and more resilient. There are many ways to incorporate a protein powder into your diet. The most commonly used method is to make protein shakes and drinks. Read on to find out more!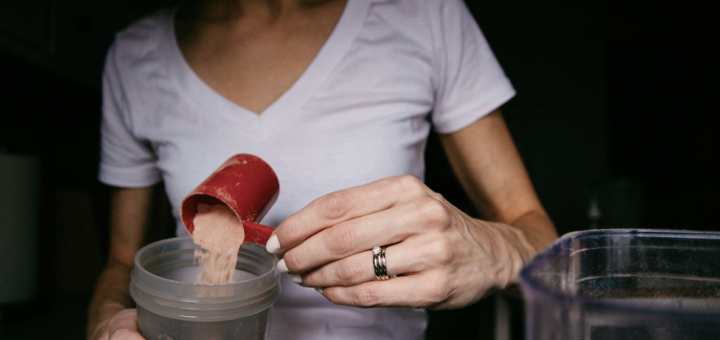 Table of Contents
Benefits of Protein Powder Drinks
Protein powders have many health benefits including:
1. Building muscle and making them stronger.
2. Allowing for quicker muscle recovery after exercise.
3. Assisting with weight loss and weight gain.
4. Boosting metabolism.
5. Flushing the body with nutrients, including essential amino acids, protein, carbs, vitamins, and minerals.

Discussed down below are the most common and delicious ways of adding protein powders in your life, as well as the best protein powder drinks and how to make them.
Best Protein Powder Smoothies
Here are the best Protein Powder Smoothies to make:
1. Chocolate and Coffee Smoothie
2. Green Smoothie
3. Vanilla Smoothie
4. Peanut Butter Smoothie
5. Antioxidant Smoothie

Smoothies are the easiest and most delicious way to consume a major portion of your nutrient requirements for the day. Making smoothies mixed with protein powders not only tastes much better than drinking plain protein powder drinks but also contains a mix of vitamins, minerals, and essential nutrients needed. With the combination of yogurt, fruits, and other smoothie ingredients, it is filling enough to last a few hours.

Chocolate and Coffee Smoothie – This chocolate and coffee-flavored smoothie is rich and doesn't at all taste like a healthy drink. It is made with milk (nut milk, plant-based, regular milk) mixed with chilled coffee and cocoa powder for the flavor. Add a frozen banana for nutrition, as well as protein powder (flavored or unflavored) for the protein boost. Blend and enjoy.
Green Smoothie – This green protein powder smoothie comes with a boost of protein, energy, and antioxidants. It contains milk (preferably almond milk), baby spinach that makes it green, along with a frozen banana to give it a creamy texture. You can also add peanut butter to add flavor and fat. Finally, add a scoop of protein powder and blend well.
Vanilla Smoothie – Vanilla is probably the most loved flavor. For a vanilla-flavored protein smoothie, add a scoop of vanilla protein powder, or in the case of unflavored protein powder, add a few drops of vanilla essence, along with milk. To add a burst of delicious flavor, add cubes of frozen mango and pineapples.
Peanut Butter Smoothie – As the name suggests, a peanut butter protein powder smoothie contains peanut butter, frozen strawberries, milk, and a heaping scoop of protein powder. The frozen strawberries go a long way towards making this a peanut butter jelly smoothie.
Antioxidant Smoothie – This antioxidant-rich smoothie contains milk as the liquid, along with frozen blueberries and raspberries. You can pair any two berries of your choice for this drink. Blend with a scoop of protein powder and enjoy.
How to Make the Best Protein Powder Shakes
Here are our few tips how to make protein powder shakes:
1. Liquid
2. Base
3. Protein
Sweetener

Protein shakes are the most common way to incorporate protein powder into your everyday life. They are delicious, filling, and nutritious. Although they are easy to make, there is still a proper way of doing it for the best results.

Liquid – The first and most basic component of any drink is the liquid part. For protein shakes, you can add water as your liquid or milk. Milk can be of any type, including cow or goat milk, plant-based milk such as soy milk, or nut-based milk such as almond milk, etc. You can also add any light juice, such as orange juice. Start with about 1/3rd cup of liquid, and add more only if necessary.
Base – The base of the protein shake is what gives it the texture. Your base can be ice for chilled shakes. For a creamy texture, you can add frozen banana, which is the most common choice. You can also go for frozen berries, including raspberries, blackberries, blueberries, strawberries, and cherries. Another common choice is yogurt. A cup of frozen fruit or ice should be enough for a single serving of protein shake.
Protein – You also need to choose a protein source for your protein shake. It can be a natural protein source, such as seeds and nuts, nut butter, etc., or you can go for a protein powder.
Sweetener – Lastly, you need to choose whether your shake needs any additional sweetener. For best results, choose an all-natural sweetener such as honey or maple syrup.
The most common and well-loved protein shake recipes are:
Scroll down to see the common protein shake recipes:
1. Chocolate Flavored Protein Shake
2. Vanilla Flavored Protein Shake
3. Peanut Butter Flavored Protein Shake
4. Berry Flavored Protein Shake
5. Tropical Protein Shake

Chocolate Flavored Protein Shake – This protein shake contains a heaping scoop of protein powder mixed with milk as the liquid. For the base, you can add banana, along with a spoon of cocoa powder for flavoring.
Vanilla Flavored Protein Shake – This vanilla flavored protein shake contains vanilla-flavored yogurt mixed with vanilla flavoring (essence or powder). Blend it with a scoop of protein powder and milk.
Peanut Butter Flavored Protein Shake – Peanut Butter flavored protein shake includes peanut butter, along with a mashed banana, milk, and a scoop of protein powder.
Berry Flavored Protein Shake – This berry flavored protein shake can include any berry of your choice. For a strawberry shake, you can add cream cheese for a strawberry cheesecake flavored protein shake. Blend with milk and protein powder.
Tropical Protein Shake – The tropical flavors are these protein shakes are pineapple and coconut flakes. The liquid is milk or coconut water, blended with the protein powder of your choice.
Tips for Making the Best Protein Powder Drinks
Here are the tips for making the best protein powder drinks:





Opt for the protein powder with the fewest ingredients, ensuring that protein is the first ingredient listed on the label.
Choose a powder that contains at least 25 grams of protein per serving.
Protein powder should not have more than 5 grams of carbohydrates, rather prefer including natural carbs in your protein drink.
Choose a protein powder that does not contain any artificial sweeteners or sugar.
Opt for a protein isolate powder instead of a protein concentrate. Protein Isolate contains 90% or more protein.
You can mix protein powder with plain, chilled water for a quick energy boost. This fits in well with a Ketogenic diet that focuses on high protein, low carbs. It may help lose weight and gain lean muscle mass.
Protein powder can also be mixed with milk, plant-milk, or coconut water as a quick post-workout drink. Mixing protein powder with milk is most suitable for people wanting to increase muscle mass. It helps to gain weight.
You can add your favorite protein powder to your coffee, whether chilled or hot.
---
---