Some of the links in this post are affiliate links. This means if you click on the link and purchase the item, I will receive an affiliate commission at no extra cost to you. All opinions remain my own.
The ketogenic diet plan calls for the inclusion of saturated fats in your meal plan.
Due to its high-fat content, clarified butter or Ghee could be used as a major source of calorie provider in a Keto diet.
Thinking which brands provide the best grass-fed Ghee for keto?
Here is our list of the best grass-fed Ghee to power your keto journey.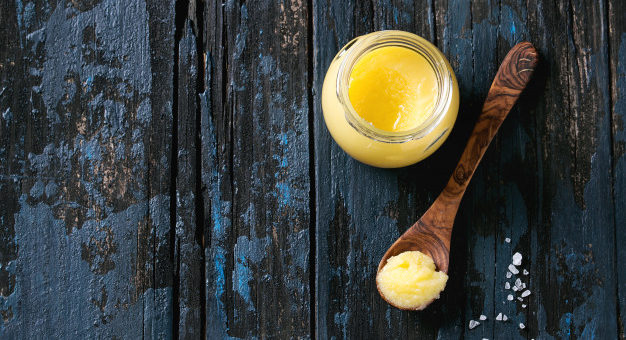 ---
Ghee And Ketogenic Diet
Grass-fed ghee contains about 62-64% fat, hence it is considered a Keto-friendly food item. It is equally good for those who want a great-tasting and versatile fat with umpteen health benefits.
Unless you're lactose intolerant, you can add Ghee to your keto-friendly recipes. It is best to use grass-fed Ghee when cooking, as it is rich in vitamins and minerals. Also, it adds sweet, buttery richness to meals while adding no sugars or carbs.
Speaking of the nutrients organic clarified butter (Ghee) provides, it has Omega-3s and Omega-9s, beta carotene, CLA, antioxidants, and vitamins E, D, A, and K. Omega 3s and Omega 9s boost immunity, support heart health, aid in weight management, and more.
Incorporating grass-fed clarified butter into your keto diet is super easy. Thanks to the versatility of Ghee. You can use organic Ghee in almost everything from morning tea to bread toast, sauté, and barbeque.
---
Health Benefits of Organic Clarified Butter
Energy Booster: The medium-chain fatty acids in grass-fed Ghee is useful in ketone production and boosting energy.
Best for cooking: Ghee has a very high smoke point of 485 degrees, higher than most cooking oils, making it a great Keto-friendly cooking fat.
Rich in Vitamins: Pure organic Ghee is packed with fat-soluble vitamins like butter. Also, it helps in the reabsorption of vitamins A, D, E & K.
Good for bone development: The vitamin K2 in Ghee helps proper bone growth and development. It also helps in safeguarding your arteries against atherosclerosis.
Heart-friendly: A diet rich in grass-fed Ghee reduces the risk factors for heart disease in men and women.
Helps with weight management: When it comes to losing or maintaining weight, Ghee contains CLA (conjugated linoleic acid), a fatty acid that has direct links with weight loss. Or visit this organic avocado oil because they are high in soluble fiber that has been shown to reduce belly fat by suppressing appetite.
Reduces Inflammation: Butyric acid in Ghee is a highly ketogenic short-chain fatty acid with anti-inflammatory effects.
Anti-Cancer benefits: Butyric acid in ghee also offers cancer protection.
---
Grass-fed Ghee Composition & Its Role In Keto Diet
Fat content: One tablespoon of organic Ghee has 14 g of fat to butter's 12 g, and about a gram more of monounsaturated and saturated fatty acids, aka the good fats.
Medium-Chain Triglyceride (MCTs): Ghee contains 25% or more short-chain and medium-chain triglycerides (MCTs). Whereas butter has around 12% to 15%. Since short to medium-chain fats are more easily digestible, they are the more accessible energy sources. Additionally, they turn easily into ketones, which puts you faster into ketosis.
Healthy fats that contain MCTs are highly desirable in the ketogenic diet. Thanks to the amount of energy they provide for all vital functions.
MCTs also reduce appetite, aid weight loss, and enhance cells at the mitochondrial level. This, in turn, lowers one's risk for Alzheimer's, heart disease, diabetes, autoimmune diseases, and atherosclerosis.
The ketogenic diet and MCTs also help in cancer prevention. Research says that cancerous cells feed on glucose. Replacing carbohydrates and sugars with healthy fats as your energy source starves cancerous cells.
---
Reviews: Best Grass-fed Ghee For Keto
---
1
This grass-fed Ghee has a rich buttery flavor perfect for slathering on toast and stir-frying veggies.
Made from 100 percent pasture-raised and grass-fed cows, this Ghee from Gold Nugget Ghee is certified organic by USDA and CCOF.
Certified keto and paleo, it is rich in vitamins A, D & K2, omega three fatty acids, and Conjugated Linoleic Acid (CLA).
We just love its silky, smooth texture and the velvety mouthfeel it leaves. The flavor is full buttery.
It is a great addition to the keto, low carb, Bulletproof, and paleo diets. Add it to bone broth, tonics, coffee, or smother on vegetables or meats.
---
2
Ancient Organics® Grass Fed

100% Organic Ghee
If you commit to getting 100% grass-fed ghee for the keto diet, make sure that you purchase ANCIENT ORGANICS 100% organic ghee from grass-fed cows.
Hand-crafted over an open flame and made in small batches, this Ghee is organic, produced from grass-fed and pastured cows.
This flavorful and nutty Ghee is an excellent source of vitamins A, D, E & K, Omega 3s & Omega 9s, and CLA.
Each 32-ounce jar comes with USDA, CCOF, and Kosher certifications.
It's also tested casein, gluten, and lactose-free, making it great for those with intolerances.
---
3
4th & Heart® Vanilla Bean

Grass-Fed Ghee Butter
Vanilla Bean Grass-Fed Ghee Butter by 4th & Heart is another solid option if you are looking for high-quality grass-fed Ghee to assist your keto journey.
It comes from grass-fed, pasture-raised, and hormone-free New Zealand cows. 4th & Heart is Ghee in its most natural form with no antibiotics and dairy ingredients.
For enhancing its buttery taste and aroma, pure Madagascar vanilla bean is infused into it. It tastes great over bread, popcorn, vegetables, meat, and various other foods and drinks.
Each jar contains 9 oz keto-friendly Ghee. You can also add this gluten-free, paleo-certified to other diets as well.
---
4
Carrington® 100% Grass-fed

Cultured Brown Butter Ghee & Cultured Ghee
Transform your baked bread, morning coffee, and sauces with this grass-fed Ghee from Tin Star Foods.
Manufactured in Texas and lab tested for casein using a triple filtration system, this cultured Ghee is flavorful and nutritious.
None of Tin Star's cows have ever been given antibiotics or growth hormones. Plus, the cows are raised in sustainable, organic, and GMO-free farming conditions.
Tin Star Ghee is certified as organic by the USDA.
This tasty grass-fed Ghee has a delightful aroma and leaves no unpleasant aftertaste.
---
5
By The Cup® Organic Valley

Ghee Clarified Butter,
Organic Valley Ghee Clarified Butter is another high-quality option made from the butter of pasture-raised cows.
The product is highly nutritious, thanks to the slow simmering method used while making the Ghee.
With absolutely no antibiotics, synthetic hormones, toxic pesticides, or GMOs, this Ghee is lactose and casein-free.
The Organic Valley ghee makes an excellent topping over meats and vegetables, and it works well as a substitute for butter in coffee and bread.
---
7
East End® Butter Ghee

Organic Grass Fed Ghee Keto
An organic Ghee that is sourced from Grass-fed Cows.
Rich and creamy textured butter that is filled with proteins and vitamins.
Suitable for Vegetarians and completely additive-free.
Excellent for all uses.
---
8
Purity Farms® Clarified

Organic Grass Fed Ghee Keto
A Clarified natural Grass Fed organic Sourced Ghee Keto Butter.
Comes in a three-pack option.
USDA certified pure and organic quality.
It contains plenty of proteins and healthy vitamins.
---
9
Vital Farms® Pasture Raised

Organic Grass Fed Ghee Keto
6 pack
A six-pack o all-natural Ghee Keto sourced from Grass-fed Cows on an organic certified farm.
Pasture-raised delicious and creamy butter with much versatile use.
Clean and can be sued for cooking and as a spread.
Will not burn or chemically alter in high heat.
---
10
Rani Brand® Authentic Indian

Grass-Fed Ghee
Rani Ghee offers the characteristic grainy texture and smell of butter oil and is not mass-produced.
It is handmade in old-fashioned small batches via slow cooking unsalted butter and then straining.
This Ghee is made from the milk of Grass-fed cows to ensure the highest quality and taste.
It offers a high smoke point at 425F degrees and can be used in cooking, baking, etc.
This Ghee is Keto-friendly, Gluten-free, and made in a USA-based company.
---
Index Table: Top Organic Grass Fed Ghee For Keto
---
---