Olive oil is a must-have in any healthy household, the benefits of which are endless!
Find out more below on why olive oil is healthy for you, what else you can use it for and in what form you should get it in.
Also, don't miss out on our premium selection of ready-to-order organic extra virgin olive oils in the following section.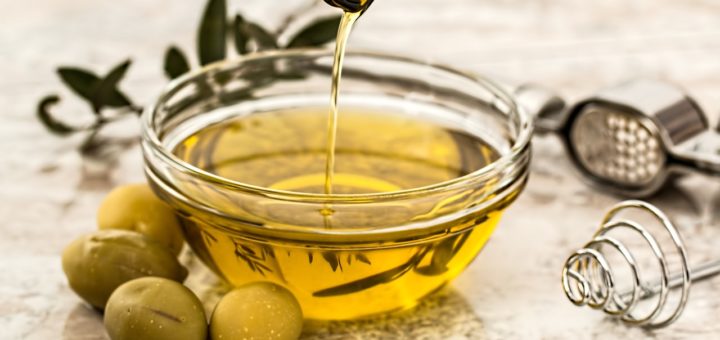 ---
Top 5 Health Benefits of Olive Oil
Olive oil is one of the healthiest culinary oils on the entire planet! These well-known health benefits of olive oil will elucidate why:
Soothes Inflammation – Olive oil is incredibly high in anti-inflammatory substances from Vitamin E to Oleic Acid. Those with chronic inflammation (arthritis, gout, fibromyalgia and many other auto-immune cases) should switch over to using olive oil for cooking instead of other more common vegetable oils.
Cardio Protective – Oleic acid in olive oil is incredibly heart protective. Those who consume a large amount of olive oil, such as those who abide by the Mediterranean Diet, have been shown to have a lower risk of heart disease, diabetes and metabolic problems.
Prevents Free Radical Damage – Olive oil protects much of our bodily tissues from damage caused by free radicals and in fact promotes tissue regeneration.
Aids Weight Loss – A correlation has been made between losing weight and consuming olive oil! The main reasons are that olive oil prevents your arteries from clogging, helps you to metabolize food better and boosts your good cholesterol, which is essential for weight loss.
Improves Focus and Memory – Olive oil even does good for your brain, enhancing focus, memory and mental clarity. New research is starting to show that eating healthy fats give us more energy than eating lots of carbohydrates. Olive oil certainly falls into this category, supplying more energy to the brain and most of the body than regular fats like butter or canola.
---
7 Other Uses for Organic Olive Oil
Aside from having an endless list of health benefits, olive oil can be used for many more applications. Here's just 7 of them!
Conditioner – Soaking your hair in olive oil before taking a shower and then rinsing it out with your shampoo will leave your hair feeling soft, strong and glowing radiantly.
Moisturizer – Olive oil is one of the few natural oils that penetrate the skin deeply without causing harm to your pores or infecting them and causing acne. In fact, it works so well that it disinfects the skin, combats acne and has been recommended as a way to treat multiple skin conditions.
Lip Balm – Since olive oil moisturizes so well, it makes an exceptional lip balm, particularly when blended with beeswax or another more solid compound. Cure dry or cracked lips with olive oil!
Massage Oil – Olive oil makes a fantastic massage oil, alleviating muscle pain, stiffness, tension and more! Add a few drops of your favorite essential oil to scent it nicely, and then you will have an award-winning massage oil.
Makeup Remover – Applying olive oil to your face before applying makeup will protect your skin from acne and other common problems associated with makeup. In the same way, olive oil can be used to take off your makeup. Simply dip a cotton swab in it and gently wipe your face where applicable.
Furniture Polish – Not only does olive oil make your skin radiant, but it adds a neat shine to furniture too! Polish any faded wooden furniture items with olive oil and watch it shine like never before. The best part is that olive oil does not come with any unhealthy fumes that ordinary wood polish would otherwise release into your environment.
Strengthening Nails – If you are growing your nails after biting them or have weaker nails for any other reason, olive oil can help. It strengthens nails and promotes healthy nail growth. It will also repair the skin around your nails, keeping them looking gorgeous.
---
Which Type of Olive Oil is the Best to Choose?
Not all olive oils are pure.
When you walk into the supermarket, you will be encountered by a few different kinds of olive oils, namely light olive oil, virgin olive oil, and extra virgin olive oil.
Never buy light olive oil or an olive oil blend. In this case, the oil has been blended with another vegetable oil or heated through the refinement process and has become rancid.
Instead, opt for extra virgin or virgin olive oil.
Virgin olive oil is where the olives have undergone a second pressing.
Extra virgin olive oil is the cream of the crop when it comes to olive oil, having been cold-pressed, nonheated and refined as little as possible. This is important, as it will retain most of its benefits when not heated.
Naturally, always opts for organic olive oil to avoid all the chemicals they spray onto non-organic crops.
Ideally, you would want your olive oil to come in a dark glass bottle to preserve the natural compounds this oil is abundant in.
Glass packaging is also superior to plastic as it stays cool and does not leach synthetic compounds into the oil, keeping it 100% pure.
---
Reviews: Best Organic Olive Oil
Here is our selection of the best organic olive oil available for purchase online, all of which are of very high quality and standard!
---
Bragg's is one of the top health brands globally today and this olive oil of there's is no exception when it comes to top quality.

Made from 100% organically grown olives straight from the Mediterranean coasts of Greece.

Delicious for using in sautés, roasts, salad dressings and more adding a light flavor and delicate aroma.

Packaged in a green-tinted glass to preserve all the natural goodness of the oil.

Free from artificial additives, gluten, and dairy as well as being entirely halaal, kosher and vegan.

---
2
This oil was cold pressed from olives grown with extra care along the coastline of the Turkish Aegean Sea.

The olives selected are young green olives, being high in chlorophyll and many other healthy compounds.

Certified USDA Organic, the olive oil is stored in a dark glass container for maximum health benefits.

If kept out of direct sunlight, this oil will keep for a very long time, continuing to impress you and your loved ones with its many health benefits.

This pure, unrefined olive oil is free of chemicals, additives, preservatives, and allergens, making it ideal for those with sensitivities.

---
3
This olive oil takes cold pressing a step further by using ice to press the olives, making it 20-30 times colder than regular olive oil pressing!

Certified organic by USDA standards, the olives used to make the oil were never once subject to any toxic metals or chemical sprays.

The olives are also GMO-free and hand-picked, giving them a sublime rich heirloom taste and flavor.

This oil contains much more of the nutritional content than even standard olive oils do and is a darker richer color.

Stored in a dark glass bottle to keep all nutrients intact.

Perfect for raw vegan, paleo, and many other healthy diets.

---
4
This award winning olive oil has one two gold medals at the LA County Fair for it's decadent flavor and natural state.

Only made from purely organic olives in USDA certified growing operations, this olive oil is 100% healthy for you.

Cold pressed and extra virgin, the olive oil maintains all of its natural properties.

Made from three different types of olives, the flavor, and nutritional content is higher than that of usual brands.

This olive oil is more cloudy than usual as it is unfiltered, making it entirely raw and 100% unrefined – get it straight from the oil press!

---
5
This olive oil comes directly from the organic family-run orchid estate of Kasandrinos in Greece.

Made from the purest organic heirloom olives possible, the olive oil is free of preservatives, additives, chemicals or GMO.

Cold pressed for an impressive 48 hours; the olive oil comes out bright in color with luxuriously peppery undertones.

Rich in polyphenols such as oleic acid, hydroxytyrosol, and Vitamin E, add this olive oil to your diet for anti-aging benefits.

Comes in a dark glass bottle with a screw on cap and pourer for convenience.

Has a shelf life of 2 years.

---
Comparison Table: Top-Rated Organic Olive Oils
---
---