Some of the links in this post are affiliate links. This means if you click on the link and purchase the item, I will receive an affiliate commission at no extra cost to you. All opinions remain my own.
Avocados are all the rage nowadays.
Using them in culinary items to use them for skincare and haircare, avocados can do it all!
Please scroll down to find out about Avocados, their numerous pros and cons, and the best organic Avocado oils available in the market.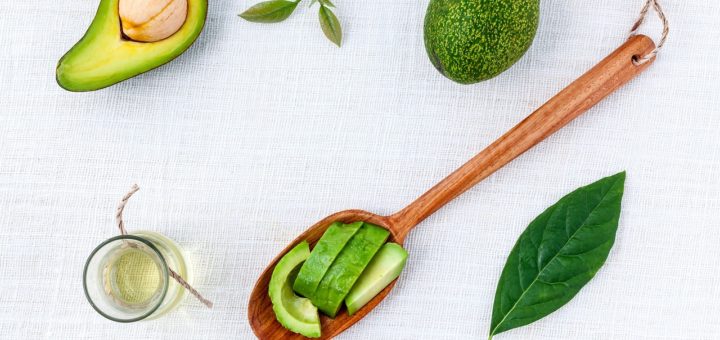 ---
What Are Avocados?
Avocados – Avocados are a green fruit with a thick skin. Botanically, it is considered to be a berry and comes with a big stone inside. It originates in South Central Mexico and belongs to a flowering family called 'Lauraceae.'
Fresh Fruit – The pear-shaped fruit has a fleshy texture and can be ingested in raw fruit form, raw, or incorporated in other dishes. They ripen after harvesting. Avocados are famously used in making a traditional Mexican dip called 'Guacamole.'
Avocado Oil – Avocado oil can either be derived from the fruit or the seed. It can be used for cooking, as a salad dressing, and in cosmetics, skin, and hair care products.
Avocado Products – Nowadays many products come enhanced with Avocado. Avocado Honey, Ice cream, Mayonnaise, and Avocado flavored tea, and you can find yogurt in any grocery store.
---
Benefits of Avocado
High in Nutrients – Apart from organic coconut oil, Avocados are one of the fattiest plant food in existence. The majority of the fat is Oleic Acid, which is a very healthy monosaturated fatty acid. The fats are also resistant to heat-induced oxidation, making them a safe choice.
Fiber Dense – Avocados are also relatively rich in Fiber. Therefore, they are excellent for any problems related to digestive health. The indigestible plant matter in Avocados contributes to fewer blood sugar spikes and weight loss.
Lowers Cholesterol – Avocados reduce the total cholesterol levels in the body. Triglycerides, LDL, and HDL are also positively affected by Avocados. Avocados' regular intake results in good heart health and a reduced risk of diseases because of these qualities.
Supports Overall Health – People who eat Avocados regularly are shown to have less Belly fat, a lower BMI, as well as higher levels of good cholesterol in the body.
Antioxidant Rich – Avocados are high in Antioxidants such as Lutein and Zeaxanthin. These nutrients make it beneficial, especially for eye health, as well as macular degeneration. They also increase antioxidant absorption from other foods.
Relieves Symptoms of Arthritis – Avocado, along with Soybean oils, together called Avocado and Soybean Unsaponifiables, can reduce and relieve symptoms of Osteoarthritis.
Helps in Weight Loss – Avocados are a weight-loss-friendly fruit. It keeps you feeling full for a long time, therefore decreasing your overall food intake. Hence, it supports weight loss.
---
Risks Associated with Avocados
Do Not Use During Pregnancy and Breast Feeding – Avocados may reduce milk production. It can also cause damage to Mammary Glands. If ingested in large quantities, the baby may have an upset stomach.
May Cause Allergies – Avocados are known to cause allergies in some people. It may cause vomiting and skin reactions in people suffering from Hypersensitivity. The skin reactions caused by Avocados are sometimes adverse. Symptoms include hives, itching, redness, and eczema.
May Cause Liver Damage – Some types of Avocado oils may cause liver damage. Select Avocado oils that are tested for Carcinogenic reactions and certified Organic.
May Reduce Good Cholesterol – Large consumption of Avocado may cause the absorption of good cholesterol along with bad cholesterol. This is due to the large amounts of beta-sitosterol in Avocados.
May Cause Gastrointestinal Irritation – Avocados, when ingested in large quantities, may result in an upset stomach.
---
Reviews: Best Organic Avocado Oil
Reviewed down below are some of the best organic Avocado Oils in the market.
---
1
This Avocado oil comes with a high concentration of beta-sitosterol.
It aids in treating clogged arteries for healthy blood flow.
When taken orally, it boosts weight loss due to the high concentration of fatty Oleic Acid.
Sky Organics' avocado oil is rich in Vitamin E, potassium, and Lecithin.
It moisturizes the skin as well as hair and relieves sunburn and dandruff.
---
2
US Organic® Virgin

Unrefined Avocado Oil
US Organic Avocado oil is naturally rich in Vitamin E and essential fatty Oleic acids.
This oil is unrefined in its purest form and comes in a dark green color with a characteristic odor.
The extraction of this oil is done via the cold-pressed method.
It is suitable to be applied directly to the skin or added to your favorite beauty products.
This product does not contain any fillers, dilutants, alcohol, parabens, additives, or chemicals, as well as any synthetic fragrances.
US Organics' product is cruelty-free, USDA certified, GMP certified, and manufactured in an FDA registered facility.
---
3
Premium Nature® Cold-Pressed

Organic Avocado Oil
This cold-pressed avocado oil is unrefined and raw and Vegan-friendly.
It is excellent for hair growth and leaves behind a glow.
This avocado oil can be used as a mask for both the face and hair both.
It has natural anti-aging properties as well as nutrient-rich.
This product is suitable to be added in any lotions, creams, or for making your beauty products.
---
4
Pure Organic Ingredients® All-natural

Organic Avocado Oil
This avocado oil is 100% pure, nutrient-rich, and full of Vitamins, Protein, and an excellent potassium source.
The Pure Organic Ingredients Avocado oil is sourced from the pulp of American Avocado fruits.
This is the ideal carrier oil for any essential oil.
Pure Organic Ingredients' product is Kosher, Non-GMO verified as well as Vegan-friendly.
---
5
Sweet Essentials® 100% Pure

Organic Cold-Pressed Avocado Oil
This Avocado oil is rich in Sterolins to protect from sun damage and visibly reduce blemishes and age spots.
Avocado oil increases collagen production and forms a natural barrier against damage caused by aging.
It is excellent for hair care as it nourishes the hair and reduces hair fall and dandruff.
The high-fat content of Avocado oil makes it suitable for absorption in the skin and scalp. Therefore, it reduces dry and itchy skin.
Sweet Essentials avocado oil is Non-GMO verified as well as USDA certified organic.
---
6
Sweet Essentials® Organic

Unrefined Extra Virgin Avocado Oil
This avocado oil is excellent for hair health. It helps hair recover from any damage caused by chemical processes.
It relieves itchy and dry scalp as it dries quickly into the skin due to the high-fat content.
The avocado oil reduces the damage caused by aging and prevents sun damage as well.
It visibly reduces the blemishes, sunspots as well as age spots.
The unrefined oil is excellent for massage and leaves the skin supple and moisturized.
Sweet Essentials Unrefined Extra Virgin Avocado Oil is a Non-GMO Project verified.
---
7
BetterBody Foods® 100% Pure

Avocado Oil
This Avocado oil is perfect for cooking as it can take the heat with its high smoke point of 500°F.
It is similar to olive oil in its monosaturated fat but is healthier in nature.
The oil comes with a mild, smooth flavor that enhances other foods.
This product is naturally refined, non-GMO, and Gluten-Free, and suitable for Whole30 and Paleo diet.
---
8
Bella Terra Oils® Unrefined

Avocado Oil
This oil is 100% pure, Organic, Unrefined, cold-pressed, Cruelty-free, and natural. Includes Pump and Dropper
The organic Avocado oil is free from parabens, hexanes, additives, preservatives, making it a perfect remedy for dry, inflamed, and sensitive skin.
It minimizes wrinkles, prevents stretch marks, promotes skin elasticity, and leaves the skin smooth and soft.
This oil is made by a veteran-owned business, bottled in the USA, and includes a pump and dropper.
---
9
Mayan's Secret® Natural

Avocado Oil
Mayan's Secret USDA Certified Organic Avocado Oil contains collagen-supporting amino acids, proteins, as well as vitamins A, D, and E, making it extremely healthy for the body and skin.
This oil works wonders on the skin by increasing elasticity to combat aging signs such as wrinkles, stretch marks, dry and saggy skin.
It contains a high concentration of healthy fats and antioxidants.
This oil is highly penetrative and recommended to treat acne problems, flaking, dehydrated, sun-damaged skin, eczema, and psoriasis treatment.
Certified USDA Organic suits all skin types and is perfect as a body moisturizer, hair oil, nail oil, body massage oil, and carrier oil for essential oil mixing.
---
10
Valentia® 100% Pure

Organic Avocado Oil
Valentia Avocado Oil is pure, natural, synthetic-free, unrefined, and never tested on animals.
It comes from plump Persea Americana fruits that are cold-pressed and bottled in dark amber glass to prevent oxidation.
This oil deeply moisturizes the skin with an exceptional source of hydrating ingredients like beta carotene, protein, Lecithin, fatty acids, vitamins A, D, and E; avocado oil is one of your skin's best allies.
The soothing green Avocado Oil contains a whole host of nutritious ingredients to support a healthy, youthful glow.
It has a unique mix of emollients, and monounsaturated fats make it perfect for skin that needs a little extra support.
---
Index Table: Top-Rated Organic Avocado Oil
---
---