Activated Charcoal is a new product on the market. It is considered the universal antidote and potent natural treatment for a host of problems.
Skin, Health, Teeth, and even the surrounding air; can all be fixed and improved using Activated Charcoal.
Read on to find out more.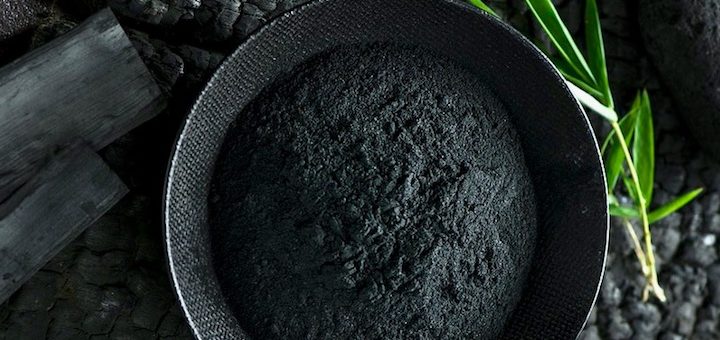 ---
---
What is Activated Charcoal
Activated Charcoal – Charcoal comes from Coal, Wood or other substances. Charcoal turns into "Activated Charcoal" when processed at a very high temperature, which changes its internal structure, reducing the pore size and increasing surface area.
Processing – Charcoal powder is charred with some agent to create a porous surface. It is then washed with a diluted acid to get pure carbon. It is then exposed to an oxidizing gas to make it more porous and increase surface area.
Difference between Activated and Non-Activated Charcoal – Simple, unprocessed Charcoal, such as those used to light fire, is minimally porous and contains harmful toxins. Activated Charcoal, on the other hand, is more porous than simple Charcoal because of its processing. It is safe to ingest or apply topically. It is also extremely adsorbent.
Appearance – It is a fine, odorless, black powder typically made from bone char, coconut shells, peat, petroleum coke, coal, olive pits, or sawdust. A single teaspoon of Activated Charcoal has more surface area than a football field.
---
Benefits of Activated Charcoal
Treat Poisoning – Traditionally, activated charcoal was used in the operating rooms to treat poisoning or overdose. It acts like a sponge and binds toxin particles to itself.
Intestinal Gas and Bloating – Activated charcoal, when ingested, can neutralize intestinal gases. Millions of gases can pass through the porous structure of activated charcoal.
Oral Health – Activated charcoal can be used as a teeth whitener to maintain general oral health. It absorbs plaque and teeth-staining compounds.
Skin Care – Organic activated charcoal helps improve the skin's texture. It is effective against dry, itchy skin and brings a youthful glow to the skin.
We also suggest you have a look at the organic iron supplements as they also carry the best ingredients that are safe for both men and women.
---
Activated Charcoal Products
Facial Cleansers and Masks – Activated charcoal is used in many beauty products nowadays because of its detoxifying effects. It comes included in masks, soap bars as well as cleansers, and shampoos.
Teeth Whiteners – Because of its teeth whitening qualities, a lot of toothpaste containing activated charcoal is currently available in the market.
Supplements – Activated charcoal comes in tablet, capsule, or powder form. It is commonly used to treat flatulence and bloating etc.
Air Purifiers – Activated charcoal powder can purify the air. It absorbs odor and moisture from the surroundings and keeps the surroundings clean.
---
Reviews: Best Organic Activated Charcoal
The below list consists of different products containing activated charcoal.

---
1
This activated charcoal comes in bulk and is Food Grade.
This organic activated Charcoal is an excellent way to whiten teeth and is even suitable for sensitive teeth.
You can use charcoal in a face mask because of its detoxifying qualities. It draws out toxins, clears pores, and is ideal for acne-prone skin.
It leaves the skin clearer and refines pores.
If taken internally, the charcoal powder absorbs toxins and chemicals in the body for a detoxifying effect.
It helps relieve pain, itching, and swelling, caused by bug bites and stings.
Activate charcoal can also calm down infections by absorbing toxins and fluids and speeding up the healing process on wounds.
| Rating Category | Weight % | Score |
| --- | --- | --- |
| Detox | 30% | 100 |
| Reduce Gas | 25% | 100 |
| Anti-Itching | 25% | 90 |
| Odor Control | 20% | 95 |
| Total Score | 100% | 96.5 |
---
2
Belle Chemical® Kosher

Organic Coconut Activated Charcoal Powder
Belle Chemical's activated Charcoal powder is Kosher.
It is produced under the Islamic Food and Nutrition Council of America(IFANCA).
It is compiled with Activated Carbon requirements under Food Chemicals Codex(FCC) and Drinking Water(NSF).
This product is made in the USA under Organic and comes in a Mylar resealable bag.
| Rating Category | Weight % | Score |
| --- | --- | --- |
| Detox | 30% | 100 |
| Reduce Gas | 25% | 95 |
| Anti-Itching | 25% | 90 |
| Odor Control | 20% | 95 |
| Total Score | 100% | 95.25 |
---
3
Purest vantage® Vegetarian

Organic Activated Charcoal Capsules
Purest Vantage supplies the most potent and pure Activated Charcoal supplement in the market.
Unlike other brands, this supplement contains 600mg of activated Charcoal per capsule.
This product is GMO-free, Vegan-friendly, and does not contain any Gluten, Soy, Wheat, Sugar, or artificial fillers, additives, or binders.
Each pack contains 90 capsules.
These capsules are manufactured in the USA under the strict supervision of FDA and GMP guidelines.
This supplement detoxifies the body and reduces bloating, gas, and stomach ache.
| Rating Category | Weight % | Score |
| --- | --- | --- |
| Detox | 30% | 100 |
| Reduce Gas | 25% | 95 |
| Anti-Itching | 25% | 90 |
| Odor Control | 20% | 90 |
| Total Score | 100% | 94.25 |
---
4
Nimiah® Natural

Activated Charcoal Teeth Whitening Powder
This teeth-whitening solution contains Activated Charcoal powder to effectively remove cigarette, wine, and tea or coffee stains.
It also reduces dark spots and plaque, allowing you to smile confidently and show off your pearly whites.
Nimiah's teeth whitening powder is made using premium quality natural ingredients. It contains 100% natural charcoal sourced from coconut.
This product does not contain any harsh chemicals and is suitable for sensitive teeth.
If used twice a day, you can see visible improvement.
---
5
OLIVIA & AIDEN® Bamboo Bags

Activated Bamboo Charcoal Air Purifier
These air-purifying bamboo bags contain 200g of activated charcoal each.
Olivia's deodorizer comes in a sealed linen bag with a ring on top for easy hanging.
It absorbs odor from cars, closets, or any humid and closed-off area.
Bamboo charcoal is a natural and eco-friendly air purifier without filling the surroundings with chemicals.
This product also prevents mold and mildew from forming, reducing the risk of allergies.
Recharge your activated Charcoal by putting it in the sun for 2 hours once a month and extend its life to up to 2 years.
---
6
The Soap Haven® Soap

Organic Activated Charcoal Soap Bars
These activated charcoal bars deeply cleanse the face and leave it soft and supple.
The organic plant ingredients in this soap bar moisturize and nourish the skin while providing balance.
This product is especially suitable for people with acne-prone skin as it pulls out dirt, bacteria, and impurities from pores, thereby reducing the triggering of acne.
All skin types can use it.
The Soap Haven's activated charcoal soap bars are handmade in the USA, using only natural, Vegan-friendly, and organic ingredients such as sustainably sourced saponified palm oil, sunflower oil, olive oil, coconut oil, and Activated Charcoal.
---
7
NaturaLife Labs® Capsules

Organic Activated Charcoal
This organic activated Charcoal delivers 1200 mg per serving in each vegan capsule, making it an extremely potent formula.
The Activated Charcoal is derived from 100% organic coconut shells while ensuring maximum absorption.
It contains no fillers, magnesium stearate, dioxides, preservatives, gluten, soy, sugar, yeast, or starch.
It is manufactured in an FDA-registered facility under Good Manufacturing Practices (GMP) and is Non-GMO Project Verified.
It is advised to take two capsules of this Activated Charcoal every day as a dietary supplement.
---
8
Bulletproof® Detox

Activated Coconut Charcoal
This Activated Charcoal is a highly absorbent material with millions of tiny pores to capture, bind, and remove unwanted materials.
The porous surface of this Charcoal has a negative electric charge that attracts positively charged foreign bodies and gas to be carried easily out of the body and detox the system.
This Coconut Charcoal is 100% made from coconut shells and is processed using an Acid-washing technique to remove toxic heavy metals.
The ultra-fine and highly purified Upgraded Coconut Charcoal offers the most surface areas to create maximum adsorption.
All Bulletproof supplements are 100% non-GMO, soy, and gluten-free, without artificial colors or added preservatives.
---
9
Nextrino® Soap

Activated Charcoal Bar
This activated Charcoal contains peppermint and tea tree essential oils and is formulated in the perfect blend for active people and leaves them feeling refreshed and rejuvenated.
The soap bar is handmade in North Carolina and developed from scratch with all-natural ingredients.
It contains Organic Palm Oil, Organic Sunflower Oil, Organic Coconut Oil, Sodium Hydroxide, Organic Olive Oil, Essential Oils of Peppermint, Tea Tree, Cajeput, and Activated Charcoal.
This product is Vegan and All-natural.
---
10
Lucky Teeth® Biodegradable

Activated Charcoal Floss Picks
These floss picks are the perfect way to floss while prioritizing the environment and your oral health at the same time.
The handle on this floss pick is non-toxic, BPA-free, and made of cornstarch.
They are easy to use, with a refreshing minty taste and efficient quality.
Lucky Teeth Organic Activated Charcoal floss picks are biodegradable, plastic-free, and eco-friendly.
---
Index Table: Top-Rated Organic Activated Charcoal
---
---