Some of the links in this post are affiliate links. This means if you click on the link and purchase the item, I will receive an affiliate commission at no extra cost to you. All opinions remain my own.
The Tomato is a native South American fruit of the Nightshade family. Tomato sauce was first made in Italy and was initially named "Love Remedy."
Tomato sauce is a cooked purée made from tomatoes, oil, spices, and sometimes vegetable stock or meat for an extra layer of flavor. Organic Tomato sauce is made from Organically grown tomatoes and prepared using Organic ingredients and methods.
Scroll down below to find out Tomatoes' benefits, the many types and uses of Tomato sauce, and the best Organic Tomato sauces available!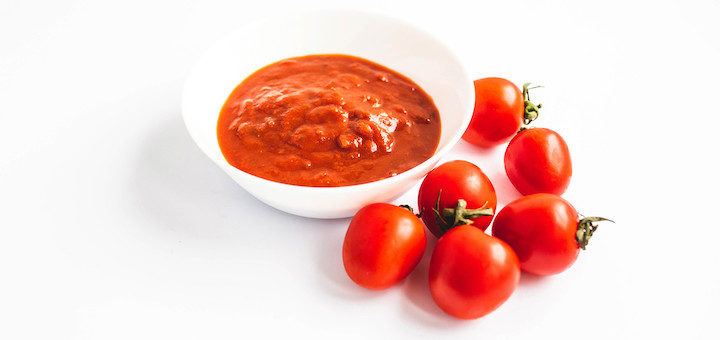 ---
Benfits of Tomatoes
Rich in Nutrients – Tomatoes are rich in Vitamins, more specifically, Vitamin C, B9 and K1. They also contain Potassium, which is an essential mineral. Moreover, they are a great source of Fiber.
Boost Heart Health – Tomatoes contain an Antioxidant called Lycopene, responsible for their red color. Higher Lycopene levels in the body are associated with a lower risk of heart diseases.
Help Prevent Cancer – Lycopene is the most abundant Carotenoid in ripened tomatoes. Lycopene exhibits anti-cancer properties. Higher intake of Lycopene-rich foods directly relates to reduced risk of cancers, most notably, Prostate cancer.
Protect the Skin – Tomatoes are highly beneficial to skin health. Tomatoes guard against sunburn and enhance the production of Pre-Collagen, which keeps the skin firm and youthful-looking.
Improve Vision – The Lycopene, Lutein, and Beta-carotene present in Tomatoes are extremely helpful in improving Vision. These nutrients help in maintaining vision quality and protect against certain Eye conditions like Macular Degeneration and Cataracts.
---
Types of Tomato Sauce
Tomato sauce is a generic term and can refer to many different sauces that have Tomato as their primary ingredient. Some classic tomato sauces are mentioned down below.

Tomato and Herb Sauce – A classic Tomato sauce seasoned with herbs such as Basil or Oregano is perfect for serving with any traditional Italian Dish. It is an important part of the quintessential Italian comfort food experience.
Marinara Sauce – Marinara is a vibrant red and chunky tomato sauce. It has a fresh flavor that enhances any Pasta dish from Gnocchi to Spaghetti.
Puttanesca Sauce – This sauce is named so because of the famous dish Spaghetti alla Puttanesca. It's a tomato sauce enhanced by adding Anchovies, Olives, and Capers, which lend the sauce a rich and acidic flavor.
Ginger/Garlic Tomato Sauce – Adding Ginger or roasted Garlic to a classic Tomato sauce takes it to the next level. Ginger Tomato sauce goes well with firm Fish like Cod, Grouper, or Halibut. Whereas Garlic Tomato sauce is famously used in a Mediterranean flavored dish called Tagliatelle All' aglione, usually made in Tuscany. You may also like to have our favorite organic hot sauces for your snacks.
---
Uses of Tomato Sauce
Tomato Sauce is a very Versatile thing. Read on to find out how you can incorporate it into any dish and take it to the next level.

As a Chutney – We can use Tomato sauce as a Chutney or a Dipping sauce with any snack. Add some spices and season with Lime and Cilantro to make it perfect.
As a breakfast Condiment – You can incorporate Tomato sauce in your breakfast by simmering eggs in the sauce until they are set. Another way is to spread a layer of it in your grilled cheese sandwich for a satisfying and flavorful meal.
With Fish – Poaching White Fish in Tomato sauce can infuse it with tons of flavors. Cooking Shellfish in Tomato sauce until it pops and the juices mix is another excellent way of using Tomato sauce.
In making a Curry – Adding some chili, spices, and Coconut milk to a simmering Tomato sauce is the easiest way to get the best out of Italian and Asian cuisine.
With Pasta – Tomato sauce and Pasta is a classic combination. Merging Tomato sauce and Pasta in one dish is the ultimate Italian comfort food. You may also like to have a sneak-peek at some of our favorite organic pasta sauces.
To Flavor Vegetables – Cooking any vegetable from Okra to Zucchini enhances its flavor and adds texture to the dish.
---
Reviews: Best Organic Tomato Sauce
The below list consists of the Best Organic Tomato Sauces available in the market right now.
---
1
For this sauce, peeled and lightly seasoned whole tomatoes are added. The seasoning is a dash of sea salt.
This sauce contains tomatoes that are grown on organic farms under Californian sunshine.
The tomatoes used are Certified USDA Organic and Non-GMO Project Verified.
This Organic tomato sauce can be stored in the pantry for easy use when making soups, stews, and sauces.
This sauce does not contain any Cholesterol or any Trans or Saturated fats.
---
2
Hunt's® Tomato Sauce

Keto Friendly Organic Sauce
This tomato sauce is seasoned with salt, spices, and natural flavors.
Hunt's sauce is 100% natural, USDA-Certified Organic, and only contains all Non-GMO ingredients.
This Organic Tomato sauce does not contain any sugar, corn syrup, sweeteners, or artificial preservatives.
This sauce is great for adding a burst of flavor to any pasta, soup, meatloaf, or any other recipe.
---
3
365 Everyday Value® Tomato Sauce

Organic Tomato Sauce
365 Everyday Value Tomato sauce comes from Whole Foods Market.
The organic tomatoes in this sauce are organically grown and vine-ripened in California's fertile San Joaquin Valley.
This organic tomato sauce is Certified USDA Organic, Certified Kosher, and Certified Vegan. The packaging has a Non-BPA lining.
This Tomato sauce is completely fat-free.
---
4
Simmer® Garlic Tomato Sauce

Organic Roasted Garlic Tomato Sauce
The tomatoes for this roasted Garlic Tomato sauce are picked at the peak of flavor for a rich and tasty taste.
This fresh tomato sauce is Certified USDA Organic, Certified NSF Gluten-Free, Vegan, and Paleo-Friendly. Simmer's Garlic Tomato sauce only contains organic ingredients and is sugar-free.
---
5
GOJI SPIRIT® Oregano Tomato Sauce

Savory Organic Oregano Tomato Sauce With Goji Berries
This Tomato Sauce only contains Certified Organic ingredients and does not contain any added sugar.
The Oregano Tomato sauce is prepared from 100% Organic non-GMO Tomatoes and Goji Berries that enhance your edacious behavior.
A carefully designed Vegan recipe is used to make this authentic Old world culinary delight.
Because of the Oregano in this sauce, it works well with any Italian or Greek dish. You can use it to enhance any roasted, fried, or grilled vegetable, meat, or fish dish.
It also combines well with Pasta, Pizza and adds flavor to barbecue and sandwiches.
---
6
Trader Joe's® Trader Giatto's Marinara Sauce

Organic Tomato Basil Marinara Sauce
This sauce has a fresh Tomato Basil flavor and, more importantly, contains very little fat and calories.
Trader Joe's Giatto's Organic Tomato Basil Marinara sauce is high in vitamin C.
It enhances anything you pair it with, be it Pasta or Pizza or any cooked meat.
---
7
Cento® San Marzano

Organic Peeled Tomatoes
These certified San Marzano Italian Plum Tomatoes are the highest quality tomatoes available.
This sauce is incredibly flavorful.
This tomato sauce comes in a thick puree and provides a delicious flavor.
It is gluten-free and BPA-free, as well as Certified USDA Organic.
---
8
Pomi® 100% Fresh

Organic Strained Tomatoes
This sauce is made from organic strained Tomatoes.
It is a product of Italy.
This sauce is ideal for blending with oil, salt, pepper, and some seasoning to give you the yummiest pasta sauce.
It also works great in making soups and gravies.
---
9
Organico Bello® Marinara

Organic Tomato Sauce
This pack contains 3 – 25-ounce jars of Organic Marinara Pasta Sauce.
It contains no artificial preservatives, added sugar, added water, or any paste.
It is made with 100% imported Organic Italian tomatoes from southern Italy.
This product is USDA Certified Organic, Gluten-Free, Non-GMO Project Verified, Whole 30 Certified, with a traditional Italian taste.
---
10
Simmer® Mixed Case

Organic Tomato Sauce Mix
This fresh tomato sauce is Organic, Gluten-Free, Vegan, Paleo-Friendly, and has no added sugar.
These tomatoes are picked at the peak of flavor for a delicious tomato sauce.
This pack contains eight 8-ounce pouches (2 servings per pouch).
The pack makes it easy to store or take with you on the go.
---
Index Table: Top-Rated Organic Tomato Sauce
---
---