You are a big fan of dressings and sauces, but you always try to avoid them because they are full of calories, sugar, and trans fats, right?
Not necessarily!
You can choose to use organic dressings with natural ingredients like ranch dressing, one of the most popular ones.
If you want to know the best organic ranch dressing and why it is an excellent choice for you, you need to keep reading.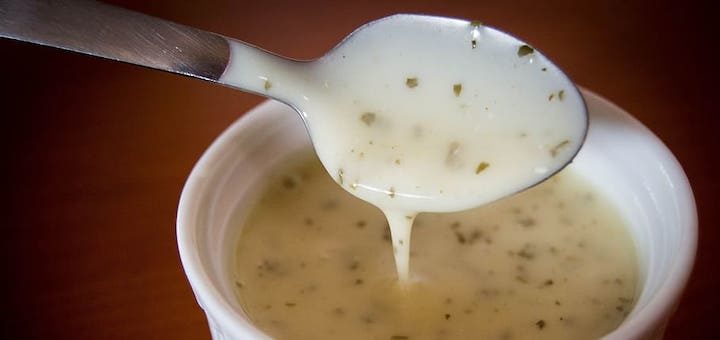 ---
What is a Ranch Dressing?
It is a salad dressing consisting of buttermilk, salt, onion, garlic, parsley, dill, and species like black pepper, paprika, and ground mustard seed.
It is the most popular salad dressing, and it is commonly used as a dipping sauce for vegetables like broccoli, carrots, celery, and fried foods like chicken or onion rings.
---
Chemicals to Avoid on a Ranch Dressing
Polysorbate 60 – This ingredient is used to thicken and stabilize certain foods. It is associated with a reduction in fertility and anaphylactoid reactions. It is also prone to get contaminated with ethylene oxide and 1,4 dioxane, known as carcinogens.
Potassium Sorbate – This is a preservative that may have some adverse effects like allergic reactions, migraines, and high potassium levels.
Artificial Sweeteners – These are synthetic sugar substitutes that are sweeter than sugar and don't add calories. They have some severe side effects like hyperactivity on children, increased appetite, a higher incidence of obesity, hypertension, metabolic syndrome, and type 2 diabetes.
Xantham Gum – It is a thickening and stabilizing agent on certain foods. This ingredient is linked to serious digestive problems and side effects like gas and bloating.
Soy Oil – Most of the time, you won't even know if a dressing contains soy oil or not. This ingredient's problem is that 90% of soy oil is genetically modified. Ingredients genetically modified are linked to infertility, insulin resistance, and faster aging.
Corn Syrup – This one is the cheapest sweetener, but consuming too much of it can lead to more belly fat and a higher incidence of insulin resistance, obesity, and diabetes type 2.
EDTA – It is a food preservative and enhances foods' texture and flavor. It may cause some allergic reactions, make heart rhythm worse, asthma attacks, and even kidney damage.
Trans Fats – Although many products may contain trans fats, they can claim that they are trans-fat-free even if it contains 0.49 grams per serving. These fats lower HDL cholesterol (the good one) and increase the risk of atherosclerosis.
Monosodium Glutamate – This is a flavor enhancer associated with adverse reactions like headache, sweating, nausea, weakness, chest pain, and numbness.
---
Healthy Ingredients to Look for on a Good Ranch Dressing
Greek Yogurt This delicious ingredient improves bone health and makes you feel fuller, which helps you lose weight and reduce hunger. It helps you boost your metabolism; it contains probiotics that are beneficial for gut bacteria. It is beneficial for your mental health. If you are an athlete, it will help you build muscle mass. It helps to reduce the risk of diabetes type 2.
Parsley – This herb has a high content of vitamins; it is anti-inflammatory and reduces pain. Boosts your immune system and reduces the risk of heart attack and stroke. It contains antioxidants that help you to fight free radical damage. It has carotenoids that keep your vision healthy; it has antibacterial properties and reduces heart disease risk. This ingredient is also used in making organic tartar sauce.
Garlic – It contains essential vitamins and minerals like selenium, manganese, vitamin C, vitamin B6, and fiber. It is known to boost your immune system making you less prone to suffer infections; it has compounds that can lower blood pressure and LDL cholesterol. It contains antioxidants that help you to prevent degenerative diseases. It is also going to enhance your exercise performance.
Dill – This herb is packed with vitamins and minerals. It helps you reduce flatulence, gastrointestinal disorders, and appetite, which helps you lose weight. It reduces the risk of sleep disorders and kidney disease.
Onion – It reduces cholesterol levels and triglycerides. It has antioxidants that may protect you against certain diseases and controls blood sugar levels.
---
Reviews: Best Organic Ranch Dressing
The below list consist of the best organic Ranch dressings available ready made.
---
1
This product is made using an organic Butter cream blend with organic buttermilk and non-fat milk powders.
The delicious ranch dressing has a zesty lemon flavor.
It comes in a creamy consistency and texture and is guaranteed to enhance any food you eat with it.
All ingredients used in the making of this ranch dressing are organic.
This product is Certified USDA Organic.
It is advised to keep it refrigerated after opening.
---
2
Simply Organic® Packets

Ranch Salad Dressing Mix
The organic ranch dressing is easy to prepare and takes only two steps.
This package contains a set of twenty-four packets, each weighing 1-ounce (total of 24-ounce).
This product is Certified USDA Organic.
The ranch salad dressing is Kosher certified, Non-ETO, Gluten-free, and Non-Irradiated.
Simply Organics cares about the people and the planet.
Therefore, 1% of total sales support organic farming and education.
---
3
365 Everyday Value® New

Organic Ranch Dressing
This product is brought to you by Whole Foods Market.
The ranch dressing comes with a unique tangy flavor and creamy texture, which goes well with various food.
It can be used as a dressing, as a dip, a condiment for burgers, etc.
The Ranch dressing is USDA Certified Organic as well as Vegetarian.
Each serving contains 90 Calories.
---
4
Hidden Valley® Original

Ranch Organic Salad Dressing
This product is USDA Certified Organic and Gluten-free.
The ranch dressing is created with a unique combination of zesty spices with organic buttermilk.
It comes in a creamy texture and semi-thick consistency, making it ideal as a dip as well as a dressing.
This product contains dairy, so be sure to go through the ingredient list to make sure it will not trigger any allergies.
The Hidden Valley ranch dressing is Non-GMO Project verified.
---
5
Organicville® Gluten-Free

Ranch Dressing
This product is Non-dairy and hence suitable for people suffering from lactose intolerance.
The Organicville dressing is a Non-GMO Project verified product and Certified USDA Organic.
It is Gluten and Grain-free as well as Paleo and Vegan-friendly.
The ranch dressing comes in a creamy texture but still has a light feel.
It brings a herbal kick to any food you eat it with, along with a subtle garlic flavor.
This product is Whole30 Approved and made in small batches.
---
6
Tessemae's® Creamy

Organic Ranch Dressing
This product is USDA Certified Organic, and Non-GMO Project verified.
It is free of Gluten, Sugar, Dairy and is made with Cage-free eggs.
The dressing is Kosher and Keto friendly.
It is also Whole30 Approved and goes well with a vast range of foods.
The ranch dressing has a subtle mustard flavor that sets it apart from other such products.
---
7
Primal Kitchen® Vegan

Organic Ranch Dressing
This Primal Kitchen Ranch Dressing is made with avocado oil and organic eggs.
It is made without dairy, sugar, canola, soy, or artificial ingredients and comes with a classic ranch flavor.
This is not a low-calorie food.
Whole30 Approved, Paleo Friendly, Keto Certified, and Certified Gluten-Free.
---
8
Newman's Own® Ranch

Organics Salad Dressing
This ranch dressing is perfect for dipping or pouring.
It is certified organic by Organic Certifiers.
It does not contain any artificial flavors, colors, or preservatives.
Each bottle contains 12 oz. of organic dressing.
It comes in a PET bottle is 100% recyclable.
---
9
La Tourangelle® Creamy

Organic Ranch Dressing
This organic ranch dressing offers a rich and creamy texture.
It is Gluten-free, Dairy-free, and does not contain any artificial additives.
La Tourangelle Creamy Ranch Dressing is organic and vegan.
It is made with a blend of Organic Virgin Avocado Oil with lemon, dill, and parsley.
The dressing is made with artisanal oils and hand-crafted using traditional mixing techniques.
---
10
Annie's Homegrown® Cowgirl

Ranch Dressing
This product is made with only Non-GMO ingredients and is Certified Organic.
It offers an unmistakable creamy dressing made without artificial flavors or synthetic colors.
It is made with creamy buttermilk and herbs.
This ranch dressing contains expeller-pressed oils.
The certified organic ingredients used in this ranch dressing are grown without pesticides.
---
Index Table: Top-Rated Organic Ranch Dressing
---
---