Some of the links in this post are affiliate links. This means if you click on the link and purchase the item, I will receive an affiliate commission at no extra cost to you. All opinions remain my own.
Organic food is more beneficial to health as it is free from any chemical treatments and genetic modification. Consider Organic Radish Sprouting Seeds to grow sprouts in your kitchen and enjoy its spicy flavor.
You can use the sprouts in food and juices. Read along to find benefits and products to consider for purchase.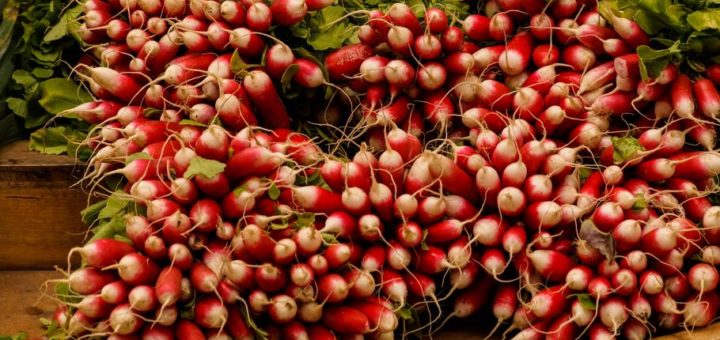 ---
Buying Considerations For Organic Radish Sprouting Seeds
We have listed some things to keep in mind while purchasing your next batch of organic radish sprouting seeds.

Packaging – You can choose from jar, resealable bags, and bulk packaging. Make sure that the packaging is airtight or transfer the seeds to a container to keep them fresh.
Variety – There are several varieties like Daikon, Red Arrow, and Rambo that have a different flavor and spice content.
Non-GMO – See that the seeds are free from any genetic modification that is used to enhance the disease-resistance and yield.
High Yield – Ensure that the seeds have a high germination rate of 80-90%. You can try a small packaging first to see how the seeds perform and then get it in bulk packaging.
---
Benefits Of Organic Radish Sprouting Seeds
Organic seeds are free from toxins while being rich in nutrition. Here are some ways you can benefit from radish sprouting seeds.

Digestible – These sprouts have a soft fiber that is easy to digest and light on the stomach.
Nutritious – The sprouts are rich in vitamins A, B, C, E and K, calcium, iron, magnesium, phosphorus, potassium and zinc.
Antioxidants – You can benefit from the antioxidants present in the radish sprouts that can eliminate free radicals in the body. Besides, antioxidants have anti-aging properties.
Weight Loss – Sprouts contain fewer calories, which makes them an ideal superfood that healthily aids in weight loss. Moreover, we recommend you our best organic garlic sprouting seeds as they keep you full for a long time with the help of more nutrition in less caloric consumption.
How To Grow Organic Radish Sprouting Seeds
Sprouts are versatile and can be grown hydroponically or in soil-like mediums. They do not require fertilizers and too much care. Here are some steps to help you grow radish sprouts in your kitchen.
[super_list]
Soak – Wash the seeds in running water and discard any extra. Soak the seeds in water three times the amount of seeds for at least eight hours. This will prepare the seeds for germination
Rinse – After 8-12 hours, rinse the seeds thoroughly to remove any debris and build up.
Drain – Let the seeds drain completely after rinsing. Continue this step for the next two weeks for the seeds to grow into sprouts. You can keep the seeds in a sunny spot for a few hours every day.
Harvest – The seeds will grow to a considerable length in fifteen days and will be ready for harvesting. Cut the stems above the root level to enjoy them raw or cooked.
---
Reviews: Best Organic Radish Sprouting Seeds
We have listed some of the best Organic Radish Sprouting Seeds with their features for you to choose from. Also, we would like to inform you we shall earn a small commission with every purchase made through the links in the article.
---
1
These Mountain Valley Seed Company radish seeds are USDA certified organic as a proof of their purity.
The seeds come in a 1 Lb packaging that results in warm red highlight sprouts in a week or two.
These seeds are Non-GMO Red Arrow variety, which has a mildly spicy flavor in the sprouts.
You can consume these in juices, salads, stews, sandwiches, and soups to get the daily nutritional value.
---
2
Country Creek LLC Brand® Daikon Radish

Organic Certified Radish Sprouting Seeds
Consider these Country Creek LLC Brand organic certified radish sprouting seeds with a high yield and quick germinating feature.
These are the Daikon Radish variety, which grows easily without any molds and has a rich, spicy flavor.
You can grow these in any temperature and medium without needing too much care and fertilizers.
The fibers and nutrients in radish sprouts will keep you full for a long time and help you lose weight.
---
3
Food to Live Store® Kosher

Organic Spicy Radish Sprouting Seeds
The Food to Live Store has organic radish sprouting seeds with a spicy flavor and crunchy yield.
These are Kosher and natural, making them fit to use for a large number of people.
The sprouts are rich in vitamins and minerals, like iron and calcium, that are vital for good health.
You can add a layer of peppery taste in your salads and sandwiches with these radish sprouts.
---
4
Handy Pantry® Resealable

OTCO Organic Radish Sprouting Seeds
The Handy Pantry radish sprouting seeds are OTCO certified to make sure they are safe for consumption.
They yield in a versatile sprout growth that can be used in various recipes and juices.
The seeds come in a resealable pouch that is easy to store and keeps the seeds fresh for a long time.
You can get your daily dose of vitamin A, B, C, E, and K along with iron and magnesium from these sprouts.
---
5
Country Creek Brand® Rambo Radish

Organic Sweet Radish Sprouting Seeds
These country creek acres sprouting seeds have a sweet yield from the true Rambo seeds variant.
The seeds have quick germination with a considerable yield. You can store the sprouts in the refrigerator for up to a week.
This variety of seeds yields thick and vibrant shoots of sprouts that are filling and low in calories.
You can use the sprouts for various purposes like salads, sandwiches, and juices to enjoy a mild spicy taste.
---
6
Food to Live Store® Spice Mix

Organic Radish Sprouting Bulk Seeds
Consider these Food to Live Store organic radish sprouting seeds that are gluten-free ideal for those who have allergies.
The seeds are free from any genetic modification and contain a versatile spice mix for your salads and microgreens.
These result in antioxidants rich sprouts that are free from any chemicals and toxic substances.
You can germinate and harvest them easily in jars in your kitchen space without requiring bulky trays and planters.
---
7
Mountain Valley Seed® China Rose

Radish Sprouting Seeds
This pack contains 25 lbs of China Rose Radish Sprouting Seeds.
They are Non-GMO, Organic, and free of chemicals.
The seeds are perfect for growing microgreens with convenience.
They offer a high germination rate as well as a plentiful harvest.
---
8
Rainbow Heirloom Seed Co.® Mix

Radish Sprouting Seed
This is sustainable sprout growing at its finest.
This pack contains a balanced trio of radishes that pair well with a range of foods.
These heirloom seeds are great for planting in the ground, in microgreen growing trays, as well as in jar sprouts.
They are Non-GMO, and sustainably grown and sourced.
---
9
Sow Right Seeds Store® Watermelon

Radish Seeds
This is a large pack of Watermelon Rose Radhish seeds, which are heirloom daikon radish seeds from China and are identified with their white exterior.
It offers a mellow flavor and works week in salads and salsas.
These seeds can be harvested after 25 days and are easy to grow.
They are Non-GMO and come with "how-to" instructions on the packet.
---
10
Rainbow Heirloom Seed Co.® Superfood

Microgreen Radish Seeds Mix
These are sustainably grown Radish seeds for planting an growing microgreens.
They come in a 1lb resealable bag for convenient, long-lasting shelf life.
The seeds are top-quality, with high germination rates.
They are Non-GMO Certified and not suitable for growing in a jar or sprouter.
---
Index Table: Top-Rated Organic Radish Sprouting Seeds
---
---