Sprouts are versatile to cook and can be added to juices. You can grow these at home with the Organic Pea Sprouting Seeds. These result in crunchy and flavorful sprouts that are nutritious.
Keep reading to learn about the benefits of pea sprouts and some products to consider for purchase.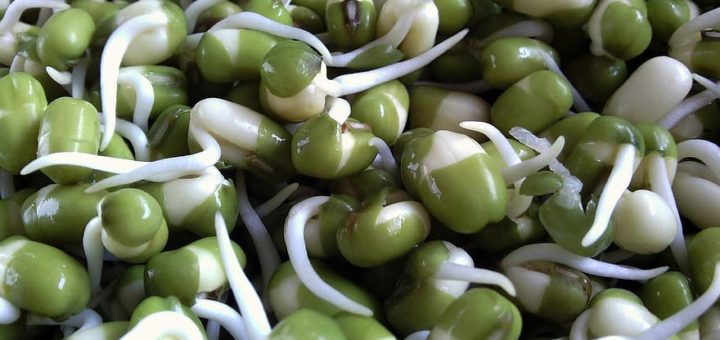 ---
Buying Considerations For Organic Pea Sprouting Seeds
Look for the seeds that are easy to germinate without any additional supplies. Here are some things to consider while purchasing organic pea sprouting seeds.

Packaging – You can choose from resealable, jar, or bulk bag packaging. Make sure you store the seeds in an airtight container so that they remain fresh.
Size – Pick a small-sized pack first if you are a beginner. Choose a size that corresponds to your daily consumption.
Yield – See that the seeds have at least 80-90% yield value to get a considerable amount of sprouts.
Gluten-Free – For people with gluten allergies, pick a brand that is gluten-free and free from any other toxins.
---
Benefits Of Organic Pea Sprouting Seeds
Sprouts give your body clean energy with less consumption of calories. We have listed some more benefits of consuming pea sprouts regularly.

Nutritious – Pea sprouts are rich in vitamins like B, A, C, E, K, and D, which are essential. Hence, you may check these organic broccoli sprouting seeds as they offer the best nutrients that are essential to your body.
Muscle Growth – Peas are rich in proteins that help in building and maintaining muscles. This is a perfect superfood for people who perform physical activities.
Filling – The fiber content of the sprouts will keep you full for longer and aid in digestive system functions.
Versatile – Sprouts can be eaten raw or cooked in recipes. Besides, they can be used in juices for their enzymes and vitamins.
---
Tips To Grow Organic Pea Sprouting Seeds
Growing sprouts is easy and does not require too many efforts. However, some methods may result in a higher yield. Here are some tips for growing sprouts for beginners.

Soak And Rinse – It is important to rinse the seeds and soak them overnight. Rinsing the seeds every day will prevent the growth of molds.
Right Tools – You can get healthy and succulent sprouts using a mason jar, colander, or a tray. Experiment with these to know the right base that works in your region.
Suitable Medium – The hydroponic variety of seeds grows well in the water. You can also use soil-like mediums in water or growing beds for a high yield.
Freshwater – Leaving your sprouts in standing water will rot them and result in lower yield. Always rinse the seeds in freshwater and drain them thoroughly.
---
Reviews: Best Organic Pea Sprouting Seeds
We have listed some of the best Organic Pea Sprouting Seeds with their features for you to choose from. We would also like to inform you we shall earn a small commission with every purchase made through the links in the article.
---
1
The organic pea sprouting seeds from Food to Live Store come in a whole form to germinate high yielding sprouts.
These seeds are 100% non-GMO to ensure no modification is there in the seeds for yield and resistance.
Moreover, the seeds are gluten-free for safe consumption for people who have allergies and food reactions.
These seeds have a high germination rate to result in juicy and crunchy sprouts for your salads and sandwiches.
---
2
Country Creek Brand® Green Pea

Organic Pea Sprouting Bulk Seeds
Get these organic pea sprouting seeds from Country Creek Brand that come in bulk packaging.
These result in a vibrant and thick sprout stems that have a sweet and earthy flavor.
The seeds are easy to grow and have a quick germination rate under minimal care and upkeep.
You can add these to juices, stews, and eat them raw for their digestive and filling benefits.
---
3
COOL BEANS n SPROUTS® Non-Modified

Organic Nutritious Pea Sprouting Seeds
Get the pea sprouting seeds from COOL BEANS n SPROUTS that are free from any modification and treatment.
The seeds yield in superfood sprouts that are rich in vitamins, minerals, and essential trace elements.
Moreover, the sprouts are rich in fat-soluble nutrients like carotene and vitamins that keep the body nourished for longer.
You can store the sprouts in the refrigerator for the daily dose of greens in your diet.
---
4
Mountain Valley Seed Company® High-Yield

Certified Organic Pea Sprouting Seeds
Choose these Mountain Valley Seed Company sprouting seeds for a certified organic yield.
These are speckled pea sprouting seeds that are rich in phytochemicals and vitamins.
The germination rate of these seeds is high and can be harvested in 12-15 days, depending upon the temperature.
These seeds result in crunchy and succulent sprouts that add a nice texture and taste to the food.
---
5
Starwest Botanicals® CGMP Compliant

Organic Pea Sprouting Seeds
The Starwest Botanicals pea sprouting seeds are CGMP compliant to ensure they are free from any chemicals and toxins.
These seeds are USDA certified organic and grow into healthy yield in any medium.
The seeds have a 90% germination rate with tough leaves that can be juiced or added to salads.
These sprouts contain heavy fiber content, which aids in digestion and keeps the gut healthy.
---
6
Country Creek Acres® Weed-Free

Organic Non-Toxic Pea Sprouting Seeds
The Country Creek Acres organic pea sprouting seeds result in thick shoots with an earthy flavor.
These seeds are free from any toxins and chemicals as they are derived naturally from the plants.
You can enjoy a high yield from a small batch of seeds and store the sprouts for longer use.
These seeds are high in nutrition and low in caloric value that makes them ideal for weight loss.
---
7
Food to Live Store® Organic

Sprouting Green Peas
This pack contains 1 pound of Organic Sprouting Green Peas.
These peas are a source of protein for plant-based diets.
They can be used for planting and sprouting peas, as well as for cooking.
These peas are also rich in fiber.
---
8
Mountain Valley Seed® Garden Yellow

Organic Pea Seeds
This pack contains 1 lb Sprouting Seeds of Pisum Sativum, also known as Yellow Pea.
They are Non-GMO, Certified Organic by OTCO, and high-quality.
These heirloom peas are open-pollinated and are grown annually with a high germination rate.
They reach full maturity in 45-65 days.
---
9
Mountain Valley Seed® Sprouting

Dun Pea Seeds
This pack contains five lbs of Dun Pea Seeds.
They grow with a high germination rate and are easy to plant.
The seeds are Non-GMO and Chemical-free.
They are ideal for growing microgreens and garden seeds.
---
10
Handy Pantry® Organic

Green Pea Sprouting Seeds
This is a 8 oz. pack of Dried Green Pea Sprouting Seeds.
The seeds come in a re-sealable pouch for convenience.
It is Certified Organic by OTCO and is perfect for sprouting, food storage, and garden seed planting.
They offer a high germination life and plentiful harvest.
---
Index Table: Top-Rated Organic Pea Sprouting Seeds
---
---