Some of the links in this post are affiliate links. This means if you click on the link and purchase the item, I will receive an affiliate commission at no extra cost to you. All opinions remain my own.
For many years bamboo has become increasingly popular and is used in many products from furniture to fabrics and even cosmetic items.
The Bamboo comforter is a favorite for many reasons, especially for its cooling properties.
In this article, we focus on organic bamboo comforters that ensure the pure organic bamboo fabric is used.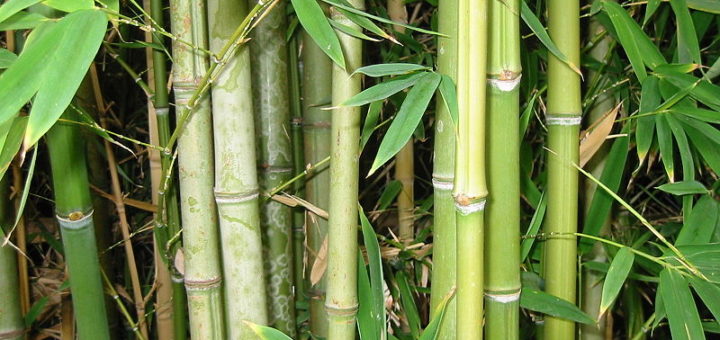 ---
Why Choose Bamboo
Bamboo is a wood grass that is the most sustainable plant on earth. It grows extremely fast and can be harvested without replanting as it grows back from the shoot.
Bamboo naturally purifies the air and soil around it, much more so than trees and other plants, which is great for the environment.
Bamboo is often called "green Steel" for its extreme tensile strength, and it is quite flexible.
Bamboo can be used in many items and is a great fabric option as it is naturally cooling, moisture-wicking, antibacterial, and fully hypoallergenic.
---
Using Organic Bamboo Comforters Holds Many Benefits
Bamboo comforters have so many amazing features, here are only a few;
Temperature Regulating – Bamboo will work with your body temperatures to keep you cool in summer and warm in winter. When you are overheated, bamboo wicks away moisture and extra heat to keep you cool and dry. Bamboo helps to regulate your body temperature throughout the night.
Hypoallergenic – Bamboo is a naturally hypoallergenic fiber that is ideal for individuals who have allergies. Because it is organic, there are no pesticides or fungicides used to produce bamboo, thus n harsh chemicals that can cause allergies.
Moisture Wicking and Cooling – Bamboo is four times more absorbent than cotton and will wick away moisture rather than holding it, which in turn keeps you cool and dry at night. Unlike cotton, bamboo comforters will pull away sweat and moisture from your skin.
Resistant to Dust Mites, Mold, and Mildew – Bamboo can reduce allergies because it is naturally dust mite resistant. It wicks away moisture in your bed, making it uninhabitable for dust mites. Because bamboo is quick-drying, it is also naturally mold and mildew resistant.
---
Features of a Good Organic Bamboo Comforter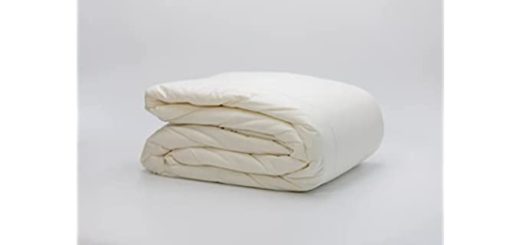 Materials – Organic Bamboo comforters will usually have a organic viscose or wood bamboo fiber cover with a synthetic or natural fill. Some comforters have eucalyptus fibres or a cotton blend, and some may have bamboo as a fill option in turn. Natural Bamboo will consist of Lyocell or tencel, as most Viscose are highly processed forms of bamboo, even though they are still organically sourced.
Sizes -The organic bamboo comforters are available in different size options such as a standard single size, double, quekingKing, or California king size options.
Colors – Most bamboo comforters are designed in a white or neutral color, and you can use them as a duvet insert. However, some do offer a few neutral color options.
---
Reviews: The Best Organic Bamboo Comforters
Listed below are some of our top favorite Organic Bamboo Comforters in all sizes;
---
1
The Cariloha all-season organic bamboo comforter is one of our absolute favorites.
The organic bamboo comforter is a Viscose derived from bamboo that us bamboo in the interior and exterior.
It is a soft and sustainable fabric with a cooling function.
Bamboo is naturally temperature regulating and will help to keep you cooler in summer.
The bamboo comforter is hypoallergenic and high quality.
It is also Oeko-Tex certified safe and chemical-free.
---
2
Bamboo Tranquility® Cool

Fluffy Organic Bamboo Comforter
The Bamboo Tranquillity bamboo comforter is an organic and fluffy design comforter.
The organic bamboo comforter has a 100% bamboo viscose shell and a 100% bamboo viscose fil.
It has a luxurious soft feel and is a lightweight option for all seasons.
The comforter is a King size and can be used as a duvet insert or all on its own.
I like this model specifically because it is so versatile for use as a duvet inner or all on its own if you like the original color.
---
3
L Lovsoul® Queen

Organic Bamboo Comforter
The L Lovsoul bamboo comforter is all-natural and completely organic.
The organic bamboo comforter comes in a queen size, king size, or California king size option.
It consists of natural, skin-friendly viscose derived from bamboo and has a very soft texture.
The comfortable is lightweight and ideal for all seasons.
---
4
Hombys® Lightweight

Organic Eucalyptus Bamboo Comforter
From Hombys, we have the perfect natural organic bamboo comforter.
The comforter is a lightweight all-season design that regulates temperatures and is hypoallergenic.
It consists of eucalyptus Lyocell shells with an organic bamboo fill.
The Bamboo viscose has a seven-hole hollow fiberfill design, and the Tencel Lyocell fibers for the cover are infused with eucalyptus.
The comforter is machine washable and very durable.
---
5
Cosy House® Collection

Organic Bamboo Comforter
The Cosy House Collection organic bamboo comforter is a luxury design with a down-alternative fill.
The comforter has an ultra-soft and comfortable natural bamboo cover, with a microfiber, polyester, and bamboo blended fil.
It is ideal for all seasons as it is lightweight and temperature regulating.
The comforter comes in more light and neutral color options from which you can choose.
---
6
OrganicTextiles® Cotton

Organic Bamboo and Cotton Comforter
From organic textiles, we have the perfect natural and organic bamboo comforter.
The comforter is a Kings size, in a white color option.
It has an organic cotton shell and a completely natural and organic bamboo fill that gives a fresh and cool feel.
The comforter is GOTS certified natural and organic.
It has a fill of 50% wood-based bamboo and 50% eucalyptus-based Tencel fibers.
The comforter is eco-friendly containing sustainable materials.
---
7
Perkily® Down Alternative

Organic Bamboo Comforter
The Perkily Bamboo fiber comforters are is also all-natural and organic.
The organic bamboo comforter is an alternative down design that is perfect for all seasons.
The fill consists of down alternative synthetic fibers that are lightweight and fluffy, similar to down feathers.
The cover of the comforter is a natural organic bamboo fabric that is soft and lightweight.
---
8
Codi® Fluffy

Organic Bamboo Comforter
The Cpdi Fluffy organic bamboo comforters are ideal for hot and cold sleepers.
The comforter is a down alternative, an extra-large size duvet insert or comforter with a breathable design.
It comes in a queen size and gas cooling comfort technology.
The comforter is organic eucalyptus and bamboo with a lightweight down alternative fill.
It is eco-friendly and ideal for all seasons.
---
Index Table: Top Rated Organic Bamboo Comforters
---
---