If you are a sensitive individual or are on the hunt for the best organic latex mattress, you will want to read this buyer's guide to organic latex mattresses.
Read further on to learn about the risks associated with latex, which makes a latex mattress organic, as well as some of their best features.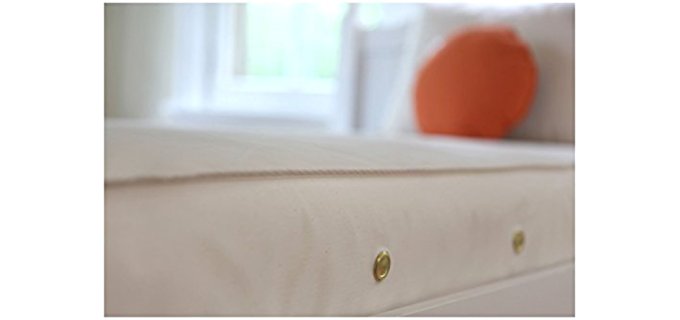 ---
The Dangers of Latex Mattresses
Latex and other foam materials have been related to a few risks to our health.
Added Heavy Metals And Toxic Chemicals – mattresses that are not certified are usually laden with heavy metals like lead or toxic chemicals and harmful substances like phthalates. Make sure your latex mattress is certified to be free of being treated by these added toxins and chemicals.
Emissions – foam mattresses traditionally release a lot of emissions into the environment, detracting from the quality of the air. Organic latex mattresses emit less of these emissions into the air and are healthier for the environment. Green Guard and other similar organizations certify foam products to give credibility to a low emission claim.
Allergies – quite a few people are allergic to foam and latex mattresses, reacting to the plastic particles in it. Organic latex usually come with hypoallergenic components covering the foam, making it suitable for those with allergies.
---
What Makes a Latex Mattress Organic
Technically all latex was made from natural substances like rubber from the rubber tree. However, once refined to the modern-day industry's degree, the rubber takes on many different characteristics and is usually infused with harmful chemicals. Steps can be taken to reduce the number of toxins a latex mattress contains.
The Talalay Process – this is one way of making foam that is a water-based process, dramatically lowering both the chemical content and the number of emissions the latex gives off.
Cotton – organic cotton is used to cover latex mattresses to create a hypoallergenic barrier, for those who are sensitive to latex. In innerspring latex mattress hybrids, organic cotton is also used to individually wrap the coils inside the mattress. This makes for a very soft, breathable mattress that will support your back without adverse health effects.
Wool – wool is fantastic because it's a natural fire barrier and thick enough to stand between the latex and you. Wool is used in mattress padding, and it insulates very well, keeping your body temperature regulated. Thi wool imbued mattress is an excellent choice for living in a freezing climate, but can be equally as great in a hot climate, allowing air to pass through and keep you fresh all night long.
---
Anatomy of a Good Organic Latex Mattress
Organic latex mattresses have some great features that make them that much more comfortable! Keep your eyes peeled for:
Memory Foam – memory foam is a unique form of latex that holds a precision contour of your body, allowing your posture to be maintained in a healthy straight position all night long. Memory foam adapts to your body heat to mold to your shape. Additional benefits of this include complete back and hip pressure alleviation.
Waterproofing – it can be a good idea to look for an organic waterproof latex mattress, especially if the mattress is for a patient who is in recovery or can't manage their bladder. That way, the mattress will be protected for much longer.
Dual Latex Layers – Combining lower and higher density types of latex, the mattress begins to become more and more comfortable. Additional layers of organic material will also boost the comfort of the mattress.
Ventilation – make sure the mattress has a layer for Airflow, perforations, or an organic layer for the best ventilation. Latex has a reputation for overheating at night, but with an organic latex mattress, the chances are next to none.
Thickness – the thicker the mattress is, the better the back support it will provide. Those who sleep on their sides will appreciate a thicker mattress more than those who sleep on their backs or stomachs.
While looking for an organic latex mattress, we suggest you visit this organic weighted blanket as they provide optimum comfort to every one according to their needs. A perfect blanket for your organic mattress.
---
Reviews: Best Organic Latex Mattresses
Down below are our selection of top quality organic latex mattresses, all of which are certified to be free of toxic chemical additives.
---
1
This organic mattress functions as a 2-in-1 mattress, with one side being waterproof and the other side is topped with a quilted organic cotton cushion.
The quilts on the soft side enable back pressure relief and gentle support, ensuring you or your child gets a great night's sleep.
The mattress is free from chemicals, hypoallergenic, and has soft dual-layer cotton filling for maximum comfort.
The cotton used is also GMO-free, 100% organic, and no chemicals were used to make this mattress.
A layer of heavy-duty orthopedic innerspring rests between the layers of cotton, allowing you to sleep with a straight posture.
Ideal for patients or children who wet the bed.
---
2
Avocado Green Mattress® Latex Wool Mattress

Organic Latex Wool Cotton Mattress
This organic mattress is top on our list, being made of 100% natural and organic materials such as cotton and wool.
Individually cotton wrapped spring coils are packed in 3 different pressure relief zones to give you the best support.
A layer of wool wrapped around the entire mattress contributes to temperature regulation as well as flame resistance.
A layer of natural latex above the springs gives this mattress additional firmness, stability, and even more comfort!
This mattress is certified as having a low emission status.
Handmade in California with the best quality materials and chemical-free.
It comes included with a 25-year warranty.
---
3
My Green Mattress® All Natural Eco Friendly Mattress

Organic Cotton Padded Wool Latex Mattress
This mattress uses a layer of organic latex resting above a silent set of springs for ultimate comfort.
The organic mattress's outer layer is padded with eco-friendly top quality wool and meets federal requirements without using flame retardants.
The coils are each individually wrapped in the softest organic cotton, which also forms dense padded layers between you and the springs.
A skinny layer of organic latex on top provides excellent support, comfort, and posture alignment.
This product has been GreenGuard certified to produce a low carbon footprint.
Hypoallergenic and Certified to be free from all harmful chemicals and toxins.
It comes with a 10 Year warranty.
---
4
Live and Sleep® Organic Resort Style Mattress

Organic Layered Foam Mattress for Back Pain
This is an eco-friendly foam mattress made of the best quality organic foam produced using the Talalay process.
The three layers of foam include a 2.5-inch layer of memory foam above a 1-inch layer of cooling gel foam.
The mattress base is made from a thick 8.5-inch high-density support foam for unmatched orthopedic back support.
The cover is removable and made from a soft cotton blend for easy maintenance and mattress protection.
The mattress comes with a 20-year warranty and has been certified as eco-friendly and free of chemicals.
---
5
Bear Mattress® Outdoor Enthusiasts Mattress

Best Organic Latex Mattress for Athletes
This eco-friendly bear mattress has been scientifically proven to improve recovery and enhance athletic performance.
The top layer is made from a Celliant cover, which has been designed to improve blood flow and circulation of oxygen through the body.
Graphite cooling gel has been infused in a thin layer of memory foam on the top, making this mattress seven times cooler than other foam mattresses.
High-density foam underneath helps to give the mattress a highly supportive backbone, ensuring comfortable pressure alleviating rests.
The foam was made using the Talalay process and has been certified to be free of chemical additives.
---
6
PureTree® 100% Natural

Organic Latex Mattress
This mattress is made with Certified 100% Organic Natural Latex by GOLS.
It provides support for the back and relieves pressure points for a night of peaceful sleep.
It is designed for Airflow to regulate temperature.
This mattress offers soft firmness (20ILD (Indentation Load Deflection), Density: D65).
It comes with an OEKO-Tex Standard 100 Class One Certification.
---
7
OrganicTextiles® Dual Firmness

Organic Latex Mattress
This contains GOLS Certified Organic Latex.
This Design offers two different firmness levels, a soft-top side (ILD of 19-22) and a firm bottom side (ILD of36-38).
This Topper is GOLS (Global Organic Latex Standard) certified and comes with a 100% Organic Cotton Covering and anti-microbial, hypoallergenic, dust mite resistant, and anti-fungal.
This Organic Latex Topper is made from premium all-natural materials and is free from formaldehyde, polyester, vinyl, petroleum-based additives.
---
8
Happsy® Latex Over Coils

100% Natural Organic Mattress
The Happsy Certified Organic TwinXL provides comfortable medium-firm support with premium natural materials, so you can sleep healthy and wake happy.
Underneath the cotton, the surface is pocketed springs for the support made without glues or adhesive. The springs are topped with two inches of organic latex and organic wool batting for a dreamy cloud-like feeling.
Happsy is made without heat-trapping foams and employs a breathable coil system and moisture-wicking wool that gives heat somewhere to go to regulate temperature.
It is made without memory foam or other forms of polyurethane foam, flame retardants, formaldehyde, pesticides, GMOs, or glue/adhesives.
This mattress is certified to the organic and non-toxic GOTS and GOLS standards and is made in the USA with domestic and imported fabric and components.
---
9
Take Ten® 100% Certified

Natural Latex Mattress
It is made with 100% Natural Latex and is GOLS certified.
It comes with an Organic Cotton Zippered Cover, which is GOTS Certified.
This mattress offers medium firmness (26 ILD) for a peaceful sleep.
It is free of Synthetic Latex and Fillers, as well as 100% Vegan.
---
10
Latex for Less® 2 Sided

Natural Latex Mattress
This mattress offers 6 inches of 100% natural Dunlop latex infirm (85 density), 2 inches of 100% natural Talalay latex in medium (N2 density), and ½ inch of 100% natural wool.
This all-natural latex mattress is a pure, botanical product that is sustainably harvested from the Hevea Brasiliensis tree. It contains no harsh chemicals and provides a buoyant, cloud-like sensation for the ultimate sleep experience.
It offers a unique 2-in-1 design, with both a medium and a firm side, making it the perfect mattress for everybody.
The California wool is all-natural and breathes better than synthetic substitutes, which results in better regulation of your body temperature throughout the night and provides a natural flame-resistant fire barrier without synthetic chemicals
---
Index Table: Top Rated Organic Latex Mattress
---
---