Some of the links in this post are affiliate links. This means if you click on the link and purchase the item, I will receive an affiliate commission at no extra cost to you. All opinions remain my own.
Are you searching for the best quality cotton sheets on the market?
Organic cotton sheets are the cream of the crop when it comes to superior quality.
Read on for more info on why organic cotton is better for you, what thread count does to cotton sheets and what best features should cotton sheets contain to live up to being 'the best.'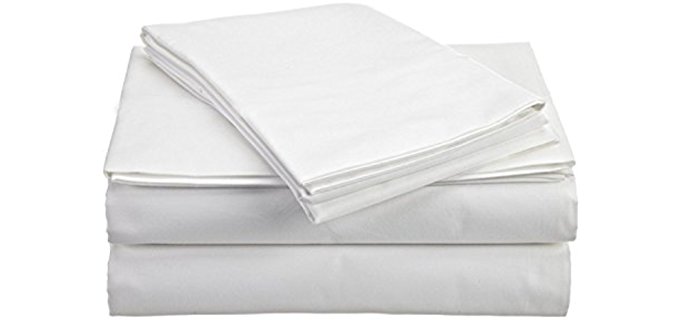 ---
Benefits Of Using Organic Cotton Sheets
Yes, organic does make a difference even when looking at cotton sheets! Here is the low down on why:
No Allergic Reactions – A lot of people have proven to be allergic to non-organic cotton. The allergic reactions can range anywhere from skin rashes to respiratory problems to even mental health diseases. When using cotton organic sheets, these symptoms do not occur (that is, unless the person consumes a non-organic diet too!).
Eco Sustainability – Organic cotton is far more sustainable for our environment. Making organic cotton uses much less water than the usual in-organic cotton. It also affects the environment positively by not degrading soil quality or destroying whole ecosystems with chemical spraying.
Less Body Toxicity – Overall, your health will be better off with the use of organic cotton sheets. The skin is not an impenetrable membrane, and it will absorb what you touch. This means that by using an in-organic cotton sheet, you are liable to absorbing bunches of harmful chemicals that accumulate in the body and add to body toxicity. Try organic cotton instead; it really is worth it!
Cheaper To Produce – Contrary to popular belief, the production cost on making organic cotton is far cheaper than in-organic cotton! Aside from using less water, farmers spend less by not using pesticides and chemical adjuvants. It also gets better the longer one uses organic farming practice, as increasing the fertility of the soil increases organic cotton yields, allowing it to become less expensive over time!
Enhances Mental Health & Mood – By avoiding all these harmful sprays in your organic linen, you are doing your body a huge favor. Chemical sprays have been linked to all sorts of hormonal imbalances, mood swings, mental health disorders, and even the onset of cancer!
Saves Medical Bill Money – As you can imagine, going organic will save on your medical bills in the long run. Instead of spending money on taking pills, rather spend it on organic cotton sheets (as well as other organic products) and reduce your immediate health risks. While organic is seen as more expensive, it is by far still cheaper than paying for pharmaceuticals and doctor's appointments for extended periods of time!
---
What Is Thread Count and Why Is It Important?
When looking at organic cotton sheets (or ANY cotton sheets), thread count is important to filter in.
Thread count refers to the number of horizontal and vertical cotton threads used per square inch of fabric.
The higher the thread count, the finer and smoother the end product will be.
Cotton sheets typically fall in a thread count range of between 200 and 800. For the best results, opt for a cotton sheet that has a 300-600 thread count.
Even though thread count ordinarily makes a cotton sheet softer, be warned that appearances can equally be deceiving.
When manufacturing a cotton sheet, manufacturers have a choice between short and long strands of cotton fibers.
The longer the fibers, the better the quality – which is also why Egyptian cotton gets its highly esteemed reputation as it is made only using longer fibers.
A cotton sheet can be made of many short fibers, giving it a much higher than usual thread count, but this will diminish the quality drastically.
---
Features Of a Good Organic Cotton Sheet
Here are some of the best features that will make all the difference in your organic cotton sheets!
A Fitted Skirting – Bed sheets with a fitted skirting or elastic lining hold better on your bed and shift around less. They're also easier to take off or put on and last a long time without fraying at the edges.
Combed cotton – Combed cotton is a term given to cotton in which the short threads have been combed out, and the long threads remain. This makes the cotton far softer and also enhances the quality of the cotton as it ages.
Machine Washable – Being able to wash your cotton sheets in the washing machine without the colors running is convenient and less time-consuming. Keep an eye out for machine washable cotton that is healthy for you and your family.
Certified Organic – To ensure that the cotton is truly organic, a certification is necessary. Many fake brands get away with marketing 'natural' cotton, which is deceiving as all cotton is technically natural, but not all of it is organic!
---
Reviews: Best Organic Cotton Sheets
Here below, we have reviewed some of the best organic cotton sheets, all of which are certified organic and healthy for you!
---
1
These organic cotton sheets from Whisper Organics are the real deal, being made of 100% GOTS certified organic cotton.
A 400 thread count ensures high-quality sheets that are made from predominantly long cotton fibers for ultimate comfort.
Feel relaxed and breathe better when you sleep at night, knowing that your sheets are healthy for you.
Available in three clean neutral colors to match the majority of your decor and linen in the bedroom.
These sheets are woven smooth with a sateen finish, meaning they contain organic silk in them too!
---
2
Magnolia Organics® Organic Cotton Sheets

Two 100% Pure Organic Cotton Sheets
These organic cotton sheets are certified organic with a soft and luxurious 300 thread count, including 2 pillow covers.
The silky finish adds an extra soft depth to these sheets like no other cotton sheets could, organic or not!
It comes in a range of highly sophisticated colors to match cool, crisp hues – kit out your bedroom or guest house suite with healthy linen!
This organic set includes a fitted sheet, a flat sheet without a fitted edge, and two standard pillowcase covers.
Machine washable and made by a company that only produces 100% certified organic products.
---
3
The Green Farmer® Organic Sheets

Eco-friendly Organic Cotton Sheets
These prime cotton sheets have a 300 thread count, making them soft and exceedingly comfortable.
Unlike many organic cotton sheets, these sheets live up to expectations by being as durable as comfortable!
This box set includes a fitted sheet, a flat sheet, and two pillowcases, consisting of the best quality GOTS certified organic cotton.
Not only do these sheets support eco-friendly practices, but they are ethically made in India and help many unfortunate people to earn their keep.
Available in 5 different colors to suit any interior decorating project you may need them for.
---
4
Cifelli Home® Organic Cotton Sheets

High Quality Organic Cotton 6pc Sheet Set
This organic cotton may only have a 200 thread count, but being superior Turkish quality and only using the longest fibers possible more than makes up for that!
Made in the same place they are grown, you can guarantee only the best of the best as there is a minimal transition between growing and manufacturing.
The queen set offers a deep-pocketed fitted sheet, one flat sheet, and four pillowcases, all of which have been certified GOTS organic.
Available in beautiful eco color schemes that are bound to enhance the natural integrity of your bedroom, hotel suite, or guest house.
Aside from being conveniently machine washable, these sheets get softer with every wash, particularly if you use organic detergent to clean them.
---
5
Pinzon® Modern Cotton Sheets

Organic Cotton Sheet Set With Pillow Cases
Pinzon supplies these organic cotton sheets, one of the topmost tried and trusted brands for all orders online.
100% organic, these sheets have been GOTS certified and do not contain any amounts of non-organic materials in them whatsoever.
The cotton has been combed for maximum softness, making them superior, especially when combined with a fine 300 thread count!
Technofit technology has been incorporated along the 4-inch hems, keeping the sheets in place better than your average sheets.
It contains a fitted sheet, a flat sheet, and two pillowcases.
Available in 6 neutral colors to complement your living arrangements, including an unusual rosy pink.
---
6
Mayfair Linen® Sateen Weave

Organic Cotton Fitted Sheets
This organic cotton sheet provides luxury and durability and gives a five-star hotel-like look to your bedroom.
It is breathable, made of 100% long-staple cotton fiber with a sateen weave.
It comes in five different sizes and 11 color choices that go with your bedroom theme.
Mayfair Linen organic cotton bed sheets are easy for home-laundry and dry very quickly. Its highest quality color and dye materials are fade-resistant.
---
7
CGK Unlimited® 100% Cotton

Fitted Organic Cotton Sheets
These organic cotton sheets are super-soft as they are made of 100% organic combed cotton with long-staple fibers.
It is made in India.
It is breathable and luxurious and gives a fancy look to your bedroom.
CGK Unlimited fitted organic cotton sheets come in seven sizes and eight cooling color options.
These sheets are perfect for hotels, hostels, and homes, as they are very easy to wash.
---
8
Tissaj® Premium

Eco-Friendly Organic Cotton Sheet Set
This organic fitted cotton sheet is certified by Global Organic Textile Standard (GOTS).
It assures that you spend 33% of your life on a non-toxic, chemical-free, and breathable bed.
It arrives in eco-friendly packaging, which is reusable and light on the environment. The packaging is also suitable for storage and gifting.
Tissaj eco-friendly organic cotton sheets guarantee 100% customer satisfaction and offer the best quality at less price.
---
9
BAMPURE® Bamboo Sheet

Organic Cotton Sheet Set
This organic cotton sheet is 100% pure organic bamboo grown in a green environment free of chemicals.
It is a wrinkle-free cooling bed-sheet that is extremely breathable and odor-resistant.
It comes in two sizes and 11 soothing colors.
BAMPURE organic cotton sheets come with a 100% money-back guarantee without any questions.
---
10
Bellagio® Sheet Set

Organic Cotton Sheet
This is a 100% Organic Long Staple Cotton, Percale Weave bedding set.
These sheets are made with cotton that is GOTS Organic Certified and made in India.
It is woven with long-staple organic cotton for a gorgeous weave.
These eco-friendly sheets retain softness for a lifetime and resist fading and come in a set of 4.
This package contains a flat sheet, a fully elasticized all-around fitted sheet, and a pair of king-size pillowcases.
It is made without any harmful synthetic dyes or finishing agents and no synthetic pesticides on the cotton or synthetic fertilizers.
---
Index Table: Top Rated Organic Cotton Sheets
---
---