With so many air purifiers on the market, it may not be easy to choose the right ones.
Choosing something more natural such as an organic Natural Air Purifier, is always the better choice, and many options are available.

---
How to Naturally Purify the Air in Your Home
Natural air cleaners do not just clean the air in your home. They also absorb odors and toxins and freshen and deodorize the air in your home.
Besides the Air Purifiers that we will be discussing in the review, here are a few tips on how you can naturally freshen and purify the air in your home easily;

Open Some Windows – Moisture in your home can become a problem, and smells and odors can build up. Keep your home well ventilated by Opening some windows regularly, and make sure to open the windows after a hot bath and shower. This will also help prevent mold and mildew in your home.
Beeswax Scented Candles – Beeswax is naturally air purifying. These candles can be naturally scented to clean the air in your home and add a lovely aroma.
Himalayan Salt Lamps – Natural Himalayan salt lamps are well known to purify the air in your room and add an ambient and relaxing mood that helps you sleep.
–
Bamboo and Charcoal – Charcoal is known as an active carbon. It absorbs odors, moisture, and toxins from the air in your home and is an excellent air purifier. Did you know that bamboo naturally absorbs CO2 and has better air-purifying capabilities than most other plants and trees?
House Plants – using Houseplants will also help to purify the air in your home. Similarly, they create a calming and natural environment that is both decorative and functional.
Essential Oils – Many essential oils such as cinnamon, clove, rosemary, thyme, grapefruit, lemon, and tea tree oils fight viruses, fungi, and bacteria and even reduce mold in your home. These essential oils are ideal against air-borne bacteria.
Keep Your Home Clean – Vacuum and dust your home regularly to prevent dust particles in the air. Also, try not to use very harsh chemicals that are toxic to your health.
---
Bamboo and Charcoal Air Purifiers
As you will see from my reviews list, I have focused mainly on Charcoal and bamboo air purifiers, as these are among the most available and best natural air purifiers.
The charcoal and bamboo air purifier bags can be placed anywhere in your home, and they will purify the air, remove odors and moisture, and have a deodorizing effect.
I have also included essential oil products that will help eliminate harmful bacteria in the air.
---
Features of a Good Organic Natural Air Purifier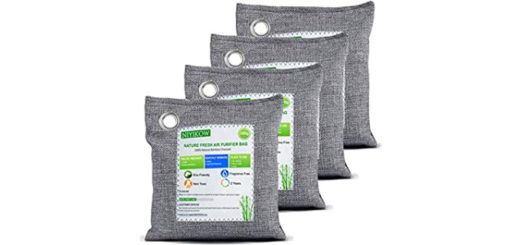 Materials – Natural materials such as charcoal, bamboo and certain essential oils have natural air purifying capabilities. Some refresh the air and remove toxins, odors, and moisture. Bamboo is a natural air purifier as it absorbs Co2.
Options – You get air purifier bags, or containers with natural elements that can purify the air.
Sets – Most of the air purifiers come in sets of small bags, or containers that you can place all around your home, in a drawer or car.
---
Reviews: The Best Organic Natural Air Purifiers
These are some excellent options for natural air purifiers and odor absorbers;
---
1
The Asani Air Purifier bags are the perfect organic natural air purifiers.
They are four bags with bamboo and activated charcoal that acts as moisture absorbers, odor absorbers, and air fresheners.
The air purifier bags remove toxins from your home.
They are extremely versatile and can be used in a room, bag, drawer, car, or refrigerator.
---
2
From the Vitscan store, we have all-natural air purifier bags that come in a large set, which you can use all over your home.
The air purifier bags are organic and natural. They contain activated charcoal and freshen your air.
The bags will absorb moisture and toxins from the air to clean and refresh the air.
Because they are small bags and you ger a set of 16, you can use them all over your home.
The air purifier bags consist of natural bamboo used to construct the bag.
Bamboo naturally has air purifying properties as it absorbs CO2 from the air.
---
3
From Nature fresh, we have the perfect all-natural organic air purifier bags.
They are Activated charcoal air purifier bags with a 100% pure bamboo cover.
You get a set of 12 air purifier bags that are versatile enough to use anywhere in your home, car, drawers, kitchen, or office.
The Bamboo naturally purifies the air by absorbing Co2 and emitting fresh oxygen.
Charcoal removes toxins and moisture from the air and has a deodorizing effect.
---
4
The Gonzo Bamboo Charcoal air purifier bags are extra small for small space.
They are 10-gram air purifier bags that you get in a set of six bags.
The air purifier bags consist of a natural bamboo cover with charcoal and bamboo.
They are ideally suited to small spaces, in drawers, pets beds, bathrooms, and gym bags.
The air purifier bags clean the air and absorb bad odors and toxins.
They are very versatile and convenient to use.
---
5
The Niyikow Nature Fresh Air Purifying bags are a larger set for larger space.
You get four 200gram air purifier bags with your purchase.
They are bamboo and charcoal that absorbs odors and toxins from the air and moisture.
Bamboo is a naturally found air purifier and is hypoallergenic and antibacterial.
The air purifier bags are eco-friendly and will last very long.
---
6
The Fresh Wave odor Removing Gel is a natural air freshener device, a cleaner, though it does hold air purifying properties.
You ger a pack of two containers with Air Freshening gel that eliminates and absorbs odors and freshens the air.
It is all-natural and organic with only plant-based ingredients such as pine needles, lime, clove, anise, and cedarwood that all have a very pleasant smell.
---
7
The Halogreen Living Activated Charcoal and Bamboo Purifying bags are some of the best available natural air purifiers.
They are bamboo and charcoal bags that naturally absorb moisture and odors, purify the air, and give it a fresh scent.
The air purifier bags are high quality, and you get four bags with your purchase.
---
8
The belle Air is 1005 natural and organic air purifier bags that are six times more effective than other devices.
They are natural bamboo and charcoal air purifier and refresher bags.
Bamboo naturally removes CO2 from the air, and charcoal removes toxins, moisture, and odors.
You can use the air purifier bags in your home, car, offices, and even ins small spaces such as drawers and gym bags.
They are highly effective and completely natural.
---
Index Table: Top Rated Organic Natural Air Purifiers
---
---