Some of the links in this post are affiliate links. This means if you click on the link and purchase the item, I will receive an affiliate commission at no extra cost to you. All opinions remain my own.
Chemical-laden dish soaps are some of the biggest culprits in skin allergies. Therefore, it is advisable to use the best organic dish soap for your utensils. Not only are these gentle on the skin, but they are also good for the environment.
This article shares everything you need to know about natural dish soap. Besides, we have also mentioned some of the best products in the market. Read more.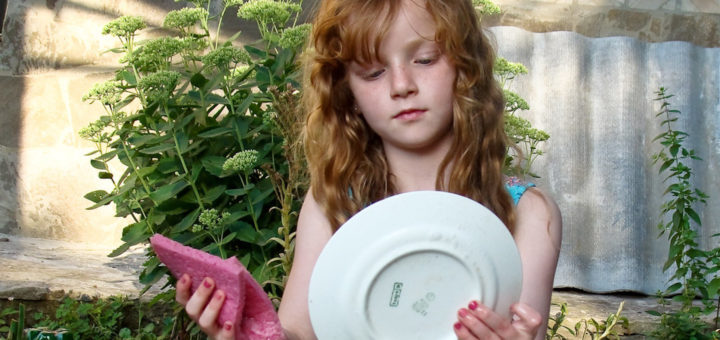 ---
Why Should You Buy Organic Dish Soap?
Our skin is semi-permeable and can be an entry point for various toxins. If you're using chemical-filled regular dish soap and are immersing your hands in it, sometimes several times a day, you could be leaving yourself vulnerable to a huge number of skin problems.
Speaking of the toxins, they can be synthetic fragrances, formaldehyde, silicone, acrylate, preservatives, and even genetically modified organisms. And keep in mind, these names are just a few. Some manufacturers do not even disclose the entire list of ingredients.
Wearing gloves might seem like a quick solution, but you need to think about the environment as well. And that's where organic dish soaps come into play.
Made from plant-based materials or vegetable oils, organic cleaners don't pose a threat to your family or our planet. Interestingly, they come in different forms, including liquid, powder, or tablets/pellets.
---
Ingredients To Look For In Dishwash Liquids
Here are some ingredients you should look for while buying organic dish soap.

Cocamide DEA: The potential hazards include cancer and acute ; chronic aquatic toxicity.
DMDM Hydantoin: It may release a considerable amount of formaldehyde and irritate your skin, eyes, or lungs.
Formaldehyde: Over time, formaldehyde can cause systemic/organ effects, skin allergies, respiratory problems, or acute aquatic toxicity.
Sodium Borate: Concerns include respiratory effects, reproductive effects, developmental effects, and endocrine effects.
Triclosan: Triclosan is linked with general ecotoxicity, endocrine effects, circulatory system and nervous system damage, and certain cancers.
---
How to Choose the Right Organic Dishwash Soap?
When selecting dishwashing soap, read the label to ensure you buy an organically certified product. Certifications like USDA let you know you're purchasing a genuine organic dishwashing agent. Plus, it is the healthier choice for you, your family, and the planet.
Avoid the products that contain petroleum-based ingredients; instead, choose the ones made of plant-based materials.
Synthetic dish soaps usually contain sodium lauryl sulfate, or phthalates, which are harmful. Choose the soaps or liquids with organic olive oil or coconut oil – they are good.
Also, look for dish soaps that are free of foaming agents, synthetic fragrances & dyes, stabilizers, and preservatives.
While looking for dish soap, you may also visit organic bathroom cleaners because it is safe to use even around pets and kids since they are free of chemicals. They are also eco-friendly.
---
Reviews: Best Organic Dish Soap
We have recently reviewed the ten best organic dish soap from different dish soaps available on the market. Find out what makes these organic dish-cleaning products the best of the best. If you purchase any product from the links below, we may get some of the profit.
---
1
A plant-based organic dishwasher soap that is all-natural and organic.
Non-Toxic and safe to use on your baby's bottles and dishes.
Non-Allergenic and no SLS or phosphates or artificial fragrances.
Safe on your hands and dishes.
---
2
Ecover® Automatic Dishwasher

Organic Tablets
This isn't the regular dish wash soap or liquid – it is the dishwasher soap tablets from Ecover.
Made with plant-based & mineral ingredients, it is biodegradable and has no dyes, fragrances, chlorine, and phosphate.
The tablets do a fantastic job on dishes and are gentle on your hands.
Environmentally conscious consumers will appreciate the recycled cardboard they come in.
---
3
Puracy® Hypoallergenic

Organic Dishwasher Soap
Puracy provides quality dishwashing products free of harsh chemicals and is guaranteed to be cruelty-free.
The green tea and lime variety has a refreshing scent that helps make the dishwashing experience bliss.
It doesn't contain sulfates, triclosan, and parabens.
Last but not least, it is vegan, gluten-free, and biodegradable.
---
4
Better Life® Non-toxic

Dish Soap
This organic dish soap keeps your dishes clean and bright.
It contains only organic and natural plant-derived ingredients.
Biodegradable dish soap is ideal for washing dishes and pots.
Has a mild lemon and mint scent.
---
5
Mrs. Meyer's Clean Day® Organic

Dish Soap
Cutting through grease with ease, this organic dishwasher soap from Mrs. Meyer's Clean Day makes working through a daunting stack of dishes super easy.
Made with plant-derived cleaning ingredients such as basil, lavender, lemon verbena, geranium, and honeysuckle, this one is an excellent choice for those who prefer natural dish soaps.
This option will result in your hands, and dishes smell fantastic with a refreshingly mild citrus scent.
Few other reasons make it a user-favorite natural dish soap: It is free of parabens, phthalates, and animal-derived ingredients. Most importantly, it is biodegradable, too.
---
6
Fruits and Passion® Cucina

Organic Dishwasher Soap
A lovely orange and Fennel scented and infused Dishwashing Liquid that is subtle yet fresh.
The Cucina concentrated dish detergent is gentle on your hands and respects the environment.
You can get a refill for your 1 Liter bottle.
Made with all-natural and organic materials and not tested on animals.
---
7
CCS Store® Gentle

Organic Dish Soap
Carolina Castile Soap has created a gentle, plant-based dish soap that's as good for your hands as it is for removing dirt and grime from the dishes.
Made with organic olive oil, organic coconut oil, kukui nut oil, and organic fair-trade cocoa butter contain no synthetic fragrances, thickening agents, or artificial colorants.
Another thing about this organic dish soap is that you may use it for household cleanings, like laundry soap or body wash, shampoo, or shaving soap.
After using this dish soap, you will never go back to those chemical-laden dish soaps – we bet. Speaking of the price point, it's affordable, too.
---
8
TriNova® Non Toxic

Natural Dish Soap
An Organic and all-natural Dish Soap with no parabens or harsh chemicals.
A natural scent pleasing to the senses and pure essential oil extracts.
You will receive a scrubbing brush and sponges in your two bottles of dishwashing soap.
Save and easy to use; it will not harm your skin.
---
9
Seventh Generation® Plant-Based

Liquid Dish Soap
When you pour this liquid soap into the dishwasher, you won't have to worry about phosphates or triclosan harming your skin or polluting the environment.
The hypoallergenic, fragrance-free formula includes only plant-based ingredients keeping safety in mind. Good news for vegans: this non-toxic dish soap is not tested on animals and does not contain animal-based ingredients.
The dish soap is EPA Safer Choice Certified and USDA Certified – meaning you are getting a cleansing agent you can feel good about using.
Additionally, it doesn't contain fragrances, dyes, phosphates, or triclosan. And it is dermatologist tested and safe for sensitive skin.
---
10
Made Of® Foaming

Organic Dishwashing Soap
An EWG Verified and NSF Organic Certified vegan and Gluten-Free Dish Soap for baby's bottles and dishes.
It is safe for sensitive and eczema-prone skin.
It is made from natural and organic plant-derived ingredients.
Fragrance-free and has no synthetic ingredients.
---
Index Table: Top Rated Organic Dish Soaps
---
---