Some of the links in this post are affiliate links. This means if you click on the link and purchase the item, I will receive an affiliate commission at no extra cost to you. All opinions remain my own.
Organic Vanilla Extract comes from the pods of Vanilla plants.
The most common Vanilla extract sources are the cured un-ripe fruit of the Mexican, Bourbon, or Tahiti Vanilla plants.
Vanilla Extract is used in sweet foods and Beverages. It goes exceptionally well with chocolate and coffee flavor.
Read on to find more about Vanilla Extract and the Best Organic Vanilla Extracts available.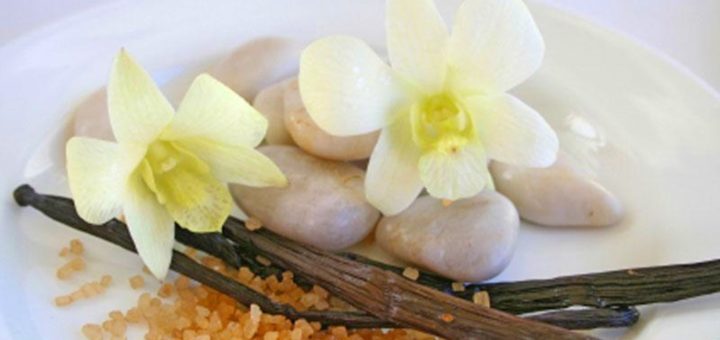 ---
Vanilla Extract Essentials and Procedures
Vanilla Plant – Vanilla plant is a member of a group of Tropical Climbing Orchids (vine-like) from the family Orchidaceae. Vanilla plants are most commonly grown in Mexico, Madagascar, or Tahiti. Vanilla planifolia or Flat-Leaved Vanilla produces the most widely used Vanilla. Vanilla pods are also sometimes referred to as beans.
Curing of Vanilla Pods/Beans – Vanilla pods are cured by plunging them into hot water to stop the ripening process. Then they are subjected to sweating during the night and sun exposure during the day for about a month. After that, they are laid out to dry for grading and packing. This whole process takes about 6 to 8 months. The characteristic aroma of Vanilla comes from enzymatic action during the sweating stage in curing.
Extraction Of Vanilla – The first step in Vanilla extraction is to ground the Vanilla pods into pieces to expose the hundreds of seeds inside. After thorough washing, the ground Vanilla beans are soaked in a mixture of Water and Alcohol. The flavors from the Vanilla beans are pulled into the Alcohol as the flavor compounds are Alcohol-soluble. Another method used is Cold-Extraction, which takes longer and also costs more.
---
Uses of Vanilla Extract
In making Desserts – It is added in Desserts and Baked goods to give a rich aroma and additional burst of flavor. The most common Desserts, including Vanilla Extract, are Cakes, Muffins, Custards, and Crème Brûlée.
For Aromatic Beverages – Vanilla flavor goes well with Chocolate and Coffee. It is commonly added in different types of Coffees and also Hot chocolate. It is also sometimes added in summery cocktails for a fresh aroma.
To Enhance Flavor in Savory Foods – Vanilla flavor complements white meat like Chicken and Fish. You can add it to Sauces to go with your dish. Also, you can add organic paprika to the meat marinade. You can use it to balance out the taste.
---
How to Use Vanilla Extract in Home-Remedies
Due to its numerous beneficial properties, Vanilla Extract is used in many home remedies for hundreds of years. Some of its uses are given below.

Skin Benefits – Vanilla Extract is rich in Vitamin-B and Anti-oxidants and also has strong antibacterial properties. For these reasons, it is used to treat Acne and soothe minor burns and cuts. It also slows down Aging.
Hair Benfits – Vanilla extract is used in hair packs to make hair silky and manageable. Vanilla also promotes healthy hair growth.
Health Benefits – Vanilla extract added in milk or drinks lowers anxiety in some people. The scent of Vanilla is also shown to have a positive effect on people with Depression. Vanilla extract added to water also helps to settle the stomach and relieve nausea. It is also beneficial in the regulation of Menstruation.
Lifestyle Benefits – Vanilla extract can be used to freshen up the fridge, microwave and to sweeten the smell of your home.
---
Reviews: Best Organic Vanilla Extract
Some of the Best Organic Vanilla Extracts available are given down below.
---
1
It is made from Organic and Fairtrade premium, hand-selected beans.
It is Fairtrade and USDA Organic Certified.
Non-GMO, Kosher, Gluten-Free, Allergen-Free Certified.
---
2
McCormick® Pure Vanilla Extract

Organic Pure Vanilla Extract
It is a Pure Vanilla Extract.
It is USDA certified.
Use it to enhance the flavor of baked goods like Cakes and Muffins.
Add it to your Coffee or Hot chocolate for a rich aroma.
---
3
Frontier® Vanilla Extract

Organic Vanilla Extract
It is a Pure aromatic Vanilla extract made from Premium Organic ingredients.
Certified Organic by QAI, Kosher, and Non-GMO verified.
It is non-Irradiated.
It is owned by a Co-Op, which is dedicated to people and the planet.
---
4
Simply Organic® Pure Vanilla Extract

Madagascar Pure Vanilla Extract
It is made from premium Madagascar Bourbon Vanilla beans and has a smooth, buttery, naturally sweet flavor.
You can use it in Desserts, Sauces, Icecream, and baked goods, as well as Smoothies and Protein shakes.
These Vanilla beans are grown by small-scale farmer Co=Ops.
It is Kosher Certified, Certified Organic by QAI(Quality Assurance International), Gluten-Free, and does not have any artificial sugar or flavor.
---
5
Cook's® Organic Pure Vanilla Extract

World's Finest Gourmet Fresh Grade A Premium Vanilla
It is made from curing hand-selected fully vine-ripened organic beans for a rich, intense Vanilla Extract.
It is made through cold extraction.
Cook's is Family Owned and are Vanilla Specialists since 1918.
Certified Organic (by California Certified Organic Farmers), Non-GMO, Gluten and Allergen Free, Kosher Certified.
---
6
Watkins® Organic Pure Vanilla Extract

Made from Madagascar Vanilla Beans
It contains all naturally dervied ingredients.
It does not include any Artificial Flavors or Colors.
---
7
Flavorganics® Alcoholic

Vanilla Extract
This organic vanilla extract is made from the finest imported vanilla beans.
The Organic vanilla extract is great for any baking or cooking recipe.
It goes great with any food, be it in pancakes, cakes, or any savory dish.
This vanilla extract contains Alcohol.
---
8
Gold® Delicious Grade

Organic Vanilla Powder
Gold vanilla powder is 100% USDA organic approved and natural, making it safe to consume.
This is a 100% natural and organic sweetener with no sugar and no guilt.
Gold vanilla powder is the perfect non-alcohol substitute for vanilla extract, and it's more potent.
It goes absolutely perfectly in sweetening drinks and adding a vanilla aroma to all beverages, hot or cold.
It lowers Cholesterol, improves mental health, antibacterial, and reduces inflammation.
---
9
Grandma's Choice® Pure

Organic Vanilla Extract
This Vanilla Extract is made from organic Madagascan vanilla beans.
The vanilla beans for this extract are hand-picked on Certified Farms.
This product is Gluten-Free and Kosher.
It's a pure vanilla extract and can be used in any type of cooking, baking, and hot or cold beverages.
---
10
OliveNation® Pure

Organic Vanilla Extract
This Vanilla extract features Bourbon-variety vanilla beans that are imported from Madagascar.
This extract is made in the US.
It contains Alcohol as well as Caramel color.
This is a pure Vanilla extract.
---
Index Table: Top-Rated Organic Vanilla Extract
---
---